Buttercream 101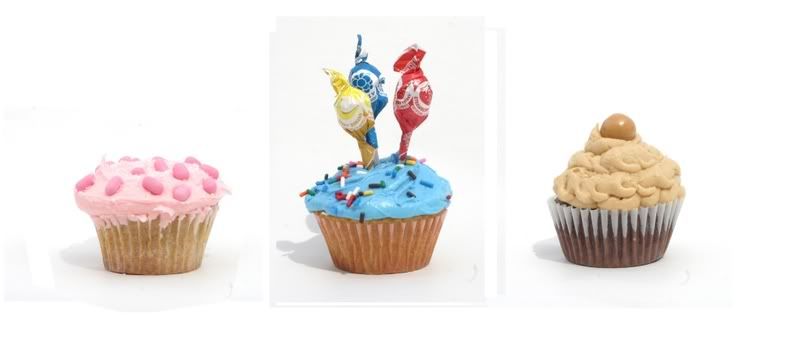 Would you believe that this time last year,
I was moving into my sixth month of pure and undiluted no-sugar veganism? I'd
Master Cleansed
body, soul, and colon, washed away fifteen pounds of booty-jiggling chub and felt certain I could maintain said lifestyle until the end of time.
*
Then, one afternoon, over a ladylike luncheon of salad and a honey-bran muffin,
I was visited by the Diet Epiphany Angel.
Hovering above me with her harp, she whispered a word which I knew I could no longer live without.
She sang the song of cloudlike creaminess, invited me to slather and smell and partake.
*
Butter.
Butter.

Butter.

Butter.
*
Until that day, I'd discovered that I could very possibly live a life without milk. If needed, I could do without eggs. I could even tolerate desserts without sugar or cream or chicken gravy. But, I couldn't get over
butter
.
*
That soft melted puddle on hot toast.
That creamy mound, peppered on an ear of fresh corn.
That crisp crunch 'round the edge of warm cookies.
*
And, frosting.
Did I mention
frosting
?
*
That thick, sweet bite of homewhipped buttercream atop a baked delight.
How do you ever get over that?
*
Well, I suppose you start a blog and bake like a woman saved.
*
Praise Butter.
*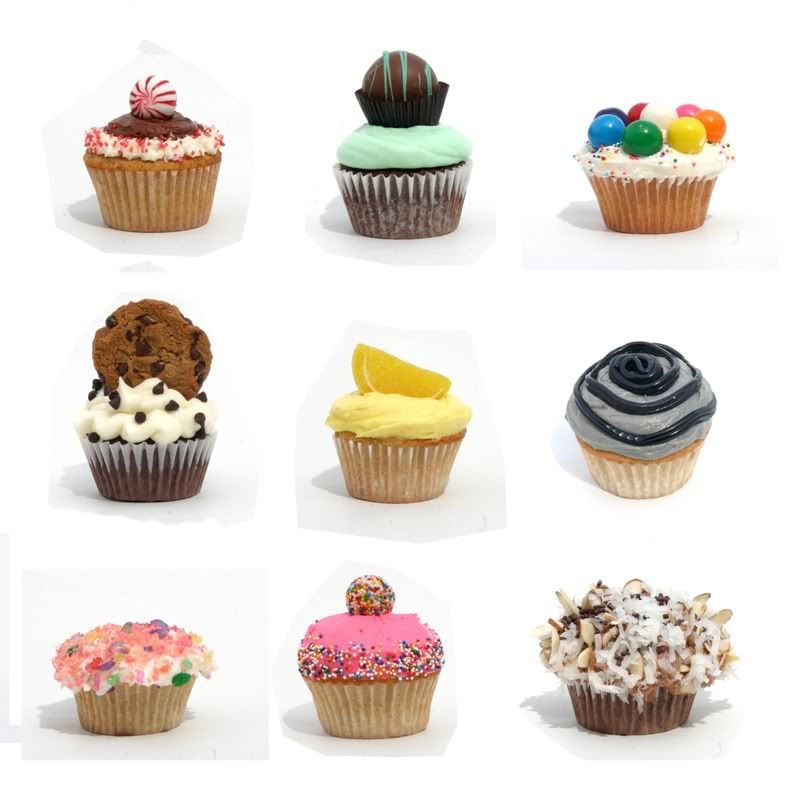 Buttercream 101
A good tasting, good looking cupcake doesn't need require an afternoon budget splurge at a professional bakery, nor the shipping in of exotic ingredients, nor the sacrifice of a sunny day as you hand-mold marzipan daisies for decor. Perhaps one of the most attractive qualities of a good cupcake is this: simplicity.
*
First
, you need a good
vanilla
or
chocolate
cake recipe.
Second
, you need a good buttercream.
Third,
you need a simple yet striking decorating plan.
*
For now, let's focus on step two.
Because, well. Buttercream has butter in it.
And, I believe in butter.
*
The secret to a stand-up-and-sing buttercream is a pack of pure butter. When butter is skimped upon, a stiff, super-sweet frosting occurs, bogging down the fluffy cake below.
A good, basic buttercream should be simply that, basic. So basic, in fact, that
you don't actually need a recipe
. You need only the right base of ingredients. Beginning with such allows you to create a multitude of succulent frosting flavors without sacrificing texture or taste.
*
Do you see what this means for a world such as ours?
It means a vanilla-vanilla cupcake can be turned into a
Lemon Lover's Delight
.
It means a chocolate cupcake can become a
Peanut Butter Parfait
.
It means any old batch of cupcakes can become a bushel of bakery-quality marvels that look and feel and taste better than your prettiest dreams.
And it can be accomplished in a snap. Here's how…
*
~

SNAP

~
Grab a big bowl, an electric mixer or beater, and the following:
*
2 sticks butter, slightly softened
Flavorings or Extracts
2 pounds powdered sugar
1/2 c. milk
*
To create a fluffy, flavorful basic buttercream, begin by whipping the butter in a large bowl until fluffy. Add any flavorings (1/4 tsp. -1/2 tsp. of a flavored extract, a splash of fruit juice, a scoop of cocoa powder, a spoonful of peanut butter, etc.) then add half of the powdered sugar. Whip with an electric mixer. Slowly begin to add milk a few tablespoons at a time until desired consistency is reached. For a slightly thicker frosting, add powdered sugar by the half cup, as needed. If you'll need more frosting than 2 lbs. of sugar can make, be sure to add a stick of butter for every 1 lb. of powdered sugar to keep the taste of the buttercream perfectly heavenly (and not too sweet).
Description of cupcake photos above, starting at the top and moving left to right
(1) GRAPFRUIT ESSENCE: Buttercream made with a smidgen of lemon extract and several teaspoons of grapefruit juice, topped with grapefruit TicTac's.
(2) LOLLIPOP DELIGHT: Basic vanilla buttercream tinted blue with jimmies and Charms mini lollipops
(3) PEANUT BUTTER BEAUTY: Vanilla buttercream made with a spoonful of peanut butter, topped with PB Whoppers.
(4) CANDY CANE FEVER: Light chocolate buttercream with a hint of mint extract. Vanilla buttercream piped around edges and finished off with peppermint sparkling sugar and candy.
(5) MINT CHOCOLATE TRUFFLE: Vanilla buttercream with mint extract, tinted green. Topped with a Rocky Mountain Chocolate Factory mint truffle.
(6) BUBBLEGUM BABY: Basic vanilla buttercream, DubbleBubble bubblegum balls (purchased in the 'movie theatre candy section' of Walmart.)
(7) CHOCOLATE CHIP COOKIE: Vanilla buttercream with french vanilla extract, mini chocolate chips and a Chips Ahoy cookie.
(8) LEMON LANE: Vanilla buttercream, lemon extract, yellow coloring, topped with sugared lemon candy slice.
(9) GRANNY'S LICORICE CARAMEL: Vanilla buttercream with a drop of molasses and anise flavoring. Colored black, then topped with a ring twisty black licorice (purchased at mall candy store)
(10) POPPERBERRY: Vanilla buttercream with drop of strawberry flavoring. Topped with Pop Rocks and candy crystals.
(11) SPRINKLY TWINKLY: Thick vanilla buttercream, topped with sprinkles and a sprinkle bubblegum ball (from a mall vending machine).
(12) ALMOND JOY: Chocolate buttercream topped with sliced almonds, coconut and chocolate jimmies.
(13) FOR KWON YONG, OUR KOREAN EXCHANGE STUDENT: Please forgive the severe lack of sticky rice and seaweed presented through our painfully American dinner fare. As a peace offering, I've made you the cupcake below. Thanks so very much for being patient with us, dear boy.

*
Hoping your week is better than butter.