Oktoberfest Pretzels
*
Weekends are already chockful of thrilling adventures.
Schools out and Saturday steps in, arriving with a plethora of wonders.
*
Lazy Morning Pancakes.
Community Kids Festivals.
Toilet-paper Shopping.
Midafternoon Homecoming Games.
Guest Appearing on the
Saucy Sisters
Radio Show.
*
Just that. A smackling of absurdly delightsome joys, which included a quick chat about homecooked pretzels with the divine Barbara & Beverly. Authors, radio personalities, and truly lovely ladies.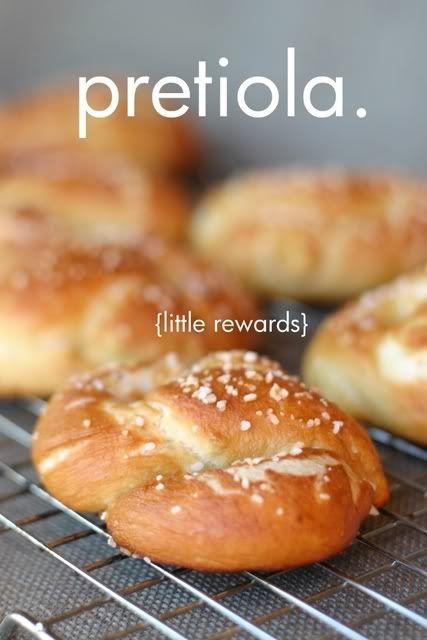 *
This week, their Sauced! radio show centered around all things Oktoberfest, and they had me talking about the history of pretzels which, I know sounds yawn-worthy.
But, believe you me. It's absolutely thrilling.
Equal parts romance and science.
Not since the Stay Puft Marshmallow Man exploded on screens in theatres have I found a single food item more riveting.
*
For instance, did you know Pretzels are thought to be first cooked up in 600 AD by a French or Italian monk who would make "pretiola," or "little rewards" for good little children who said their prayers. From there, they eeked in popularity over the Bavarian border where they were perfected by bakers, and where they are now served for breakfasts, snacks and a good lot of holidays.
*
They've been hidden for Easter,
Given as proof of amore by starry-eyed boys to beloved girlfriends,
Inspired the wedding phrase, "tying the knot,"
Hosted a variety of dipping sauces from butter to buttercream.
*
Not to mention the fact that a true-to-life Bavarian pretzel is actual dipped before baking in a lye solution. Yea,

L-Y-E

.
As in, pull out the chemical masks and lab gloves, Einstein. There' gonna be fireworks tonight.
*
Of course, the mere idea of combining lye–even the sort that is food grade–
(this is no lie: I actually read about a foodie who purchased his lye from Lowe's in a bottle called "Crystal Drain Opener.")
with anything I plan to place inside my tender pink stomach tissues is an instant no-no.
So, I've altered a bit and switched the coat of Lye (sodium hydroxide)
with a boiling bath of Sodium Bicarbonate (baking soda.)
The results are delicious.
Delectable.
And so easy! If you've never made a yeast bread before, this is the one to attempt.
No rise time. No supremely finicking mixing of dough.
Just a bundle of fresh pretzels, hot from the oven, in less than an hour.
*
I feel as though I'm sounding like an infomercial, now.
Then again, I was on the radio this weekend.
You may just have to take a listen to the Saucy Sisters show and tell me if I have a future in broadcasting. (You can find the podcast HERE)
If not, I'm considering writing a lusty romance novel about Pretzels.
I'm thinking, equal parts romance and science.
I can already see it coming hot off the press…
*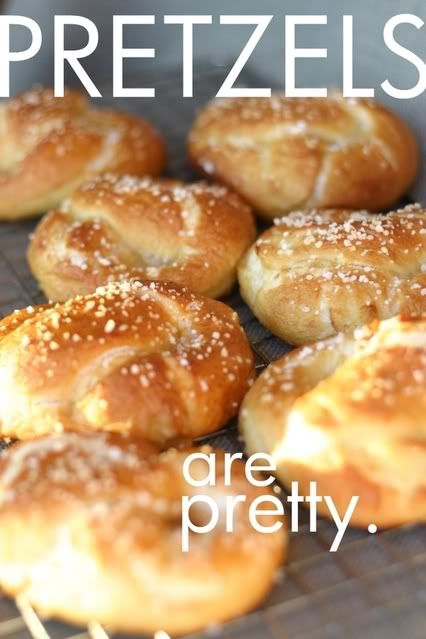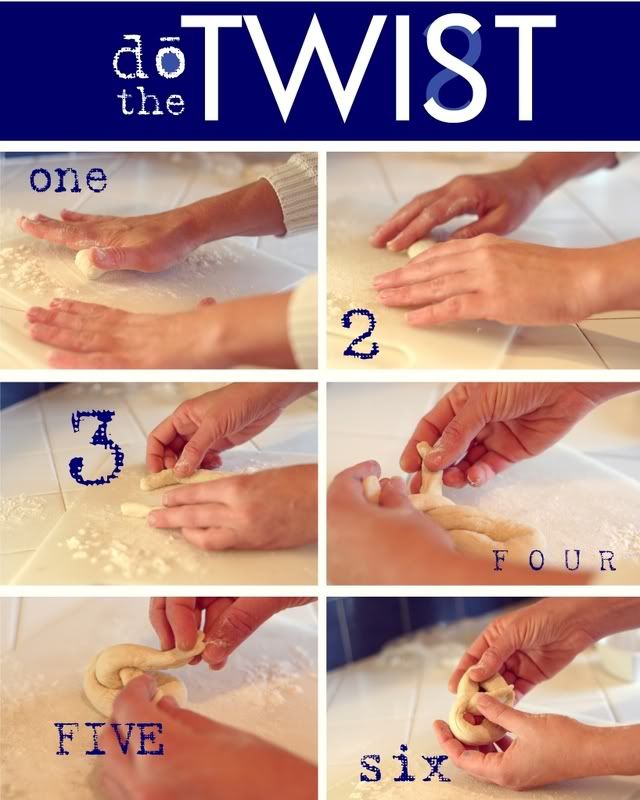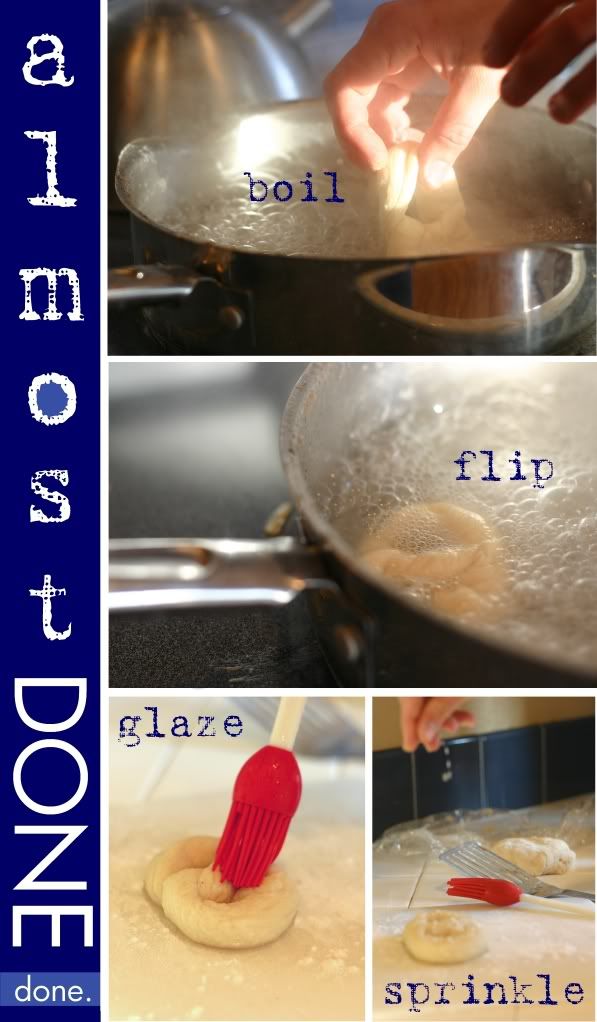 Saucy Sisters Soft Baked Bavarian Pretzels

Home-baked Bavarian pretzels are even easier to make that you've ever imagined. Unlike other yeast breads, soft pretzels don't need a traditional rising/fermenting time, so you can have fresh, hot pretzels coming out of the oven within an hour. Happy Oktoberfeasting!
*
1 ½ c. very warm water
1 Tbsp. yeast
¼ c. sugar
3-4 cups flour
4 T. baking soda
10 cups water
1 egg white
¼ c. coarse kosher salt
*


Preheat oven to 475 degrees.
In a large bowl, whisk together water and yeast. Stir in the sugar and set aside 1-2 minutes until the mixture is foamy. Stir in 3 cups of the flour. Begin kneading the dough, adding additional flour until it is soft, but not at all sticky. On a lightly floured surface, roll a palm-sized ball of dough into a long rope, approximately 12 inches long. Twist into a pretzel shape. Set aside on a lightly floured surface and allow to rise slightly while you finish twisting the other pretzels.
Bring water and baking soda to a rolling boil in a large saucepan. Gently place pretzels in soda bath for 10 seconds on each side. Remove, brush with egg white and sprinkle with coarse kosher salt. Place on a greased baking sheet. Bake pretzels in preheated oven for 10 minutes, or until nicely browned. Serve warm, with Saucy Sisters Oktoberfest Pretzel Dipping Sauce.
*
Saucy Sisters Oktoberfest Pretzel Dipping Sauce
The very best Bavarian flavors melted into a pot, and ready for your dunking pleasure.
*


2 T. butter
3 T. German mustard
1 T. flour
¼ c. apple cider
1/3 c. whole milk
1 T. white vinegar
8 oz. good-quality sharp cheddar cheese, shredded
In a medium saucepan, melt butter & mustard over medium-high heat. Whisk in flour to create a thick paste. Slowly whisk in cider, milk and vinegar. Heat just until thickened. Turn heat to low and add shredded cheese. Whisk until mixture is smooth. Remove from heat and serve warm with fresh pretzels.
*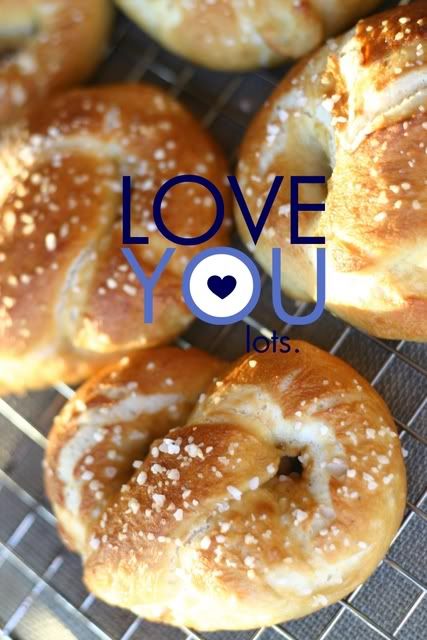 *
The month of Oktober is going to be a true F

e

s

t

, indeed.
I've got so many surprises lined up for you, my darling readers, that I'm just bursting to spill the secrets.
No, no. I can hold it all in just….
a….
…….bit….
…longer…
Oh, heck sakes. Here's the first surprise:
This Thursday brings with it an extra-special
C

upcake

S

pectacular.
You won't want to miss it!