A Grimm Halloween
This post brought to you by:


Welcome to
Trick-Or-TrEAT
!

Today, nine favorite food, craft & lifestyle bloggers await behind nine haunted which have been trimmed and tricked just.for.YOU. BOO! Which of your favorite bloggers awaits behind each haunted home? Whatever have the ghosts and hostesses prepared for your visit? Do you dare discover who-whoooo is waiting for you?!
At the end of my post, you will find two of these mystery houses. To join in the howliday fun, simply click on one of the buttons and you'll be transported to the next home on the block. You can also discover all of the Trick-Or-TrEAT contributors and find direct links to their posts at http://www.trickortreatblogparty.info/
Happy Trick-Or-Eating!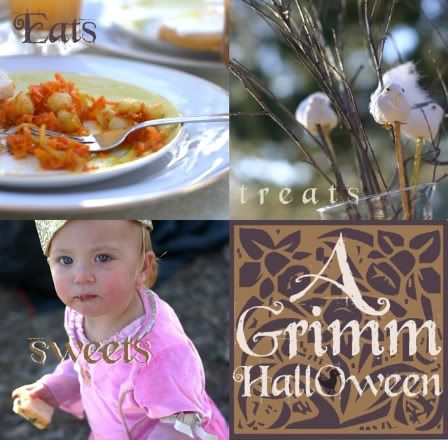 My husband and I were once invited to a Halloween Party.
Always ready to spend a Friday night with red-hot plans, we mustered up a few costumes and stopped on by.
Upon entering there was a mist of smoke weaving its way into our nostrils.
Just inside the front threshold lay a bungled mess of cobwebs, through which we crawled.
Our hostess greeted us with a verry Transylvanian accent.
All was going well. Mightily, mightily well.
Until…
I saw the food table.
Upon it lay Severed Hot-Dog Fingers and Kitty Litter Cake.
Eyeball Stew, Pickled Brain Meatballs and a punchbowl of soda suffering from the Bloody Flux.
Standing there, leaning on the supportive arm of my handsomely costumed hubby, I decided:
I'm too much a foodie to accept a gross-out Halloween.
Which is why, when it came time to host a celebration on your behalf,
I simply couldn't proffer a plate of utterly indigestible digital images.
Instead, I hoped to elevate Halloween from the typical frights and horrors and unpleasantries we've come to expect this time of year.
What better way to do it, I thunk to meself, than with a
Grimm All Hallows Festival?
As in…The Grimm Brothers Cinderella.
The original version of the story is tremendously full of frights, you know.
There's a dead mother. A solemn grave. Dirt and filth and wee amount of blood. And, birds. There are all sorts of birds. Even the kind that peck out the eyes of two certain stepsisters. Isn't that hideously halloweenie?
But, there's also enchantment. A hazelnut twig planted upon Cinderella's mothers grave which, after being watered with the tears of a heartbroken child, grows into a tree. A white pigeon attends this tree always, throwing down gold and silver, and all manner of wishes to the humble kitchen maid.
It is upon that note with which I invite you to join me. For, a very Grimm Halloween…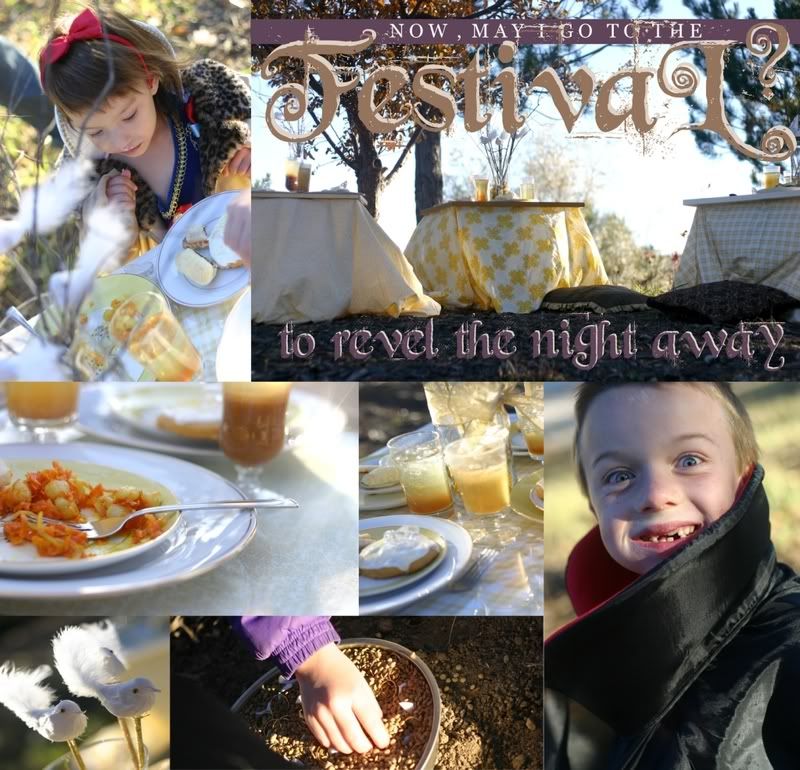 A rich man's wife became sick, and when she felt that her end was drawing near, she called her only daughter to her bedside and said, "Dear child, remain pious and good, and then our dear God will always protect you, and I will look down on you from heaven and be near you." With this she closed her eyes and died.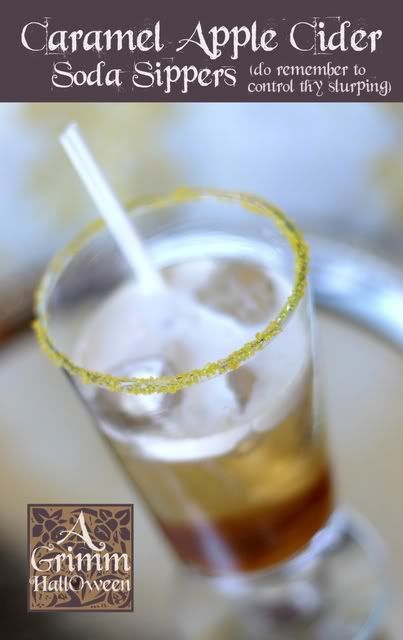 Caramel Apple Soda Sippers
Simple to make, and sweet to sip, these quick non-alcoholic mixers bring to mind all the flavors of the season in golden style.
1/2 cup caramel ice cream topping
2 packets apple cider mix
2 liters ginger-ale
Half & Half, if desired
In a large water bottle or ziploc container, add caramel, apple cider mix and 2 cups of ginger-ale. Seal tightly. Shake vigorously until cider mix is dissolved. Pour a small amount into the bottom of several large glasses. Add ice. Fill remainder of glass with ginger-ale. Top with a small amount of half-and-half, carefully poured (if you desire the flavour of an Italian Creme Soda). Sip and Enjoy.

"Why should that stupid goose sit in the parlor with us?" the step-sisters said. "If she wants to eat bread, then she will have to earn it. Out with this kitchen maid!"
Pumpkin, Prosciutto & Basil Tea Sandwiches
The only sort of finger sandwiches allowed at my fall festival are these lil' dainties. Packed with the subtle flavor of honeyed pumpkin and the salty hello of prosciutto, this here is a combination that can't be beat.
4 oz. mascarpone or cream cheese
1/4 cup pumpkin puree
1 T. honey
8-10 slices prosciutto
12-15 leaves fresh basil
1 loaf sourdough bread
In a small bowl, combine mascarpone, pumpkin, and honey. Whip together.
Spread pumpkin mixture on slices of sourdough bread. Top with prosciutto and basil. Slice crusts off of sandwiches, then cut into thin, vertical strips. Serve immediately.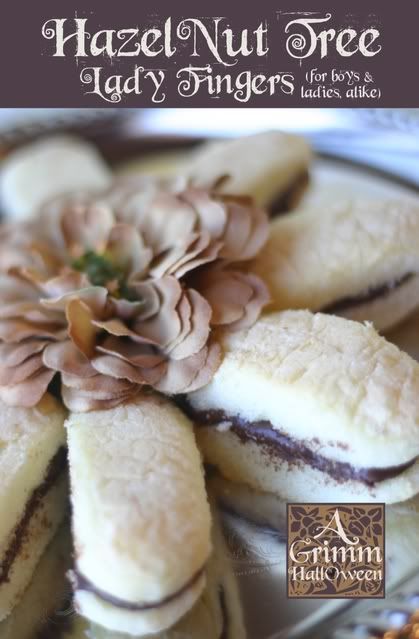 After showering gifts of jewels and fine clothing upon the step-sisters, Cinderella's father gave her a hazel twig. Cinderella thanked him, went to her mother's grave, and planted the branch on it, and she wept so much that her tears fell upon it and watered it. It grew and became a beautiful tree.
Ladyfinger Sandwiches made with Nutella Spread
Oh! How the children devoured these. And, so easy to make. Just spread and serve.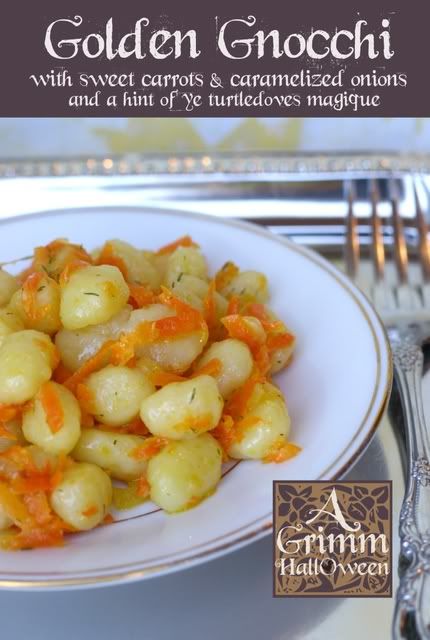 The stepmother said, "It's no use. You are not coming with us, for you have no clothes, and you don't know how to dance. We would be ashamed of you…." Cinderella went to her mother's grave beneath the hazel tree, and cried out: Shake and quiver, little tree, Throw gold and silver down to me. Then the bird threw a gold and silver dress down to her, and slippers embroidered with silk and silver.
*
Golden Gnocchi with Caramelized Carrots & Onions
in a Clarified Butter Sauce
This delightful recipe is so beautiful, no one will believe how simple it is, either. Fellow festival mom, Becki kept sneaking bites off of her children's party plates. You'll want to, too. I promise. This recipe is really worth a whip up.
1 stick butter + 1 Tbsp.
1 package of gnocchi
(I used mini gnocchi, available at WalMart)
1/2 c. sweet yellow onion, sliced
1/2 c. shredded carrots
1 Tbsp. brown sugar
1/4 tsp. ginger
1/4 tsp. dill
Salt to taste
*
Boil gnocchi according to package directions. Place in a large bowl, set aside. Over medium heat, begin cooking stick of butter in a medium saucepan. Stir often to keep from burning. Cook until butter begins to bubble and foam. Skim off foam with a spoon, discard. Pour the clear yellow butter over gnocchi, being cautious to not pour the bottom dregs of butter in, as well. In medium saucepan, heat remaining butter and add onions, carrots, brown sugar, ginger and dill. Cook until onions are well softened. Toss into pasta. Salt to taste. Serve warm or cold.
*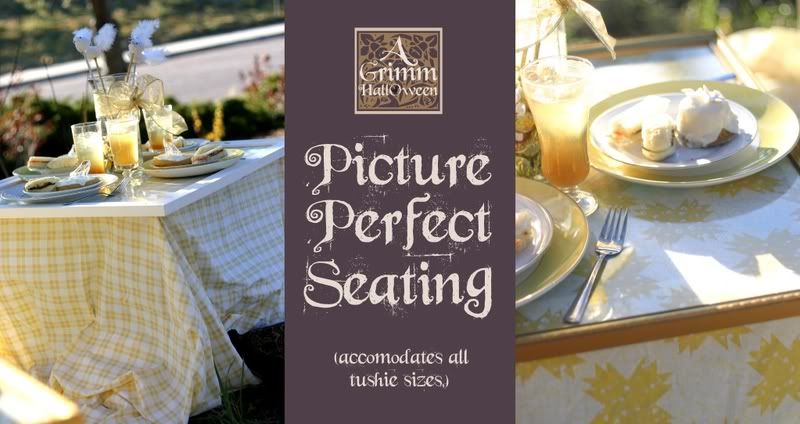 *Her stepsisters and her stepmother did not recognize her. They thought she must be a foreign princess, for she looked so beautiful in the golden dress. They never once thought it was Cinderella, for they thought that she was sitting at home in the dirt, looking for lentils in the ashes.
*

Fancy festival decor doesn't have to be hard to make, hard to come by, or hard on the budget. Here's a few of the tricks we used to make our feast frightfully fantastique:
*
Frame a full or queen sized sheet in a large picture frame, to create a simple, sophisticated and portable table for eating upon. We set ours upon giant blue rubbermaid buckets, but you'd never know because the ends of the sheet flow over to hide the supporting props underneath. Set thy heinies upon pillows for quick, comfy seating.

*
The Pleasantest of Party Favors
The wedding area of your local dollar store will likely hold Grimm decor, aplenty.
For our party, a mere five dollars purchased:
$1-"Glass" slippers which sat upon sugar cookies.
$2-White doves which decorated cupcakes.
$3-Golden Rings for the Lentils & Ashes Game
$4 & $5-White boxes and buckets, perfect for toting home party favors
*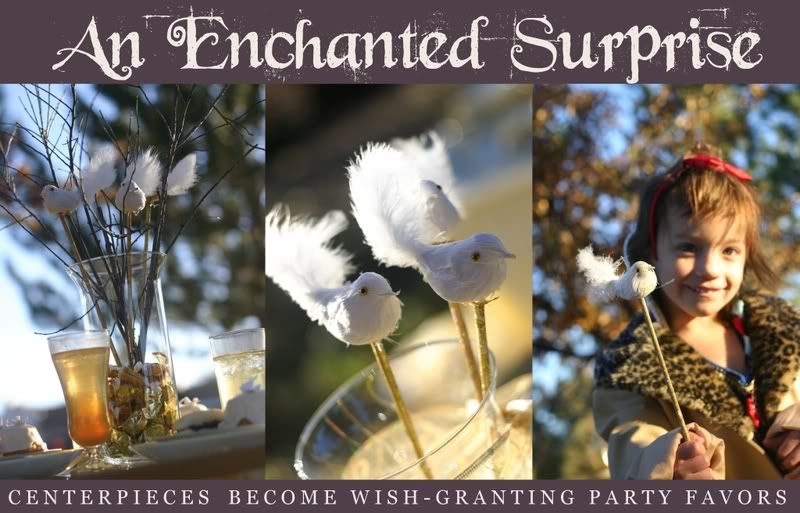 The next day when the festival began anew, and her parents and her stepsisters had gone again, Cinderella went to the hazel tree and said:
Shake and quiver, little tree, Throw gold and silver down to me. Then the bird threw down an even more magnificent dress than on the preceding day.
Wish-Granting Wands
The dollar store also (already!) offered a plentiful Christmas supply, from which were crafted these simple centerpieces. Feathered white birds glued upon golden-glittered wooden dowels. Placed in a glass vase, filled with a bouquet of brown twigs and a bottom-full of golden-wrapped candy, they were absurdly adorable and ever so welcoming.
The children were told these wishing birds would make all their dreams come true. After which, McKay and Andrew (the preteens in our group) most cheekily spat forth a slew of their deepest desires. None of which were immediately granted by their wishing birds. "See! They don't work," the big boys called out to the teensy toddlers. Alas, if only they knew I'd already used my bird to wish for their nearly teenagers hearts to be humbled through poverty and extremely hard work. Yestereve, Andrew swept our floors and washed dishes in our home, hoping to earn a mere sixpence of allowance. See, boys?! Wishes do come true.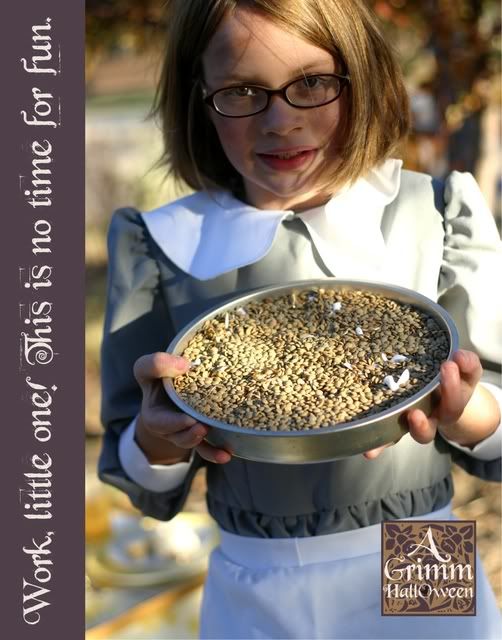 The stepmother said, "You may go if you are able to pick two bowls of lentils out of the ashes for me in one hour," thinking to herself, "She will never be able to do that."
The girl went through the back door into the garden, and called out, "You tame pigeons, you turtledoves, and all you birds beneath the sky, come and help me to gather:
The good ones go into the pot, The bad ones go into your crop."
Pigeons & turtledoves came in through the kitchen window, nodded their heads, and began to pick, pick, pick, pick.
*
Lentils & Ashes: The Game
For our Grimm Halloween, we decided to play a single game, though the story offers inspiration for a good many others. We could have blindfolded the guests like the blinded wicked step-sisters and led them through donut-eating on a string. We could have invited guests young and old to partner up and find the pair of shoes that matched their companions feet. Instead, we celebrated simply with Lentils and Ashes. Everyone adored this miniature version of digging for candy in a Haystack.
In a large bowl or pot, place several bags of dry lentils. Stir in a multitude of small treasures: golden rings, small candies, and other teensy party favors will work deliciously. To play, invite guests to take a handful and sift the lentils back into the pot. Any prizes retrieved can go into their own favor bag. The catch? They must give back one prize for each lentil placed in their favor bag…so be cautious, else all thy winnings shall be lost!
*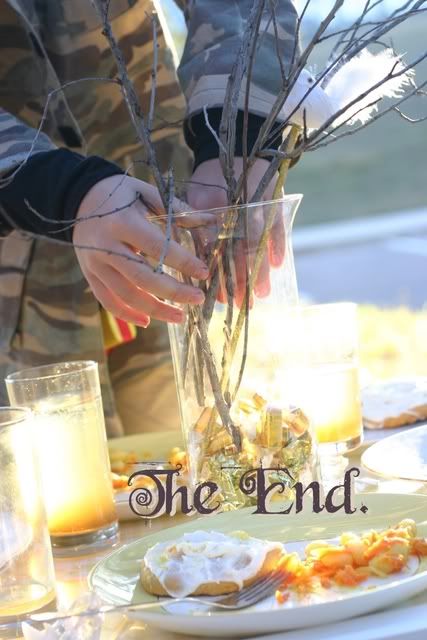 The prince insisted on it, and they had to call Cinderella. She first washed her hands and face clean, and then went and bowed down before the prince, who gave her the golden shoe. She sat down on a stool, pulled her foot out of the heavy wooden shoe, and put it into the slipper, and it fitted her perfectly.

When she stood up the prince looked into her face, and he recognized the beautiful girl who had danced with him. He cried out, "She is my true bride."
Whatever would a Grimm Celebration without the appropriate dud for donning?
Most thankfully, that glorious shoppe of all-things-frilly,
Pettiskirt Style,
has decided that one of you simply must not make it 'til midnight without a party dress of your own. CLICK HERE to choose your favorite pettiskirt, priced $69 or less. Pop back by, leave me a comment with your pick, and one lucky winner will be granted their pettiskirt wish.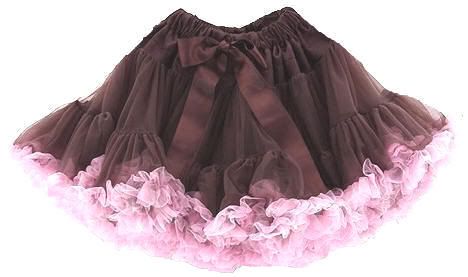 And now…Whooo's Next?
To discover other Trick-Or-TrEAT hosts have cooked up for your viewing pleasure, click on one of the haunted homes below. And, Happy Haunting!