Butter-Butter Cookies with Cinnamon Frosting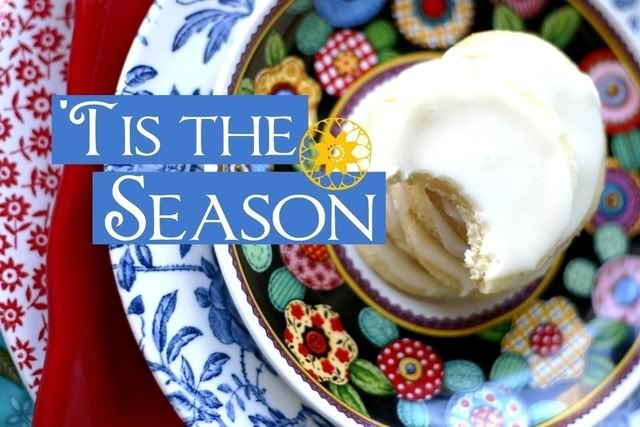 My 11-year-old son sobbed intermittently throughout today.
When we arrived home from church, he buried his face in the wide cushions of the red floral sofa and wept.
After a lunch of warm bacon, spinach & swiss salad (accompanied by a kid-friendly side of ramen noodles), he pulled a bright-blue Snuggie around his shoulders and cried like a baby until he fell asleep.
As our feet fell into the kitchen, returning home from a brisk trip to the dog park, where we'd gut-giggled as wild Chihuahua, Yoda, ran circles around dogs forty-and-a-half times his size, tears lolled their way down the waning baby-fat in Andrew's adolescent cheeks.
He's not usually a crier, this one. But today, Grandma and Papa returned home, after a whirlwind Thanksgiving visit wherein we all joined together at the hips, ate early breakfasts at Gunther Toody's, played lazy games on the living room carpet, roller-skated our bootay's around a scuffed-up rink as YMCA blared through silver speakers, huddled our warm bodies together and watched a few fantastic flicks.
All of that fullness, all of those wonderful minutes and moments and memories filled us up until we nearly bursted with happiness. But, rather than burst, Grandma and Papa kissed heads and climbed in the car and trekked home, leaving us sick to our stomachs with sweetness and sorrow, the slow deflation that comes after one has flown happy and high.
So, the eleven-year-old cried. Sobbed. Wept like a baby. And, we all ate our dinner with slightly long faces.
I realized today, when Grandma and Papa left, that Happy Thanksgiving was going with them. No more could I greet neighbors, friends, strangers with that merry autumn greeting. The very thought of losing the oranges and browns and yellows of pumpkin and gravy and grandparent hugs was all so bittersweet and sorrowful that I, too, had a pit in my stomach and a tear stuck in the corner of my eye for a good part of today's afternoon and evening.
'Til I remembered tonight, that 'Happy Thanksgiving' was just the beginning. The precursor, the talisman, the usherer inner of a fuller season. One of green and gold. Reds and blues. Merry and mistletoes. Carols and cookies and Christmas pajama's.
What a relief to realize today's tearful goodbye's brought with them a new greeting.
Happy Holidays.
Happy. Happy.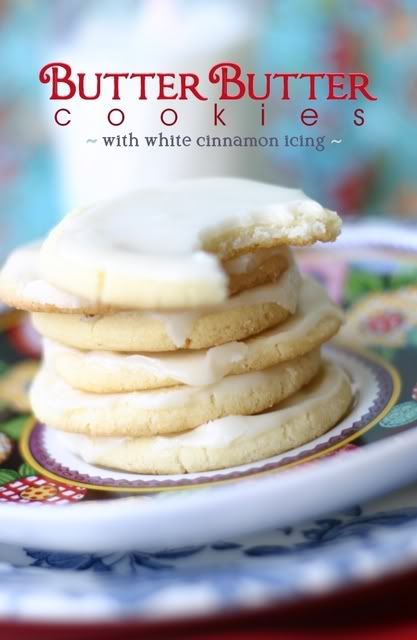 Butter Butter Cookies
These cookies are my own version of a cookie mentioned sometime ago by my neighbor. Her mother used to own a bakery and her special there was a melt-in-your-mouth butter cookie with cinnamon frosting. I think you'll find they are, indeed, special. Especially easy. Especially yummy. Especially addictive. Enjoy!
1 cup butter, softened
1/3 cup powdered sugar
1/3 cup cornstarch
1 1/4 cups all-purpose flour
In a medium bowl, beat all ingredients together. Turn dough onto a piece of parchment paper. Cover with a second piece of parchment and roll dough out until 1/4 inch thick, spray lightly with water if dough begins to dry out. Cut into desired shapes using a small cookie cutter. Bake at 375 degrees for 8-10 minutes, or until slightly browned. Transfer warm cookies to a cooling rack, frost immediately with White Cinnamon Icing.
White Cinnamon Icing
1/2 c. melted butter
1/4 c. heavy whipping cream
1-1 1/2 lb. powdered sugar
1/4 tsp. cinnamon extract
In a small bowl, combine all ingredients until a smooth, slightly runny icing is formed. Frost warm cookies with warm frosting. Cool. Indulge.
However was your Thanksgiving?