Pumpkin Cranberry Pecan Bundt Cake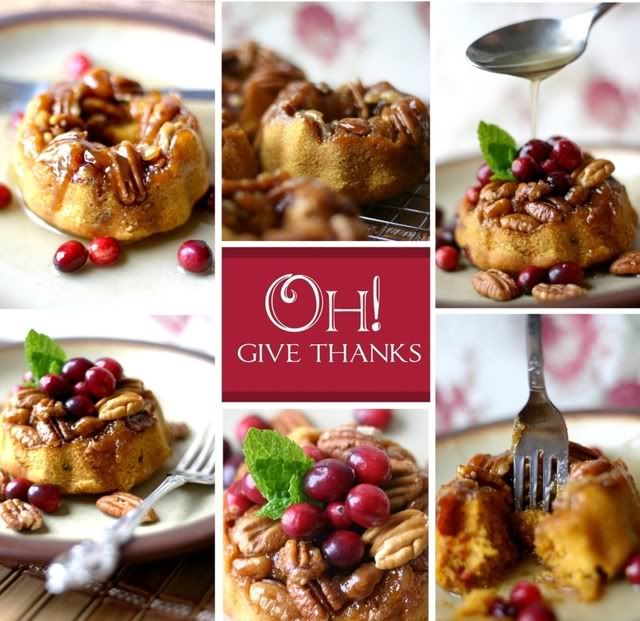 *
I've tried to instill in my children the ability to say thank you for the little things.
*
Rather than chucking out the slightly-canned (if not entirely lovely) line,
I'm thankful for my family
I want them to look for the details, and speak them aloud.
*
I'm thankful my family hiked through a trail brown littered oak leaves on a bitterly cold Sunday afternoon to discover the remnants of acorns, left ungathered by discerning squirrels, that we may have mini-acorn-people crafts upon our Thanksgiving table.
*
See the difference? It's all about the little things.
I suppose by that, I really mean the big things.
Because it's the little things that really make a big difference in our lives, isn't it?
*
Little things like this blog of mine.
I've been at it for just over a year now, and wowzaree! what a wonderful whirwind of a year it's been.
*
I've won myself a few recipe contests.
Lost a bunch of others.
Collaborated with noteable illustrators, writers, and renowned food artists while wearing my workout clothes and a sweaty ponytail. (ick. I think I should have left out that "sweaty" part).
I've taken to the streets, followed by dear photog friend, Becki, to act out some of my dreamiest fantasies.
I've had an idea one night, brought it to life in my kitchen the very next morning, and published it for the world to see before afternoon set itself upon the day.
I've baked, created, concocted, coordinated, conjured and thrown away a million magnificent (and many not-so-magnificent) recipes. And, sheesh! Have I had fun doing it.
*
There are so many little blessings this little blog of mine has brought along with it.
But, the littlest blessing of them all
–or, rather, the biggest–
occurs everyday, when one mom, one grandmother, one girl, one foodie, one friend
clicks over here to say hello.
*
However could I give back to you in the big way you've given to me. Your delightsome comments, your generous emails, your weekly visits. Could I ever find words big enough to tell you how much your incredible loyalty inspires me, keeps me going, makes me smile?
Try as I might, I'm afraid I'd fail.
Which, I suppose, leaves me with just little words.
Two of them.
*
Thank. You.
(How you are adored.)
Upside Down Mini Bundt Cakes
with Warm Vanilla Syrup
Beth at
BlackberryPaper
emailed me a few weeks back with this tempting question:

Recently I ate dessert at
Plates & Palates
in Bountiful, Utah. They served a Pumpkin-Cranberry-Pecan Upside-Down Bundt Cake with warm vanilla syrup. It was absolutely yummy. Do you have a recipe similar to that to share with me? Or know where I could find something like that?
I didn't have a recipe such as she requested, but by golly. Pumpkin? Pecan? Cranberries? WARM VANILLA SYRUP? I simply HAD to create one. So here, Beth (and all of use pumpkin passionatista's) is one of the most moist, savory, lick-your-fingers delectable recipes I've ever created. Thanks,
Plates & Palates
for the inspiration. It's a wee bit finickier that your average bundt cake by gosh-oh-gee, is it worth it.
Pecan Topping
A gooey delight to top a perfect pastry. Be sure to use chopped pecans to get the most bang in your bite.
3 T. butter, melted
3 T. brown sugar
3 T. maple pancake syrup
1 1/2 c. pecans, chopped
Stir all ingredients together in a medium bowl. Spoon into 6 well-greased and floured mini-bundt
tins.
Cranberry Compote
These fresh cranberries, melted in a chai-spiced sugar sauce until they pop, then stirred into the pumpkin batter? Oh.my.gosh. There.are.no.words.
If you really like the Chai spice, use it generously. If not, just go easy on it. I really like it. A lot.
1/4 c. brown sugar
2 Tbsp. butter
1 tsp. vanilla
1-3 tsp. McCormick Chai Spice blend
1 1/2 c. fresh cranberries
Place all ingredients in a medium saucepan, over medium heat. Cook until cranberries begin to pop, about 7-10 minutes. Set aside.
Pure Pumpkin Cake
Simple, fluffy, the perfect canvas for a bright red cranberry mix-in.
1 c. brown sugar
2 eggs
2 Tbsp. melted butter
3/4 c. pumpkin puree
1/3 c. milk
1/2 tsp. baking powder
(add an additional 1/2 tsp if baking at low altitude)
dash salt
1 c. flour
Mix all ingredients into a large bowl. Once well mixed, pour cranberry compote into batter and stir until fully incorporated. Spoon atop pecan mixture in greased & floured mini bundt tins. Bake 350 degrees for 24-27 minutes, or until cake springs back to a light touch. Once you've removed them from the oven, be sure to turn them over while the cakes are still very warm, lest the pecan topping gets stuck to the pan.
Using both pure and imitation vanilla extracts in this syrup adds a richness flavor that you're going to adore.
1 tsp. pure vanilla extract
1 tsp. imitation vanilla extract
In a medium saucepan, melt butter and sugar together over medium heat. Add water and stir until sugar is dissolved. Add cream and vanilla's. Continue stirring just until syrup reaches the boiling point. Remove from heat and serve immediately. If the syrup is still grainy, simply add a few tablespoons of water and het until sugar dissolves. Serve warm over bundt cakes.
Don't have a mini bundt pan?
No problem! You'll want to 1 1/2 times this recipe to have enough batter to fit into a regular bundt cake pan. While I haven't made the cake in that way, I'm guessing it will take about 40 minutes or so in the oven. If you make it that way, be sure to check back in and let us know how long it took to fully bake it. Happy Eating!
May you & yours enjoy a truly