Pollyanna Cupcakes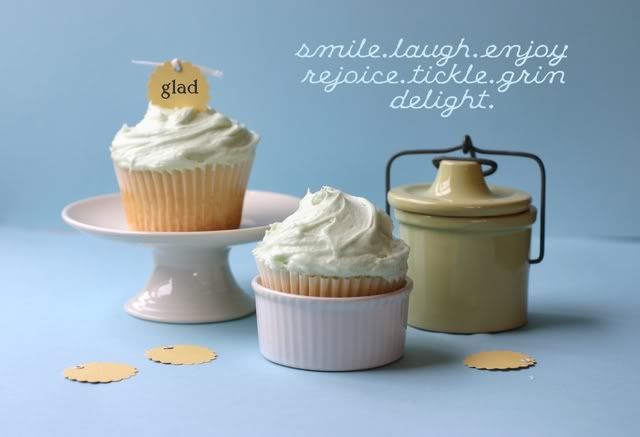 Glad this. Glad That. Do you have to be glad about everything
~from the motion-picture, Pollyanna (1960)~
While crafting this blog entry, I've been interrupted five times.
(the oldest son pats my back, sees that I'm blogging, and decides to wait)
(2)
So, are we eating cupcakes for supper?
(the hubby asks through his post-Sunday-nap grogginess.)
(3)
Do you like pancakes? Yes, I like pancakes.
Do you like waffles? Yes, I like waffles.
Do.do.do.doop. Can't wait to eat at Sonic…
(youngest son sings in my ear through a mouthful of cinnamon toast)
(4)
Mom? Did you get something for dad for Valentines day?
(Oldest son returns, unable to save his burning questions until the end of my blogging session)
Yes, I reply.
Oh, what did you get him?
A iTunes gift card, I say.
Oh, that's nice. What did he get you?
A workout jacket, I absentmindely say as I continue to craft a coherent sentence.
Oh, wow, Mom. That's great. Happy Valentines Day.
(5)
Mom? Can you come sit by me now?
(Oldest daughter calls from the couch, a warm spot waiting underneath her
Whoops. Did I say there'd been
5
interruptions?
Mom, I need a bandaid for my neck.
(Youngest daughter arrives at my side, chin stretched up high, pointing to a pale pink spot the size of atomic square pea which is, apparently, in dire need of medical intervention.)
Mom, this frog I colored is really good. Just look at it?
(Neck bandaged, youngest daughter now seeks a seasoned art critic to offer an opinion.)
Mom, do you want to do yoga with me?
(Youngest daughter shouts, now, from the living room. Art critic position now closed. Yogi master now needed.)
Mom, dad said I can stay up late tonight.
(Youngest son smiles through his fifth piece of cinnamon toast.)
Mom! They said this guy in the Olympics trained in Colorado Springs! Cool, huh?!
(Oldest son shouts from a sprawled position on the carpet, where youngest daughter is also now attempting the Half Moon pose.)
Life is busy.
Constant motion. Constant chaos.
Someone constantly needs to be fed, filled, snuggled, kissed, watched, warmed, worked with, loved.
It makes me feel so very, truly glad to be
mother.
wife.
snuggler.
baker.
yoga buddy.
band-aider.
question-answerer.
cheerleader.
secret keeper.
art adorer.
needed.
So very glad, indeed.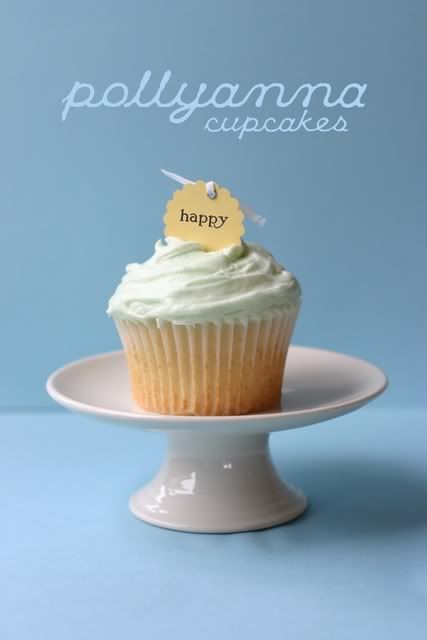 *
Perfectly Pollyanna Cupcakes
I've always related to the world through dessert. When I remember my grandfather, I think of pink peppermints. When I imagine visiting my sister, I think of all the bakeries we'll visit side-by-side. And, when I watch a movie, I can barely remember the storyline, but I can remember a the color and texture of a specific cake stuffed into the face of the heroine. Thus was this Pollyanna cake born, when I remembered how mezmerized by the scene in the classic Disney flick when Pollyanna Whittier, hiding behind a leafy plant at her aunts luncheon devours a pure white cake with the palest green frosting sealing it together. These cupcakes are light, delicate, and beautiful. The batter whips up sheeny and cooks up gorgeously. They are lovely cupcakes. I promise you'll be quite glad to have made them.
3 egg whites
1/3 c. butter
2 T. sour cream
2/3 c. sugar
1/2 tsp. baking powder
1/3 c. marshmallow fluff
1 1/3 c. flour
1/3 c. boiling water
1 tsp. vanilla
In a large bowl, beat egg whites until stiff peaks form. Add remaining ingredients and beat together until nicely mixed. Spoon into 6 large cupcake holders, lined with cupcake wrappers. Bake 30-32 minutes for large cuppies.
*
*
Marshmallow Buttercream Frosting
The gentle lemon-mint flavoring in this fluffy frosting makes a beautiful addition to the pure-white Pollyanna Cupcakes. Tint with a single drop of green food coloring and a single drop of blue food coloring for a breathtakingly gentle frosting.
4 oz. marshmallow fluff
1 c. butter
4 c. powdered sugar
1-3 T. whole milk
1/2 tsp. vanilla
In a large bowl, beat marshmallow fluff and butter. Slowly add powdered sugar and milk a little at a time, beating until fluffy. Continue to add until desired texture is achieved. Add more milk, if a thinner frosting is desired.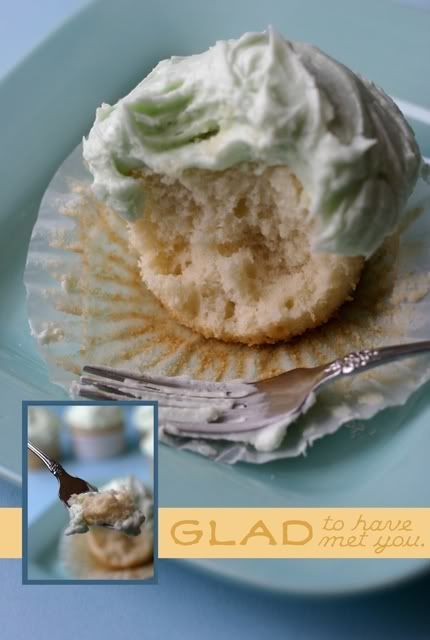 What are you feeling glad for today?