Goatherders Pizza
We've been addicted to musicals as of late. I huddled for the whole of last weekend with my children around the computer, introducing them to the musical stylings of John Travolta and Olivia Newton John in Grease. (Only the most–ahem–'appropriate' songs were offered for their tender ears. A few of the saucier options have been saved for never.)

*

Shortly after our song fest, I had to run errands. Three of the kids wanted to tromp through grocery aisles with me, but my seven-year-old Jacob decided to stay behind. "Mom, can I play on the computer?" He asked. I gave him permission (this a unique occurrence at our place. I'm rather stingy when it comes to sharing my children with media), let hubby know I was heading out the door, and popped along my merry way.

*

Three hours and fourteen reuseable grocery bags later, we errand runners returned home and discovered Jacob, still on the computer. "Buddy!" I gasped, "You've been on the computer this WHOLE TIME?! What have you been doing?!"

*

His reply? He nodded confidently toward the computer screen, where leather clad Travolta was immortalized by the pause button. "I've been learning these moves," he said with sort of earnest reverence one should have after studying Danny Zuko's moves for three hours straight.

*

Pushing play, Jacob proceeded to perform "You're the One that I Want" in it's entirety (complete with rhythmic strutting, a wee bit of groin churning, and a fiercly jutted jaw). Aftewards, he clicked over for an equally energetic rendition of "Summer Lovin'.'"
I have to admit. Even as I rethunk my whole introduce-the-kids-to-the-world-of-musicals idea, I clapped my hands and nodded my head in time to the music. Because, that kid, strutting his stuff on the kitchen floor. He's got me smitten. I'm absolutely, completely, and hopelessly devoted to that kid. (And, to the three others that joined in, started singing and dancing along as the afternoon sun streamed it's spotlight across our homegrown stage. Whoo-hoo-hoo honey. Every last one of them kids is delicious.)
Musicals, pizza, and pelvic-dancing. Isn't the first step to recovery admitting my addiction?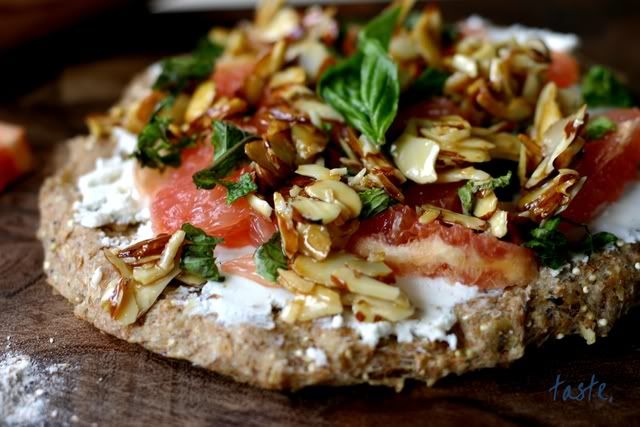 Grapefruit & Goat Cheese Pizza
I can't say enough about this pizza. It is so fulfillingly chewy. It is so blissfully scented. It so inspiringly pretty to look at. It is so good. So. Good. Combined with the earthy flavors of multigrained pizza crust, smeared with the subtle sharpness of goat cheese, topped with the sweet tang of pink grapefruit (hint: for sugar-sweet grapefruit, store them–well wrapped in your fridge for a week or two before serving. Allowing them to ripen slowly makes all the difference), add fresh mint and basil and the candied crunch of honeyed almonds. Fancy enough for a mother's day brunch. Quick enough for lunch. Divine enough for dessert. I highly recommend you whip up a batch of
this here
rustic crust, freeze up a stack of homemade personal-sized pizza crusts, then prepare yourself for the cravings which follow this gorgeous recipe. Twelve step pizza-addiction program arriving shortly.
1 c. Sliced almonds

¼ c. Tbsp. honey

½ tsp. dried onions

¼ tsp. salt

4-6 Whole Wheat Sesame & Poppyseed Pizza Crusts

4 oz. goat cheese

Fresh mint & basil

2-3 Sweet pink grapefruit segments, peeled & pithed with membranes removed

¼ c. Fresh mint & basil, chopped

In a small saucepan, combine almonds, honey, dried onions and salt. Stir over medium-high heat until mixture bubbles and honey thickens and caramelizes the almonds. Spread onto a piece of parchment and allow to cool.

Spread goat cheese over warm crust. Arrange grapefruit slices atop the goat cheese. Sprinkle with fresh mint and basil. Top generously with almonds. Serve immediately.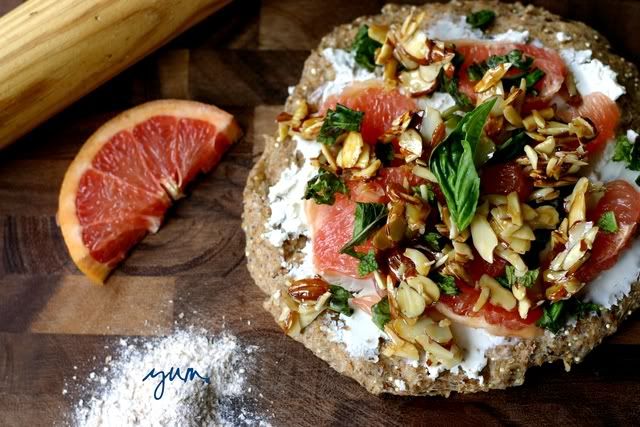 Other Delectable Movie Musicals:

Gentlemen Prefer Blondes (Marilyn. Love her.)

State Fair (Peppy and adorable.)

Give A Girl A Break (New favorite. So cute!)

Bye Bye Birdie (Oh, Conrad, We.Love.You.)

Sound of Music (Classic. Classic. Classic.)

Teen Witch (Top that.)

To what other vocal and pelvic stylings ought I introduce my Jacob to?