Sundried Tomato Pizza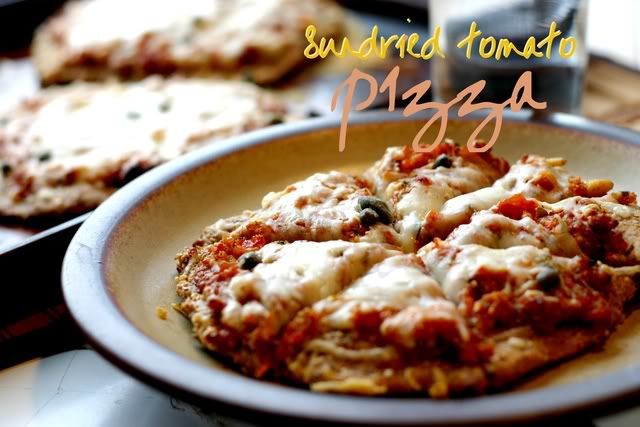 I haven't had a blender for four years. You'd think, by the looks of my food site and all, that you'd find a well stocked kitchen and high-end appliances, eh? Well, such thinking can fall by the wayside because, I'm now admitting the truth.
I have a single cookie sheet and bake my second batches on a broiler pan. I call my children into the kitchen to grate carrots and cheese because, well, no food processor sets it's pretty self on my crumb-ridden cupboards. The kids like to sneak bites of the grated cheddar, though, so that works out okay.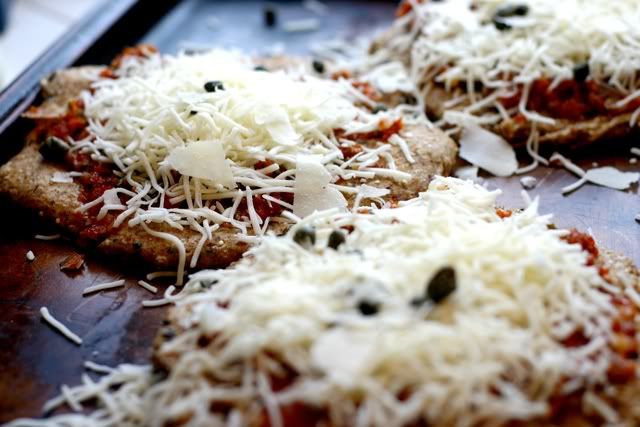 About eight years ago, my Grandma gave me her Bosch mixer (love her for that. Love her for everything.) I used it faithfully to mix bread and beat together batters until the lid shattered quite inconvienently, leaving me without any sort of massive horsepowered dough-mixing machine. No problemo. Hand-kneading bread is, to me, one of the finest, most voluptuously peaceful practices of a day. If I need to mix a batter, I like to pretend I'm an Amish housewife, whisking vigorously with a bowl tucked tidily under my arm. Or, I'll pull out my handy electric mixer. Though, I've killed five hand mixers in a matter of five months, broken spatulas, chopped my knives handles clean off. And, did I mention I don't have a blender?
Well, didn't have a blender. But, one meandering walk through Costco and an impulse buy later, I proudly donned my kitchen counter with a gleaming, cherry red Osterizer. (It's no
Vita-Mix
. By golly, no. I'm still saving up. But one day. One day.) The kids cheered with delight, begged for smoothies every morning. Handsome man-of-the-house, John smiled upon the realization that he could easily blend his protein drinks before his daily marathon sessions. And I. Well, I blended up a batch of Sundried Tomato Pizza. Which was then promptly cooked on a broiler pan, and cut with a broken knife.
And gosh, was it good.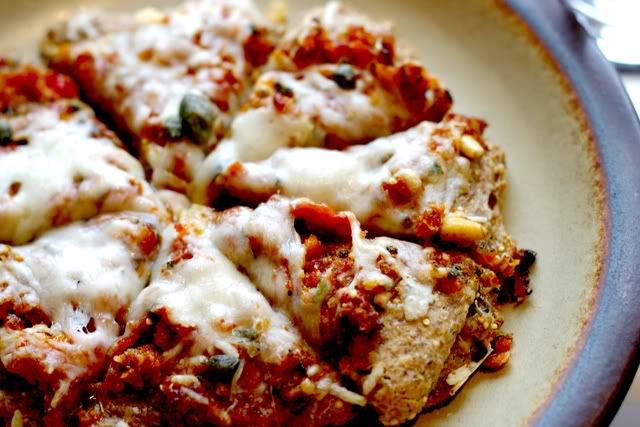 *
Saturday Night Sundried Tomato Pizza
Rustic and hearty, yet light enough to make you feel proud for eating your veggies, this pizza can be put together in minutes. The sundried pesto is so simple, and absolutely divine, it's blended parmesan melting into the added smackling of cheese on top of the pizza. Of course, there are a million and four other ways to use the pesto–as a pasta sauce, a spread for sandwiches, a cracker dip–but if you're going to use it for this pizza, be sure to not oversalt it, for the capers in the recipe add a hefty amount of salt to the final product.
1 c. smoked, sundried tomatoes
1/2 c. fresh basil
1/2 c. olive oil
1/2 c. parmesan, shredded
1/2 c. pine nuts
Salt & Pepper to taste
2-4 c. Asagio, parmesan, mozzarella, romano cheese mix
1/2 c. capers, olives and/or mushrooms
In a blender, combine tomatoes, basil, olive oil, shredded parmesan, pine nuts and salt and pepper. Blend until thoroughly pureed. Add more olive oil, if needed, to keep blender blades moving.
Spread pesto mixture on multigrain pizza rounds. Sprinkle generously with cheese mixture, capers, olives and mushrooms, or other desired toppings. Bake in an oven preheated to 425 degrees for 7-9 minutes, or until cheese is bubbly.
What basic kitchenware is missing in your kitchen? Are you without a cake pan or spatula? Is there a chef knife missing or nary a ziploc bag in sight? Soothe my soul. Tell me I'm not the only one with some serious cookware needs. Then, go make this pizza. Even if you have to grind the sauce together with a mortar & pestle.