Warm Honey Lime Shrimp Salad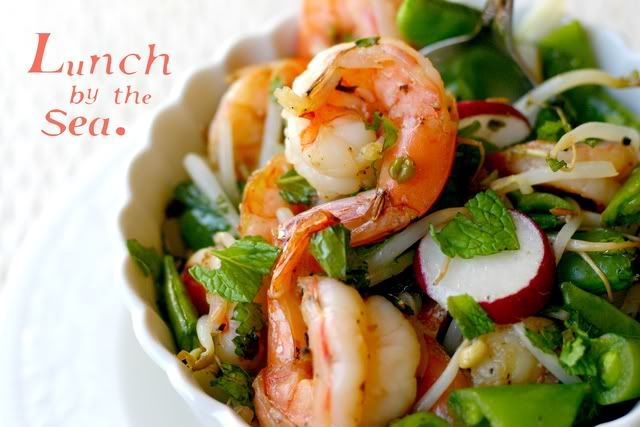 Sometimes I just get a craving for pure food. It happened twice this weekend. My body begged for a bowl of crisp greens, my mouth craved a plate full of cauliflower. No amount of tiger-striped brownies, or white iced cookies, or rainbowed cake could tempt me like the clean, fresh promise of a warm spring salad.

*

I adore food that fills me up at a meal, and likewise leaves me feeling dainty and disciplined. After I eat those sorts of meals, I feel as though I've taken my tastebuds to the spa for an hour, given them a hot stone massage and a sweat wrap, then allowed them back into the regular routine all relaxed and toned and glowing with goodness.

*

What is it that keeps us from eating this way all the time? Today, no less that fourteen times I declared myself powerful enough to avoid all unhealthy pickings, then found myself leant like a crazy woman over the fluffy pink frosting of a sprinkled sugar cookie, the buttery lemon flavor of my latest kitchen concoction, the last sippy slurps of a watermelon Icee…well, you get the picture. It's all up and down eating habits over here in bakery blogging land.

*

I came across this fantastic site a few years ago, after I'd first completed the Master Cleanse. Karly Pitman, the founder of First Ourselves declared herself 100% sugar-free several years ago and now offers a support group for others who may want to break the sugar-addiction cycle. I think a lot about her plan. Could I do it? Could I go with out sugar–without any form of sugar–for LIFE? Could you?

*

Somedays, I think I could. When I fill my body with the bounty of the earth, I think I could do it. After I run hard on the dirt path behind my house and feel the ruddy tightening of my calves, I think I could do it. When I read Suicide by Sugar or watch Food, Inc. I think I "Oh.my.gosh! I HAVE to do it."

*

But, then I come home and see that fluffy buttercream sitting atop those kiwi cupcakes and I grow weak. So. So. Weak. Just a bite, I say. Then, four cupcakes later I'm sitting on the kitchen counter, lips dotted with frosting, fingers being slowly licked clean and I think. How could I live the rest of my life without the soft mouthful of white cake, or the crunch and chew of a chocolate chip cookie. How could I? How COULD I?!

*

I'll tell you how I think I could. I could do it if I had this warm shrimp salad at my bidding in any given moment. I could do it if I had my own Whole Foods salad bar, updated daily, in the center of my kitchen. I could do it if I got really, really organized. I'd have to plan out menu's and shop slowly and chop every vegetable ahead of time. Then, I'd have to stay really, really organized. I'd have to think in the morning about what I'd be serving at our breakfast, lunch and dinnertimes. I'd have to that grass-fed meat in the morning, sprinkle and spice and marinate in the afternoon, saute and skillet every evening. And, I'd have to stop buying butter. And sugar. And brown sugar. And powdered sugar. And white flour.

*

Could I do it? Could I eat pure, clean food and never again taste the eyebrow raising excitement that is chocolate chips and buttercream? I'm thinking seriously about my answer. But am also wondering…

*

Could You?

*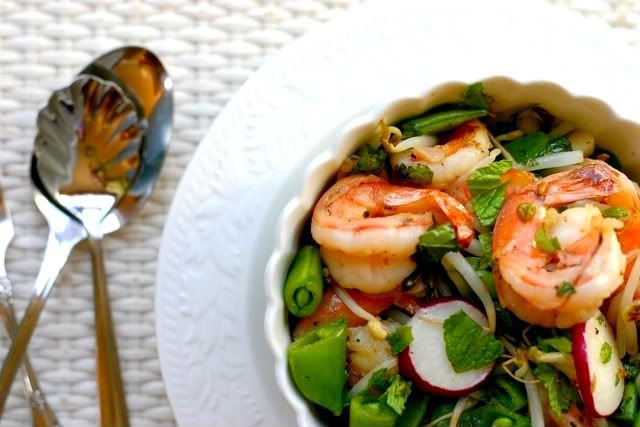 Warm Honey-Lime Shrimp Salad
with Sprouts & Snap Peas
Quick and simple, with all the flavors that fresh mint, peas and ginger can imbue, this salad is an ideal lunch meal, or an easy weeknight dinner. The bean sprouts are particularly divine, lending their noodle-like texture without actually adding any extra, unneeded carbs. Of course, if you are me, you'll take advantage of this feature by serving this gorgeous salad with these equally divine
muffins
. Could I eat this salad everyday for the rest of my life? You betchya. Could I never again lay lips upon those muffins? Hmmmm. I'll let you know.
Fresh squeezed juice of 3 limes

3 T. honey

1 clove garlic, crushed

Pinch of fresh ginger, finely grated

Salt & Pepper to taste

2 T. olive oil

1/2 lb large raw shrimp, peeled and cleaned

1/2 c. snap peas, diced

6-8 radishes, sliced

1/2 c. bean sprouts

2 T. fresh mint, chopped

1/4 c. whole, roasted cashews (optional)
In a small bowl, whisk together the lime juice, honey, garlic, salt and pepper. Pour half of mixture over the shrimp, allowing it to marinate for a few minutes. Heat the oil in a large skillet over medium-high heat. Once hot (but don't let it get so hot that the oil begins to smoke!), add the shrimp to the skillet and saute until pink & cooked through. In a medium bowl, combine all other ingredients. Immediately add warm, cooked shrimp to the bowl. Toss with remaining lime juice mixture. Serve immediately.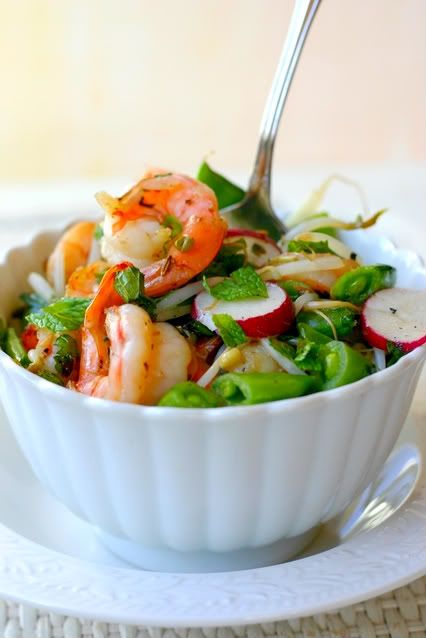 Also craving this weekend: Scallops on Creamy Leeks, Ginger Fried Rice, Mixed Greens with Oranges & Balsalmic Steak. See, I could go without sugar. I could. Couldn't I?