Banana Cabana Birthday Cake & A Letter to Joy the Baker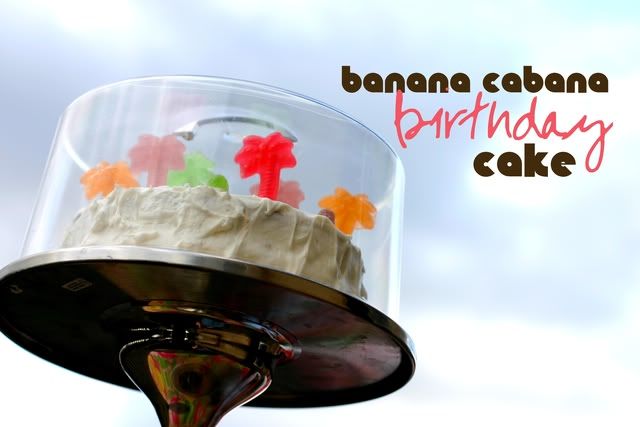 Dearest Joy the Baker,
I've been reading your blog. I think you are funny and lovely and adorable. I think you are a fine, modern woman with a good, old-fashioned head on your shoulders. I adore that you wear aprons and heels in your kitchen. Touche. I also happen to think we would have been fine friends if ever we'd met in high school. Of course, if we'd met in high school, you'd have been a lowly freshman and I a haughty senior. I would have likely been much too busy planning my college career and crushing on show-tune singing boys to be a whole lot of help to you. I had things to do, you know, like try to get a lead in the school play so I had a good excuse to kiss in public, and other important stuff. Though, I like to think I would have sat by you in the lunchroom and giggled at your cleverness. Because you really are pretty & witty & wonderful.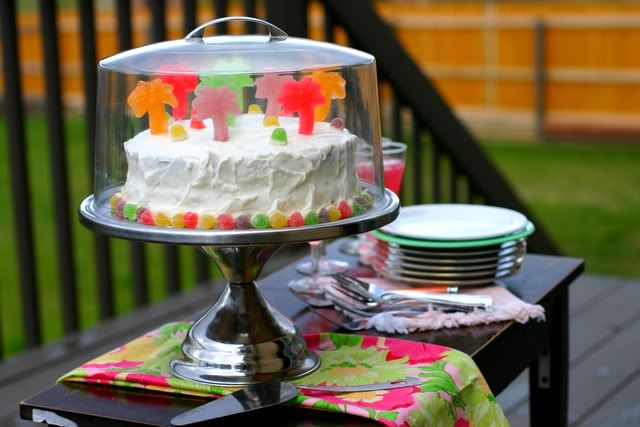 Last week you celebrated your 29th birthday. Happy Birthday to you, dear girl. Today see's me turning 34. Happy Birthday to me. Seeing as how it's our birthday week, and how I—the seasoned senior—have five years of living on you, I wanted to give you a gift. The gift of wisdom, gleaned from these years I've spent delving deep into my thirties. Take what you desire, leave what you will. I'm hardly an expert on life in the thirties. But I have cooked up a handful of wicked awesome recipes, and I did once kiss a boy onstage. So, there are my credentials. And here is my wisdom for your impending 30's:
*
1) Boys. Boys are nice, aren't they? I'm glad to see you've learned how to woo them with your bad-A baking skills. I once also subscribed to that classic adage about men and their stomachs and their hearts. But, Joy. Don't be disheartened if you get yourself hitched to the one boy whose heart can not be accessed through his stomach. Do not worry when your handsome (if terrifically skinny) hubby tucks himself into the dinner table and cautiously picks out every bit of onion you so lovingly diced into his bowl of pasta. Or when you visit a lovely little restaurant in Paris and he orders a hamburger. Yep, a burger. In Paris. It's okay, Joy. It's okay. Because even if he thinks your Lemon Curd Cupcakes are the essence of everything weird, well…he will still share movie popcorn with you, and kiss the palm of your hand goodnight, and make you chubby-cheeked babies. Which also, of course, means more lemon-curd cupcakes for you.
*
2)Little sisters. On the topic of little sisters, I highly recommend them. I know you have one for yourself and I applaud you for plentifully doting on her. The proper care and keeping of little sisters is a vital investment in your own happiness. After all, who else can you call when you take your children ice-blocking on a whim and gash a hole in your own chin on the first run, leaving you with six black stitches on your face and heart heavy with sorrow? Who else will call you on your birthday and tease you relentlessly about boys you once made mix tapes for or remind you of the modeling pictures you took of yourself in a navy blue blazer, thereby keeping you tremendously humble (and ever so slightly fearful of blackmailed revenge)?
*
3) Children. When the time comes for you to consider children of your own, be warned. Whatever desire you have now to eat rose-frosted cupcakes or caramel pudding or berry cobbler bars will be multiplied, times-ed, and quadrupled over the elfin ears and rubber-band wrists of your own babies. Learn now to manage your cravings, lest you be utterly consumed with pure, pink-cheeked deliciousness. You will also be consumed by laundry, but that's entirely beside the point.
*
4) Clothing. As you make your final marks on the twenties and move gracefully into your thirties, you may want to reconsider your fashion preferences, desiring to make them more age appropriate. Hoohah, I say. Party dresses, aprons, and heels should oft be donned for as long as you so shall live. Amen.
*
5) Secrets to Staying Thin. To keep that cute figure well into your thirties, you may have to pour your pancakes ever-so-slightly smaller than you do in your twenties. If you choose this simple method of weight management, you are of course, entitled to stack the pancakes as high as gravity with allow, slather them plentifully with maple syrup, and top them with a variety of fresh fruits and pure whipping cream to keep hunger at bay. After all, there is nothing worse than a pancake-starved 30-something. Except for post-pancake bikini season. But seriously, who says bikini is even a season?
*
6) Kitchens. The next many years of your life will likely take you hither and yon. Some hithers may seem better than the yons, but it need not matter. You can learn to live and love anywhere you roam, whether you're cooking in a sleek studio kitchen, or the uncool part of town, or on faux wood floors somewhere in the mountains of Colorado. It's you that makes a kitchen home. So break out the bowls, stir in some yeast and sugar, and rise to every occasion afforded you—no matter where the occasion may be.
*
7) Baking. You may forever and always have to bake your own birthday cake. We bakers bring that fate upon ourselves, don't we? But then again, that means we're forever and always just 18-22 minutes and a batch of buttercream away from a party. A happy fate, I say, no matter what your age.
Happy Birthday, 29-Year-Old Joy the Baker!
Yours Truly,
34-Year-Old Me
Banana Cabana Birthday Cake
I made my own birthday cake. It was rich and moist and full of baked banana's then topped with crazy-creamy coconut buttercream. The kids helped me push palm tree lollipops and sugary gum drops into it's fluffy frosting (both were purchased at Dollar Tree. Aren't they cute?) Then, we sliced the cake and ate the cake, and I knew it would be a perfectly glorious day.
5 very ripe bananas
5 eggs
1 1/2 sticks butter
2 c. brown sugar
1 tsp. salt
1 tsp. baking powder
2 c. whole wheat flour
1/2 tsp. nutmeg
1/4 tsp. cardamom
1/4 tsp. allspice
In a large bowl, beat together bananas, eggs, butter and brown sugar. Add remaining ingredients and mix together well. Pour into two well greased and floured cake pans. Bake in an oven preheated to 350 degrees for 22-24 minutes. Allow cakes to cool before turning onto parchment paper. Refrigerate until very cold before frosting with coconut milk buttercream.
*
Coconut Milk Buttercream
2 T. cornstarch
1/2 c. coconut milk
2 sticks butter
5-6 cups powdered sugar
1/2 tsp. coconut extract
In a small saucepan, stir cornstarch an coconut milk together over medium heat. Stir until well thickened. Remove from heat and let cool. In a large bowl, combine cooled coconut milk mixture, and remaining ingredients. Beat with an electric mixer until light and fluffy. Frost banana cabana cake.
Now it's your turn! What sage advice do you have for me on my birthday? Share it and win a Cheeky Birthday party favor sack, filled with all sorts of silly treats, including these adorable ice cream sandwich molds!
If you're in Northern Utah or Southern California and you're up for a Cheeky Meet & Greet this summer, be sure to leave your feedback on the sidebar polls.
And, finally….voting closes this week over at Parent & Child. If you havent' already taken a second to vote (and it really does take just a second) I'd be ever so grateful to you for your click for Cheeky Kitchen. Happy Day to You!