Sloppy Thai Burgers with Cilantro-Peanut Coleslaw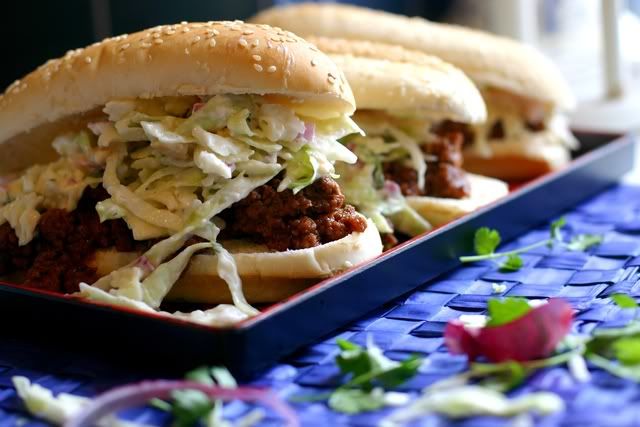 Sunday morning, and fresh white rays of light are streaming through the windows. What a blissful way to begin a May morning. Of course, there are sheets of icy frost across the deck and on the tip of every tree branch and blade of grass. But the sun is out, so the focus is on the glory already given, not the pining for that which is not ours.
*
I awoke early because Sunday mornings are always better when I do. I swept the dust and crumbs of Saturday into the corner, began a plateful of french toast, opened my scriptures and breathed and read. Such simple beginnings tend to invite a beautiful peace that blankets our home and lingers throughout the entire Sabbath day.
*
Yes, there is still the struggle to pull freshly ironed shirts over the boys heads, to slick curly ponytails into the girls heads. There is still the occasional pinching of siblings in the church pew, and the death-defying race after church meetings to get to the best seat in the minivan.
*
But all such happenings become somehow inconsequential when the morning begins with devotion and prayer and dusted floors and a warm breakfast. It's as though, by setting the tone of our day in a few morning minutes, I've also made up my mind that we (or at least I) will try to rise above the small and petty. That together we will seek to lift our gaze above the everyday and believe that this day could be something special. Something sanctified.
*
Amazing, isn't it? How just deciding something can often cause it to be so.
*
Speaking of deciding. If I decide what you'll have for dinner next Saturday, suppose you give me ideas for Sunday dinner tonight? Fair? Oh, wonderful! Then, next Saturday you shall make this simple, yet profoundly delicious recipe of mine for Sloppy Thai Burgers with Cilantro-Peanut Coleslaw. Just follow this link to my recipe profile over at the Real Women of Philadelpia website. There's a fun little video & story to go with it (you can discover what we did all weekend here at the McLay home). The recipe is also there. And, while you're there, you might want to sign up for the community (it's really such fun and so very inspiring) and check out the hundreds of other recipes made by Real Women in the recipe gallery.
*
Allright, your turn. What shall we have for Sunday dinner on this icy spring day in Colorado? I simply can't decide. We'll need something quick and not too complicated. Something the kids will love. Something that makes the hubby fall ever in love with me.
*
I hope that's not too much to ask.
*
If it is, please remember…it's the Sabbath and we are rising above all grumbling today. Therefore, to seek your frank forgiveness for my intrusive recipe-requesting, I promise to save you a piece of french toast and a seat on our church bench. Though, be warned. You might get pinched.