Blackened Chicken Salad with Strawberries & Sweet Cilantro Dressing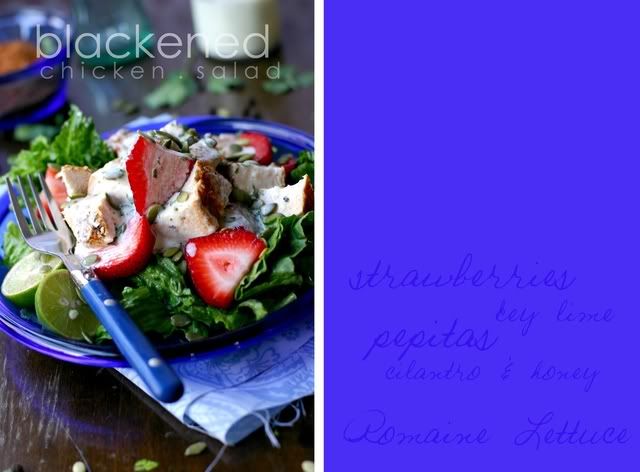 Here's the thing about creating your own recipes. You always start by grabbing a bowl. And for a moment—just a moment—you feel a dark fear grip your innards. What if you've got no more good recipe ideas? What if you can't ever again think up anything clever, and your glory days of recipe concocting are long gone? Your mind black and empty like the bowl you've sat upon your kitchen countertop.
*
But then, you think of all the lovely people who check into your ideas each week. And, you think how nice a bite of blackened chicken might be. And, maybe would it go with that pack of strawberries you picked up this afternoon at the market?
Before you know it, you're staring the most glorious salad ever made right in the face. And you realize the bowl wasn't empty at all. It was just a canvas, waiting to be filled.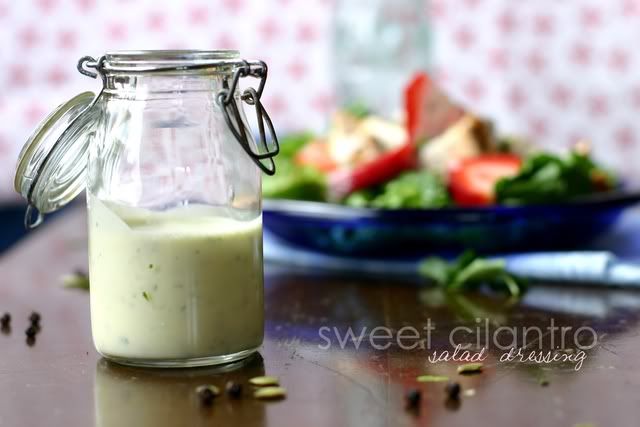 On the day I made this salad, my husband called me from the seedy part of town. He was standing outside a jewelry shop, trying to muster enough courage to sell his wedding ring for cash. The budget had run dry, the cars needed gas, there were no eggs in the fridge, and we were both fighting off the fear of financial helplessness. So, that sweet hubby of mine walked into a one-window jewelry shop, lit with the buzz of fluorescent lights, and sold his wedding ring. He was sick to his stomach. I was sick to mine. What would we do when the pinch hit next month, and there was no ring to hock?
Two hours later, I arrived home, started dinner, and checked my email. Somewhere between the usual Twitter notifications, Facebook hello's, and a note from a blog reader , I learned I'd won the lottery from a king in South Africa. (That South African royalty is such a generous bunch.) Oh. And, there was an email from the Babble, the remarkable parenting website, inviting me to join their team of talented bloggers over at The Family Kitchen.
For the first time in two and a half years, my blogging hobby would start pulling in a bit of monthly income. I called my husband and together we cried with joy. Not because the wedding ring was gone, but because in being willing to give it all, give everything up, take a step into the dark—a new path opened before us, a beginning just when we thought we'd reached the end. It's been two and a half years and one wedding ring of his relentless support as I ventured into this dream of blogging. "I think this is a gift for pressing forward in faith, for not giving up on blogging, on stay-at-home motherhood, on devoting ourselves entirely to the goal of getting out of debt," John told me through the telephone line.
Here's the thing about creating your own recipes. You always start by grabbing an empty bowl. And with each slice of a strawberry, each dash of salt, you tell that bowl a story. Your story. You take the dreams from your head and little by little mix, stir, and bake it into reality. It doesn't always come together perfectly, but with persistence and perseverance and faith and sacrifice, it does come.
It does.
Blackened Chicken Salad
My husband, the one that sometimes calls my glorious Crackerbread Pizza "too untraditional for his taste", the one who thinks my Lemon Curd Cupcakes are "weird" sat down at the kitchen table, took one bite of this recipe, then left the table. He returned two minutes later with his work cell phone, sat back down at the table, and took a picture of his salad. "This is the best salad I've ever eaten" he mumbled while shoveling bites in his mouth. It's good. Darn good. Picture taking good. To learn how to Blacken Chicken Like A Pro, visit Babble tomorrow (6/14) at 11 a.m. EST to find my premiere Family Kitchen article on the topic. Then, make this salad. And take pictures. And smooch the people you love with your strawberry lips.
1 ½ c. grilled blackened chicken
5-6 c. Romaine lettuce, chopped
½ c. sliced strawberries (mangoes, peaches or blueberries will also work beautifully)
2 T. roasted pepitas (pumpkin seeds)
Toss all ingredients together. Serve with Sweet Cilantro Dressing. Enjoy!
Sweet Cilantro Dressing
A thin, creamy dressing. Sweet and lovely with the kiss of cilantro.
¼ c. cilantro
½ c. light mayo
¼ c. honey
¼ c. cream
1 T. freshly squeezed key lime juice
Blend all ingredients together in a blender until nicely pureed. Serve over blackened chicken salad.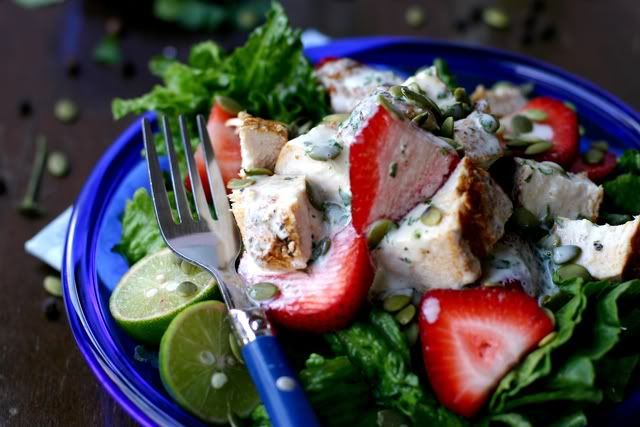 Get Cheeky Every Day of the Week!
Visit me Monday thru Friday, 5 days a week over at Babble's The Family Kitchen for incredible recipes, ideas, and other great kitchen treats and tips.
Catch Cheeky Kitchen anytime of the week on Twitter or Facebook.
Can't wait to see you here and there in summerwear! XO!