Creamy Curried Cauliflower Salad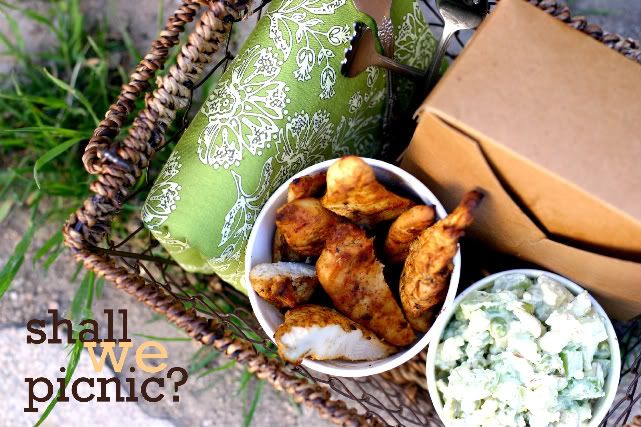 I've gotten myself into all sorts of predicaments lately. Not the least of which is attending a Meet and Greet tomorrow with the infamous
Tartelette
, and spending far too many hours this evening trying to think of something clever to tote to the gathering. Any ideas?
In exchange, I will share with you the secret of how to use up that head of cauliflower you've likely got sitting deep in your vegetable crisper. I will also give you good reason to pack up your kiddies and go for a picnic, because this meal is super simple, toteable, and entirely lovely tasting.
Then, I will return from tomorrow nights soiree and be sure to tell you what I decided to share with the food blogging crowd, thereby giving you two utterly delightsome treat to add to your recipe box.
Deal?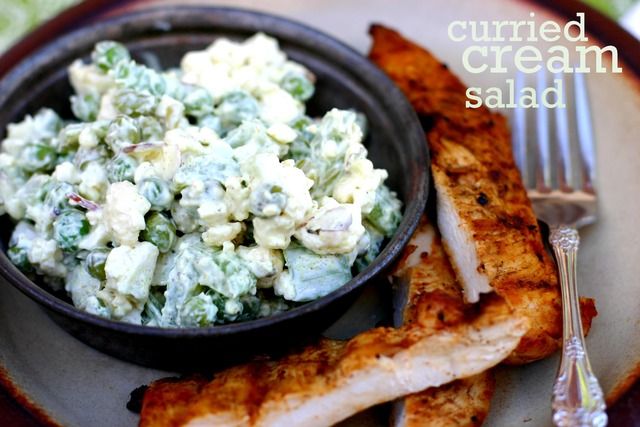 Curried Cauliflower Salad
Every shopping trip I make, I buy cauliflower. I buy it because, you know, it's good for you and stuff. It's got all sorts of incredible cancer-fighting agents hidden within it's flowery shell. But, every week, my plastic=wrapped head of cauliflower waits ever so patiently in the fridge for me to make up my mind and start cooking with it. And week and week, that poor lil' thing gets neglected until it's too late. Brown spots appear across it's pure white crown, the leaves wilt and turn a pasty color of lime green. So I throw it out. Cauliflower, weep no more! With this gorgeous, summertime recipe, I will use thee to my hearts content. I will chop you into little chunks and mix you with all sorts of blissful flavors, creating a pretty-darned-healthy salad that is both creamy and crunchy, diet and indulgent. Finally, sweet cauliflower, you will be eaten and enjoyed!

1 cauliflower
1 ½ c. frozen peas, thawed
½ c. celery, diced
¼ c. sliced almonds
1 T. light mayo
¼ c. coconut milk
Juice of 1 lime
¼ tsp. celery salt
¼ tsp. curry powder,
¼ tsp. onion powder
Pinch cardamom

Cut the top, flowered part of cauliflower with a sharp knife (it should crumble into very small pieces). Save the remaining part of the cauliflower for another dish. Place cut pieces of cauliflower into a large bowl. Add remaining ingredients, stir. Add salt and pepper to taste. Serve immediately with grilled chicken strips marinated in honey, a pinch of curry & smoked paprika. Enjoy!
Don't forget to put in your votes for
my cooking show pitch for Oprah's OWN Network.
And, keep those votes coming! Just keep on clicking that VOTE button,
there's no limit to the support you can lend!
Click
HERE
to see my video and VOTE.