Nectarine Blackberry Slab Pie
Not so many words today. I can't be responsible for upstaging this dessert. It would be tacky of me.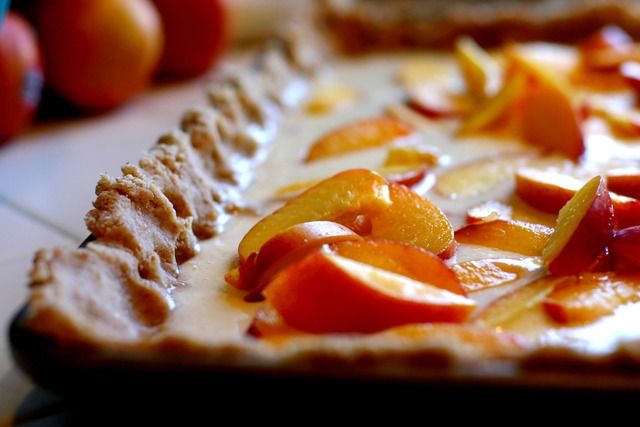 And, anyway. The only thing I have to offer in the way of words is an embarassing amount of gushing and a plethora of overused adjectives. Glorious, wonderful, delightful, divine, decadant, lovely, fantastical, mahvelous. I refuse to say anything of the sort. Because this baby doesn't need an introduction.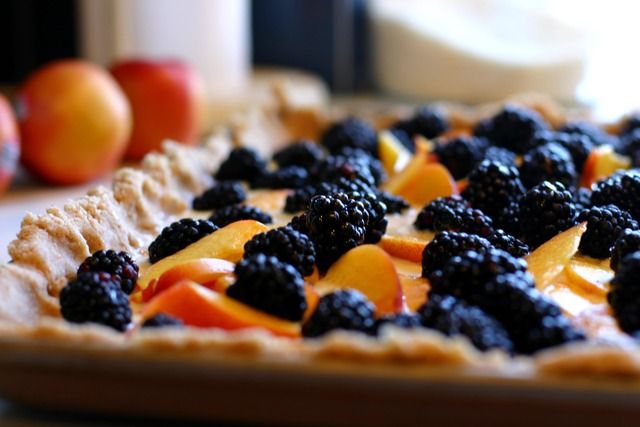 She just needs your undivided attention. In the form of a fork.
Curtain Call.
Whole Wheat Vanilla-Bean Pie Crust
Inspired by Dawn Viola's prizewinning vanilla bean pie crust, this recipe makes a gorgeous, flaky crust studded with the earthy flavors of vanilla and nutmeg, and spiked with a touch of lemon zest. Makes more than enough crust for a pie or two. Which is just perfect, because you'll likely want to keep one and eat it for yourself.
2 c. whole wheat flour
2 c. white flour
3 sticks butter, chilled
2 T. sugar
1/2 tsp. salt
Seeds of 1 vanilla bean
1/2 tsp. nutmeg
zest of 1 lemon
Juice of 1/2 lemon
1 egg
1/2 c. ice cold water
In a large bowl, stir the flours, sugar, salt, vanilla bean, and nutmeg and lemon zest together. Use a fork to blend the butter into the flour mixture, creating a mixture that resembles coarse crumbs. In a small bowl, combine lemon juice, egg, and water. Pour liquids slowly into flour mixture, stirring gently with a fork until the mixture begins to follow it around the bowl. Turn dough out onto a non-stick or silpat mat and knead several times. Roll out thin and press into a cookie sheet or refrigerate until needed.
*
Nectarine Blackberry Slab Pie
I'll be honest. This recipe started out as a slab pie, but I didn't have the heart to wrap the edges of the pie crust up over that gorgeous fruit filling. Seriously, what sort of icy-fingered baker do you take me for? Covering up blushed orange nectarines and plump rounds of blackberries. Nope. Couldn't do it. So, we ended up with a galette-ish, tart-ish cookie pan full of pie bars. Anyway, what's in a name? When you taste this summery concoction, you're mouth will be much too busy humming with joy to call it anything at all.
1 batch of Whole Wheat Vanilla-Bean Pie Crust, prepared
12 oz. cream cheese
2 eggs
3 T. sugar
Juice of 1/2 lemon
4 nectarines, pitted and sliced thin
2-3 pints blackberries
1/2 c. peach jam
1/2 c. honey
Press the prepared pie crust into the bottom of a large cookie sheet. Tightly cover any unused portion of the pie crust dough and store in the fridge up to a week. In a large bowl, beat together cream cheese, egg, sugar and lemon juice. Spread the cream cheese mixture over the pie crust. Generously spread sliced nectarines and blackberries over the cream cheese mixture. In a small, microwave-safe bowl, heat the peach jam and honey together until warm. Drizzle generously over the top of the pie. Bake in an oven preheated to 400 degrees for 24-27 minutes. Serve warm with a heap of vanilla ice cream or allow to cool and serve topped with a dollop of whipping cream.
Congrats to Camille from MAKE IT WORK MOM!
You're the winner of the Cheeky Kitchen Birthday favor bag. Send me your info and it'll be in the mail a quick as you can say nectarine.