Grilled Chicken & Brown Rice Breakfast Burrito with Chipotle Sour Cream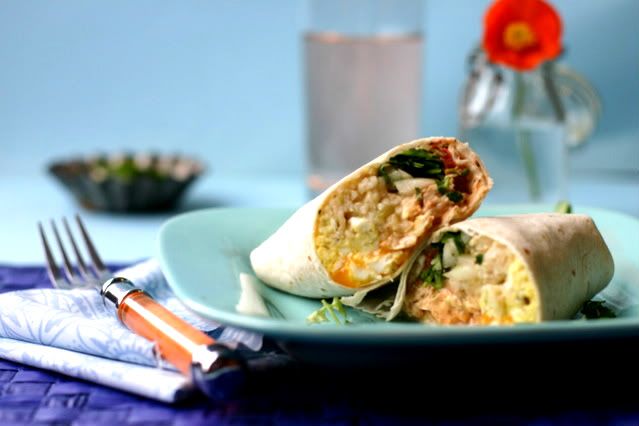 I have a friend who told me years ago that she makes her children a hot breakfast every morning. Every morning?! I gasped, realizing that the last time my kids had a warm breakfast was when I accidentally left a gallon of milk in the car overnight.
*
Breakfast shouldn't be fussy everyday. And, in my mind it shouldn't always be warm. It really shouldn't. It should be fresh sliced strawberries. The tinkling of your spoon in a cereal bowl. The drizzle of honey over a cup full of greek yogurt. It should be "hello morning" not "Howdy there Cowfolk! Time to get the home fires burning."
*
All that changed, however, when last week I decided to replicate these divine breakfast burritos my sister sometimes treats us to in Cali. Filled thick with warm brown rice, sprinkled heavily with fresh cilantro, topped with chipotle-laced sour cream. It took an hour to make breakfast on this particular morning. An hour! I mean, who in goodness sakes alive spends an hour making breakfast?
*
Well, not me. Because I woke up the next day with a wicked-mad craving for them, and set myself to making them again. Two hours of over-the-stove slaving for one hot breakfast?
*
You better believe it, buckaroo.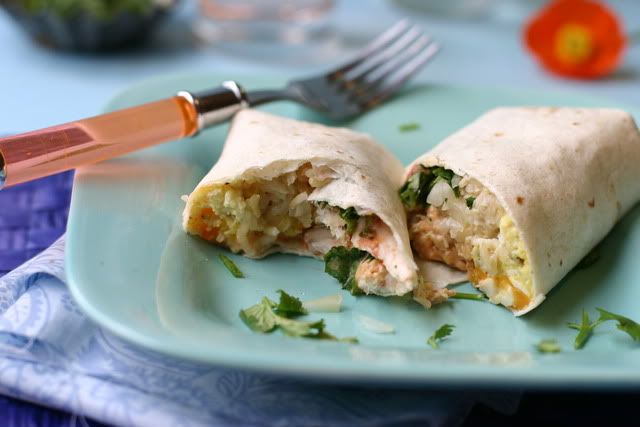 MexiCali Breakfast Burrito with Chipotle Sour Cream
There are a lot of steps to this recipe, and it is rather time-consuming to make. However, the recipe yields more than enough for seconds, and you're going to want them. Double the recipe? Yep. You might even want to do that. These are, hands down, the best breakfast burritoes you'll ever eat.
Garlic Grilled Chicken
1 chicken breast, cut in half lengthwise
2 T. melted butter
1 T. worchestschire sauce
1 T. minced garlic (the bottled sort)
½ tsp. cumin
Salt
Pepper
Place chicken in a shallow baking dish. Mix together remaining ingredients and pour over the top of the chicken. Allow to marinate for 10 minutes (or up to overnight). Grill marinated chicken on a hot grill until cooked through. Allow to cool. Dice into bite-size pieces.
*

Fluffy Cheddar Scrambled Eggs

6 scrambled eggs
1 T. pancake mix
2 T. milk
½ tsp. onion powder
¼ tsp. garlic salt
½ c. sharp grated cheddar
Beat eggs, milk, onion powder, and garlic salt together until well mixed. Pour into a non-stick cooking pan. Cook, scrambled-egg style over medium heat. Sprinkle with cheddar cheese, turn off heat, allowing cheese to melt over eggs.
*
Green Chili Rice

1 c. prepared brown basmati rice, warmed
¼ c. green chili's
Juice of 1 lime
Pinch salt
Stir together all ingredients in a large bowl.
*
Fresh Pico de Gallo
1/3 c. tomatoes, diced
¼ c. purple onions, diced
¼ c. cilantro, diced
Mix all ingredients together in a medium bowl. Add Salt & fresh ground pepper to taste.
2-4 Tbsp. chopped chipotles in adobo sauce
1 c. sour cream
Mix together in a small bowl.
Spoon ample amounts of each ingredient onto a large, good-quality tortilla. Roll tortilla up. Serve immediately.
Blogging today from the luxurious Hyatt Regency in Scottsdale, where I'm a special media-guest of Thermador, here to learn more about their latest revolutionary kitchen appliance. Tomorrow is a full day of hands-on culinary training in their gorgeous kitchen, with real-live chef. Details and photo's arriving promptly (while the kids are at home eating cookies for breakfast and microwave popcorn for lunch, thanks to Daddy. Thanks, babe. I love you! ;)