Pink Grapefruit Salad with Brown Sugar Vinaigrette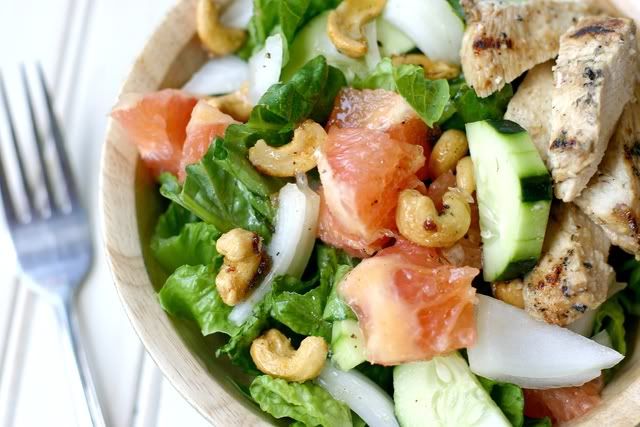 This is not an advertorial. But, it's going to sound like one. So hang in there with me.
*
Ever since I posted a picture of myself on this here blogsite of mine, I've had people email and ask, "how do you bake so much and stay so thin?" Well, for a long time it's been a real up and down bungle of bad eating, feeling guilty, starving myself, setting ridiculous 'stay-away-from-all-carbs' goals, and on and on. I may be the pin-up girl for Cheeky Kitchen, but I haven't been the poster girl for exemplar eating.
*
Food has always been my 'thing.' While my sister's can remember hilarious experiences we had while living in Grandma's farm, or with neighborhood pals, or when our family tripped to Tijuana, I remember what we ate. Food has been a way for me to reward myself, punish myself, treat myself to happiness, shame myself for the blues. Eating is often a way for me to express my feelings. And, while I've always had a very light and lovely way of looking at eating, there's no doubt that–if you bake enough cookies–you're going to scoot yourself right out of your skinny jeans.
*
It's all been back and forth, back and forth. I've tried this diet and that. This excersize class and that workout regime. Sometimes things work and sometimes they don't. Sometimes I like my booty. Sometimes I go wake up and feel the saddlebags nestled under the covers and wonder why my fairy godmother hasn't granted me a tiny heiny.
*
Then, one day about two months ago, I'm walking through the grocery store early, early, early in the morning. I'd just dropped my son off for Scout Camp and there was an hour to kill before the gym opened. So, I was going slow. Just a takin' my time walking up and down the aisles. La-dee-dah. La-dee-dah. It was at the end of the ice cream aisle, just before I hit the chocolate fudge topping that I noticed a stack of books. One, in particular, seemed to call out to me: "When Food Is Love, Exploring the Relationship Between Eating and Intimacy."
*
Hmmmm. I thought.
*
I picked up the book and started thumbing through it. Words and letters and stories began to strike a chord deep in my soul. There was the part where Geneen Roth, the author, talks about how kids from crazy families (such as my own) grow up and use food to create drama in their lives. There was the part where she recommended that the best way to eat is never to diet, but rather, to eat when you are hungry'. Then, there was the part where Geneen said something like this, "if at the end of the day you eat a bowl of ice cream. You haven't proven your unworthy or unloveable. You haven't ruined your perfect body. You've just eaten a bowl of ice cream."
*
It was about this point in the book when I realized I'd been reading Ms. Roth's book for 2 hours straight. Devouring it, actually. Right there on the grocery store floor. Which is exactly where I stayed until I'd turned the final page, wiped tears from my cheeks, and stood up. Somehow, I felt like I was standing taller that I had been just a few hours before.
*
Two months later, I've dropped somewhere around seven pounds and I haven't dieted a once. I haven't even thought about dieting. In fact, I don't even know how much I weigh right now. But, I do know I feel more comfortable in my own skin than I ever have before. I don't tell you this to neiner-neiner a single soul. Rather, to say Thank You to Geneen Roth for the clarity with which she shared her remarkable truths. Truly. Thank you. Your book has changed everything.
*
And, thanks to the grocery store clerks who let a certain bed-headed girl sit and read on the floor one morning. It totally made my day.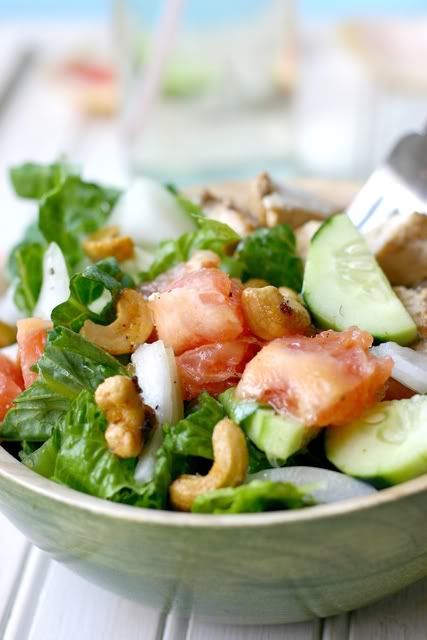 Pink Grapefruit Salad with Brown Sugar Vinaigrette
Light and lovely.
½ c. whole cashews
2 T. honey
t. chili powder
Pinch garlic salt
2 grapefruit, peeled, sectioned, diced
Grilled Chicken
½ c. Vidalia onion, sliced thin
½ c. cucumber, sliced
5-6 c. romaine lettuce, chopped
In a small saucepan, combine cashews, honey, chili powder, and garlic salt. Stir over medium heat until honey begins to boil and evaporate. Turn cashews onto a piece of parchment and allow to cool. Combine all other salad ingredients in a large bowl. Add cooled cashews. Serve with brown sugar vinaigrette.
Brown Sugar Vinaigrette
Juice of 2 freshly squeezed lemons
Juice of 2 freshly squeezed limes
1 T. orange juice concentrate
¼ c. brown sugar
¼ c. olive oil
Dash of cinnamon
Generous sprinkling of salt and fresh-ground pepper
Whisk together all ingredients. Pour over salad. Stores in the fridge up to one week.
Which books have been most life-changing for you?