Thermador "Now You're Steam Cooking" Blog Event
I was sobbing last Tuesday to my husband. "I hate that I have to work. Even if it is from home," I complained, explaining to him my very rational desire for life on an Amish farm with me wearing gingham dresses, and my children donning suspenders and bonnets. "Why can't we just give it all up, simplify our lives, eschew the hectic modern life?"
*
The next morning, I woke early, kissed my children who were still cozily snoozing in their twin beds, and hopped on a plane to Scottsdale, Arizona where Thermador Luxury Kitchen Appliances had invited me to join them for the unveiling of their new Steam Convection Oven.
*
As it turns out, one limo ride, one luxurious hotel stay, and three days of pampering and presentations for the Thermador brand was all this country girl needed to be convinced. Technology-free life on a farm can't possibly be nearly as enjoyable as Induction Cooktops with the style and efficiency of a Star Burner and Sensor-Dome cooking, True Convection Ovens, or Sapphire 6-program Dishwashers with a glowing blue light emanating from it's interior. Oh, and I think I'd also like a chauffer to call my own. In a black tuxedo. With a goatee. I simply won't settle for less.
*
All kidding aside, Thermador put together an incredible event and I was honored to have taken part. Here are a few of the highlights…
We were invited to tour and taste the very best of Thermador. Their company boasts an award-winning showroom with a staff of remarkable chef's, with whom we were lucky enough to spend an entire day with. True to the Thermador brand, the kitchen's were gorgeous, slick and innovative, and the food was absolutely splendid. Chef Kyle Jakobi started us off with blueberry pancakes and buttermilk syrup for breakfast, perfectly pink beef tenderloin with Tomato Jam for lunch. There were roasted garlic mashed potatoes. Salmon Wellington. Creme brulee. And, we got to work right alongside the chef's, preparing the food. Such a treat.
Our day in the Thermador kitchens began with a brief overview of the company. I was already aware of Thermador's reputation for innovation, style, and excellence. But I was amazed to learn that the Thermador brand was the first to create appliances out of stainless steel. Thermador was the first brand to offer matching built-in cooktops and ovens (whatever did we do before our appliances actually matched?! Ugh!) and, coolest fact ever…Alice from the Brady Bunch actually cooked on Thermador. Tres chic, eh?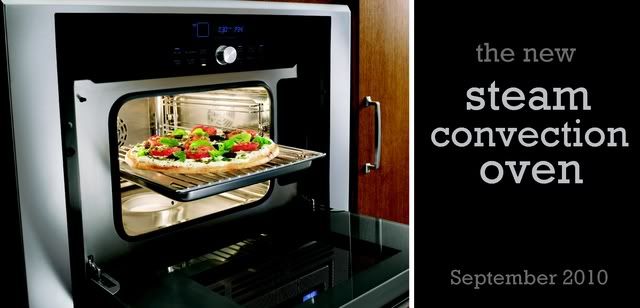 The highlight of the event was the unveiling of Thermador's new Steam Convection Oven, which will be available in stores this fall. The Steam Convection Oven offers a healthy, professional approach to the kitchen. It's unique steam-and-convection system allows home cooks to prepare food with unrivaled flavor, texture and quality. As a baker at heart, I was particularly excited to learn that yeast dough can be proofed in the Thermador Steam Convection Oven in record time.
*
I was particularly impressed by Thermador's passion for their products. Every Thermador employee I met showed an excitement to not just make appliances, but to make appliances that offer real innovations for real cooks. I truly adore their entire team, and would choose the Thermador brand for my own kitchen, if our budget so allowed.
If the highlight of the event was learning about the Steam Convection Oven, the highlight of my weekend was meeting a new group of remarkable bloggers.
*
Jennifer from Savor the Thyme pulled together a historically hilarious gondola ride, Russell from Endless Simmer proved himself the cleverest and most enjoyable of wits, Jenny from Picky Palate served as the finest roomie ever, Shaina from Food for my Family was the very loveliest person to chat with at midnight in the hallways, Lindsey from Fresh Clean Start was immediately wondrous, and Tanya made for the finest table conversations, Diane and Todd from White on Rice Couple inspired constantly with their character and kindness, Becky from She Knows kept me in stitches with her hysterical commentary. You can check out a list of all the AMAZING bloggers I was able to rub shoulders with last weekend by clicking HERE.
*
Thank you, Thermador, for hosting such an enjoyable event for such a worthy line of products! I think I'm ready to trade in my farm girl fantasties for a life of sleek, techno-friendly living.
*
Disclosure: Thermador paid travel, dining, and accommodation costs for this event. I was not compensated to write about my experience and opinions expressed and purely my own volition.