Mango Chicken Salad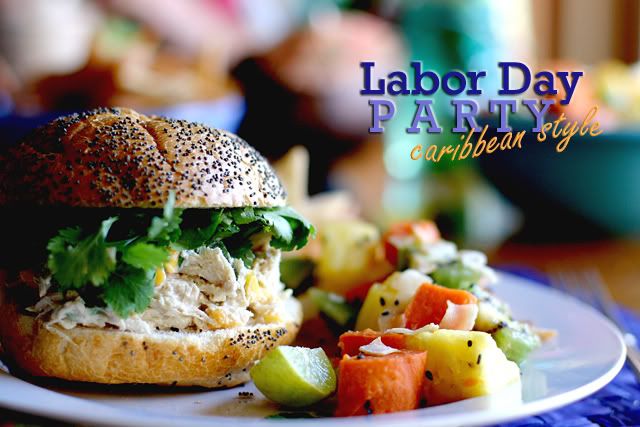 I found a grey hair Thursday morning while sitting at a stoplight in the car. It wasn't one of those one-inch wiry ones that grow straight out of my scalp from time to time like homesteaders staking claim on this head of hair I call mine. No, this one was looong–it must have been growing for sometime now–stuck as it was amidst my regular brown locks. And this hair was white, as white the sunrise of a winter morn. I plucked it from my head and held it in my hand and marveled. Grey hair, what a delight.
You may think it odd that I would welcome such a find. I found my reaction odd, too. Because after all, there was a day in my mid-twenties when my husband found a rascaly grey hair popping itself from the crown of my head and I was horrified. Like, knee-buckling, terror-filled horrified. But that was me in my twenties, worried over silly minutae like grey hair and a skinny butt. Still, I was surprised last Thursday, when finding a grey hair was like sitting down for a sneak peek of The Future Me. I was positively thrilled.
So I'll have long white hair? I thought. What a relief! With a head of white curls, it's clear I'll be the sort of old woman who really has it all going on. No sitting in the beauty shop for me, thank you. I'll be popping that mane of mine into a ponytail and riding a red beach cruiser to the farmers market. Dropping sparkling sugar cookies off to my grandchildren. Jet setting it over to a new restaurant for lunch everyday. Throwing color-coordinated Labor day parties in my confetti-colored garden. Wearing a yellow retro swimsuit on a Tahitian beach while holding hands with my bare-chested old-man hubby. That's obviously what you do when you turn into an old woman with a flowing silver mane, duh.
It's going to be hot, this growing grey thing. That's what I learned last Thursday afternoon, while sitting at a stoplight, holding a single thread of shimmering white hair in the sunlight. How nice to know that sometime in the future I still be quirky, and perky, and full of vamp and vigor. I'll have time to linger over a restaurant meal, throw grand parties, lounge on faraway beaches.
Which might be fair payback for now, when I get to drag whining children through grocery store aisles, rush around the kitchen at dinnertime, carpool little people all over this green earth for afterschool activities. And, I get to do it all with a mousy brown ponytail. Of course, that is the same brown ponytail my Becca says looked pretty today. And, it's the same mousy ponytail my little Jacob pulls ever-so-gently through his fingers when he's waiting for me to send an email on the computer. Payback? I suddenly thought. Who needs payback for this daily sort of lovely that is little kids and everyday motherhood?
The light turned green. I reached my hand out the window and tossed my grey hair out the window. Perhaps there will be time for all that someday. But, for today, for yesterday, for last Thursday, I had a house full of rugrats waiting for me to get home and make lunch. I stepped on the gas and smiled as my brown ponytail whipped happily in the breeze all the way home.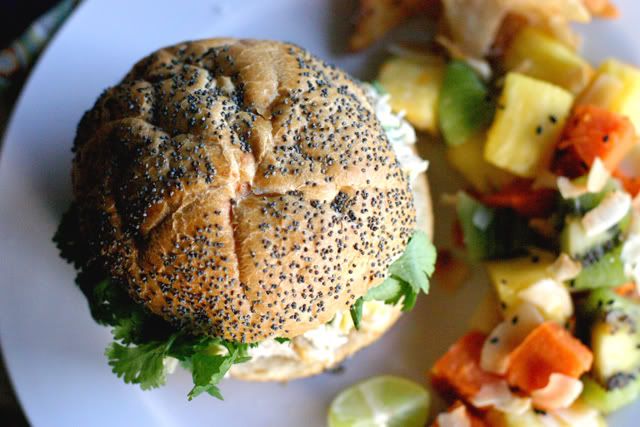 Mango Chicken Salad
If you're looking for an ideal Labor Day menu–simple, fresh, and easy with the cool flavors of summer and the warm flavors of fall mixed all together–this easy chicken salad (and the accompanying menu items arriving this week right here at Cheeky Kitchen) are a surefire way to make your holiday celebration a true treat. This chicken salad is simple, mild tasting, and just different enough from the usual chicken salad fare that you'll feel like a true chef presenting it to your party guests.
2 chicken breasts, boiled and shredded
1/2 tsp. cumin
1/2 tsp. cinnamon
1/2 T. salt
Fresh ground pepper
pinch of fresh ginger, finely grated
3 T. light cream cheese
1/4 c. sour cream
1/4 c. green onion
1 mango, finely diced
In a large bowl, combine the chicken, spices, sour cream, and cream cheese (if you prefer a more moist chicken salad, toss in a Tablespoon or two of mayonnaise or coconut milk). Fold in green onions and mango's. Spoon chicken salad on toasted poppyseed rolls, or croissants with a handful of cilantro of fresh spinach leaves atop. Serve with Sweet Potato Pineapple Salad (arriving soon) and Fried Cinnamon-Sugar Tortilla Stars (below).