Greek Yogurt & Berry Parfaits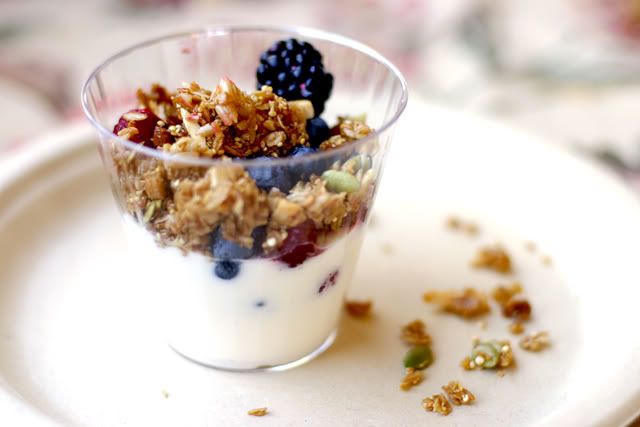 I was laying under the blue chenille covers in Grandma's blue wall-papered bedroom when my mother snuck in to kiss me goodnight.
*
"Have you ever noticed the first thing Grandma says in the morning?" she tickled into my ear.
*
I never had.
*
"It's food. She'll talk about food. Listen tomorrow and you'll see," she winked at me and floated out the door.
*
I willed myself awake intentionally early the next morning, lay still and whisper soft with my ears perked to any sounds in the hallway. It wasn't long before I heard the rustle and movement of Grandma's slippered feet, padding their way from the bedroom to the kitchen.
*
"What should we have for breakfast, Buster?" she sang through her wavering morning voice, "And I suppose we should have chicken soup for lunch."
*
Laying there, listening to Grandma, I had the strangest feeling that I should feel annoyed by her devotion to filling our bellies with warm food. Instead, I felt intense admiration and devotion to her cause. Why wouldn't a person want to start speaking first thing in the morning about food, glorious food? Why wouldn't you want to spend as many minutes of the day dreaming up the flavors of breakfast and lunch. Of afternoon snacks, and after dinner snacks, and midnight snacks? I adored Grandma's take on the morning. Understood her language. Relished the clanking of pots and pans as she pulled them from the cupboards. Anticipated the smell of fresh banana pancakes as they rolled off her spatula and onto my plate. Perhaps I should have guessed then that I'd have a future as a food writer.
*
Oh, morning. You, with your promise of mealtime delights. Hello, welcome, so glad to see you.
*
Thanks, Grandma, for every word you ever said first thing in the morning. They sure did make my day.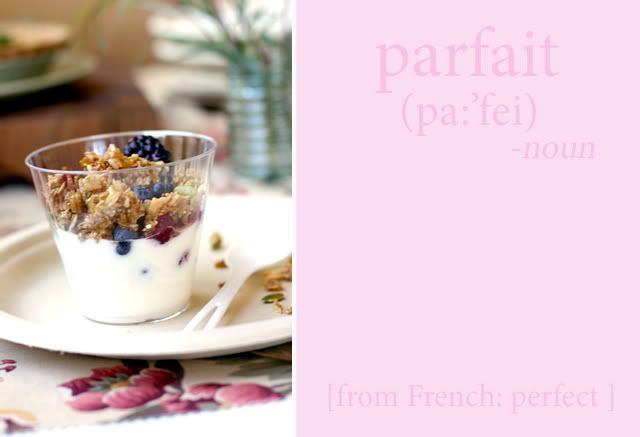 Parfaits are such a simple treat. The addition of creamy, candy-flavored Greek yogurt and homebaked granola makes these parfaits particulary amazing. I ate them everyday last week for breakfast and lunch and lost three pounds, too. So, let's call these fancy, gorgeous, little pots of goodness the ideal sort of diet food, too. Okay? I happen to think my Grandma would agree. So there. Happy morning, Happy lunch, Happy eating.
1/2 cup greek yogurt, vanilla
1/2 cup fresh berries
In a small bowl or clear glass, layer yogurt and berries. Sprinkle granola generously atop. Serve immediately.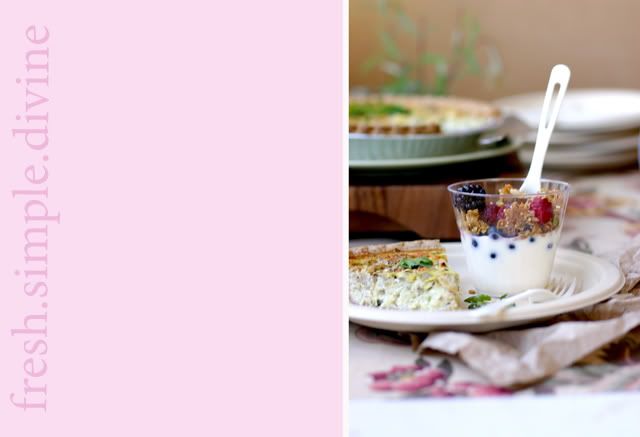 Have a bounty of fresh picked apples in your house?
Pop on over to The Family Kitchen this week to see our amazing apple harvest recipes.
And, a bite of more exciting food news, you can now also find me daily over at She Knows with two fun, new daily food columns, Food Finds & Recipe of the Day.