Labor Day Delicious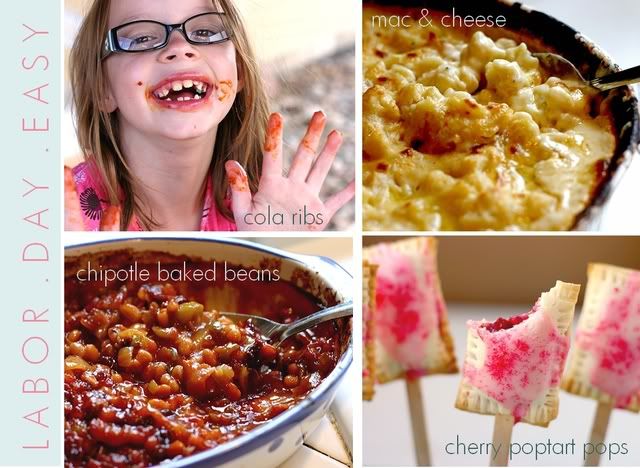 The kids woke up this morning, asking if they could stay home. Two of them feigned coughs. One let loose on a wicked-sounding sniffle. Usually, my kids don't mind heading to school on a Friday, with a weekend full of fun waiting at the end of the day. But, today is an extra-special Friday because our Papa is coming into town for Labor Day. He's arriving around noon (right in the middle of the school day! Bah!), and not a single one of us can wait for his merry self to pull into the driveway.
We love when our Papa visits.
We especially love when our Papa visits for a long weekend, with the promise of Labor Day barbecuing and porch sitting evenings on the immediate horizon. Hurrah for holidays! Hurrah for Papa's! Without them, we'd always want to go to school on Fridays.
Are you cooking nice things over the weekend? Perhaps you'll be indulging in the Cheeky Kitchen Caribbean-Inspired Menu: Mango Chicken Salad, Cinnamon Tortilla Stars, and Sweet Potato & Pineapple Fruit Salad.
If traditional pinic fare is more up your alley, don't miss all the fun offerings I've posted over on Babble's The Family Kitchen this week. It's a full menu of don't-miss-'em-classics. Spritely Ribs with and incredible Cola BBQ Sauce, spicy chipotle baked beans, incredibly easy and creamy mac & cheese, and the creme de la creme–the most delicious, adorable Cherry Pie Poptart Pops you've ever seen or tasted. There's a bonus with those wondrous little poptart pops….the post arrives with an interview with the real, live Bakerella about her new Cake Pop book.
Oh! It's fun! fun! delicious fun! I do so hope you enjoy the posts, the recipes, and most importantly…your weekend. Happy, Happy Labor Day!
Follow these links to find each of the Labor Day offerings pictured above: