Little Hobgoblin Sundaes
I have goblins in my house.
Oh, I know, it's a little bit early in the season. But still, they are here. And it seems there isn't much I can do about it.
Do you know that goblins are very fond of unmaking my children's beds in the morning? They toss toys on the kitchen floor, and throw bits of our dinner around the T.V. room. Sometimes they wipe chocolate on the walls, dump stinky goldfish water all over the bathroom counter, leave unmatched socks in the hallway and on top of the car antenna.
Strange, though. They never seem to be around when the kids go off to school. They've scheduled their appearances during the very moments my perfect little tots wake in the morning, and arrive home at night.
And that's another thing. My children always, always, always hang their backpacks neatly on the provided hooks. The goblins take them down.
The nerve. I've been thinking of ways to rid myself of such pesky problems.
Of course, sometimes the goblins surprise me. They slide notes under my door at bedtime, asking if we can snuggle. They unexpectedly tidy up the bookshelf. And this morning I awoke to find they had laid out my tweenagers clothes in perfectly folded ranks.
It makes me think. Maybe I don't want to get rid of the chocolate smears and fish puddles and disshevlled beds, after all. In fact, I sort of like the spot of color those pint-sized creatured lend to our home.
So, here's the plan…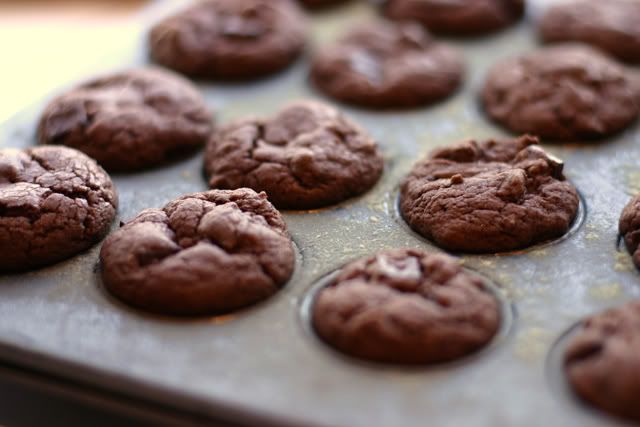 I'll bake a batch of teeny, tiny chocolate-chunk cookies.
I'll press the centers in with my finger (a much better use for it than scolding those magical, little creatures of mine.)
Dip in chocolate.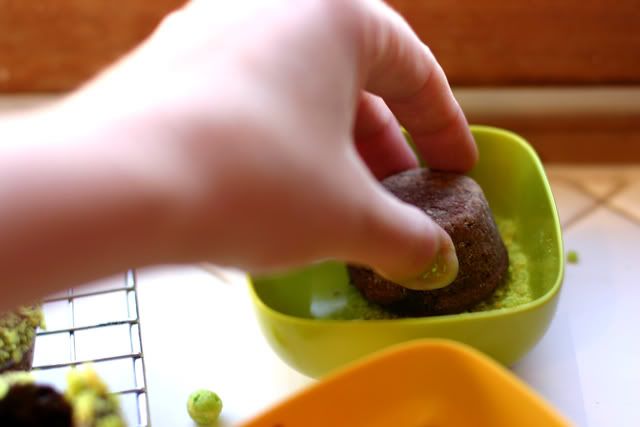 Kerplunk into a bowl of green & yellow swirled TRIX.
Top with ice cream. Vanilla bean ice cream.
Drizzle with chocolate. A lot of drippy, gooey chocolate.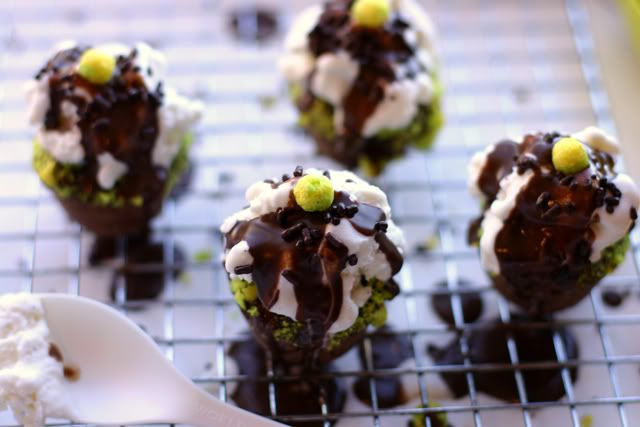 Place a goblin-colored cherry on top.
Then, offer it all on a halloween-colored plate. That should do it. That should tempt those teensy creatures of mine to stay around forever.
Because we all know, goblins love chocolate. It's the perfect thing to wipe across the walls.
The perfect thing to smooch off their little faces.
Hobgoblin Ice Cream Sundaes

Ingredients:

1 (17.5 oz.) package Betty Crocker Double Chocolate Chunk Cookie Mix
1 egg
3 tablespoons oil
1/2 cup milk chocolate chips
1 tablespoon butter
1 cup TRIX cereal
1 pint ice cream
1 bottle magic-shell ice cream topping, chocolate

Directions:

In a large bowl, combine cookie mix, egg, and oil until well mixed. Roll dough into tablespoon-sized balls, and place them in a mini muffin tin which has been generously sprayed with nonstick cooking spray & coated with flour. Bake in an oven preheated to 350 degrees for 15-18 minutes, or just until the tops of the cookies are round and ever so slightly hardened.

Remove cookies from the oven and allow to cool for a few minutes, then indent the center of each cookie with the handle of a wooden rolling pin (or with your fingers. That's what I did, because my little goblins seem to have gotten their hands on my rolling pin, too.) Allow to cool completely. Remove from cookie tin.

Call your little goblins into the kitchen and put them to work picking the green & yellow TRIX out of the box. Place them in a small bag (the TRIX, not the goblins), and crush them with a rolling pin, or the palm of your hand. Pour into a small bowl. In another small, microwave-safe bowl, heat chocolate chips and butter together until melted.

Dip the tops of each cookie into the melted chocolate mixture, then press them gently in the crushed TRIX. Allow to airdry on a cooling rack.

Plop a scoopful of vanilla ice cream into each cookie cup. Drizzle a bit of magic shell on top, sprinkle with chocolate sprinkles, and place a single Goblin Cherry (green TRIX) on top of the sundae. Serve immediately, or freeze until ready to share with your little goblins.

Like my Owl Cookies and Peanut Butter Parfaits, this sweet treats was inspired by Big G Cereals and Betty Crocker's Halloween Challenge. Many thanks to both companies for inviting me to create in my kitchen this week. It's been a true treat.