Monkey Muffins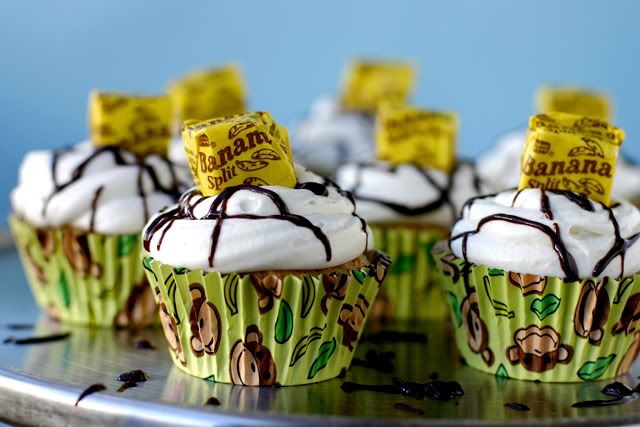 With Labor Day ended, the back-to-school season is now officially in full swing. We were up early this morning rubbing the sand from our eyes after a delicious weekend of baseball games and fireworks and giant hamburgers. Getting back into routine is welcome for lots of moms, but not for me. I sorta like the whimsical, spontaneous freedom of holiday. Alas, we are back to packing lunches, sharpening pencils, and school fundraising.
*
Do you dread school fundraising as I do? Egad. It has to be the second most painful thing behind childbirth. The only difference, as I see it, is that after delivery you get to tote home a bundle of joy. After fundraisers, you're delivered a bundle of overpriced gift wrap. Or cookie dough tubs. Or nappy tubs of popcorn. Or useless coupons. Or…oh, you get it. Fundraising season drives me bananas. Having four fundraising kids? Well it's enough to turn a penny-pinching mama like me into a bit of a sourpuss.
At least, I was feeling sourpusserific about it all until last night, when my 12-year-old delivered a carefully folded letter into my hand, and kissed me on the cheek before tiptoeing out of the room. Yep. The household tween kissed me on the cheek. Here is the note that arrived with the kiss:
Dear Mother,
Oh mother. The one who softly glistens in the night sky, whispering as softly as an angel, lighter than a feather you glide, intriguing ever child. Their hearts love you, and mine does, too. So can you please please please email all your email buddies about my schools magazine sale? I would die if you did.
Love,
Andrew
P.S. I love you more than life itself.
How is a mother to resist the joys of fundraising after such a letter? I emailed every human I knew, tucked him into bed with a lollipop, and decided to invite you all to order every magazine you've ever desired on his behalf.
Such a child deserves such a fate, I say. When you tell your mama she "glistens like the night sky" only good things can come of it.
Buy magazines here for my beautiful, handsome, divinely devoted son, Andrew. Love you kiddo.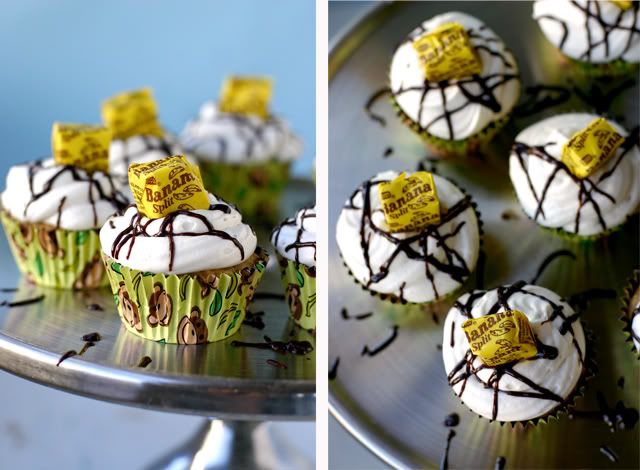 Monkey Muffins
Treat your little monkeys to this silly snacks. Of course, they aren't really muffins at all. They are actually kinda healthy-ish cupcakes that hide a bundle of ripe banana's, whole wheat flour, and a handful of chocolate chips inside. Perfect for afterschool snacks, lunchtime snacks, or anytime you feel like snacking on something deliciously fun, moist, and full of incredible banana and chocolate flavor.
4 ripe banana's
3 T. butter
2 eggs
1 tsp. vanilla
2/3 c. brown sugar
1/2 tsp. salt
1/2 tsp. baking powder
1/2 c. white flour
3/4 c. whole wheat flour
1/2 c. chocolate chips
In a large bowl, beat together banana's, eggs, butter, and sugar until smooth. Add in remaining ingredients. Spoon into muffin tins, lined with cupcake wrappers. Bake in an oven preheated to 350 degrees for 18-20 minutes, or just until the center of the muffins bounce back when touched lightly. Cool before serving.
*
Light & Fluffy Cream Cheese Frosting
3 T. cornstarch
1/4 c. water
1/4 c. butter
4 (oz. cream cheese)
1-1 1/2 pounds powdered sugar
In a saucepan, combine cornstarch and water, whisking together over medium heat until the cornstarch thickens. Transfer to a bowl, cover with plastic wrap, and chill in the fridge until cool. In a large bowl, beat together cooled cornstarch mixture, and remaining ingredients with an electric mixer until very light and fluffy. Frost cooled Monkey Muffins with a generous helping of frosting.
*
Easy Chocolate Drizzle
1/4 c. chocolate chips
2 T. butter
Place chocolate chips and butter in a microwave-safe bowl. Microwave until melted, about 45 seconds. Spoon into a plastic zip-top bag, snip off a small corner of the bag, and drizzle over frosted cupcake. Enjoy!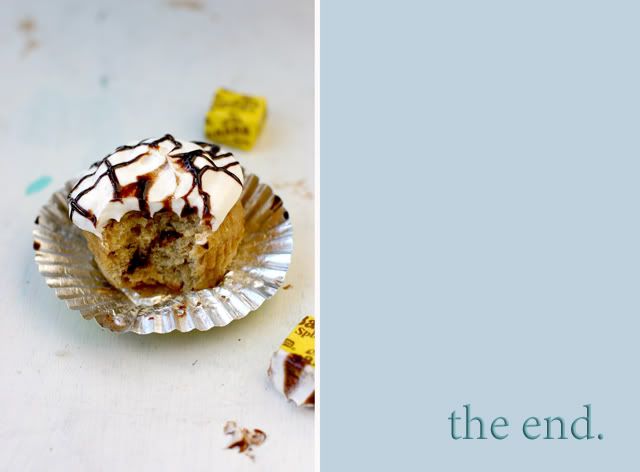 Here is a real-live fundraiser, worth checking out. Cheeky Kitchen reader, Michelle Andrews is hosting an iPad giveaway in exchange for donations to Villa La Paz, a remarkable home for destitute, sick children in Peru. Please click here to learn more about the cause.