You've Got Mail
After a harried morning of errand running, and grocery store shopping, and post office line-waiting, I arrived home last week to find a package on my doorstep.
*
I love packages on doorsteps.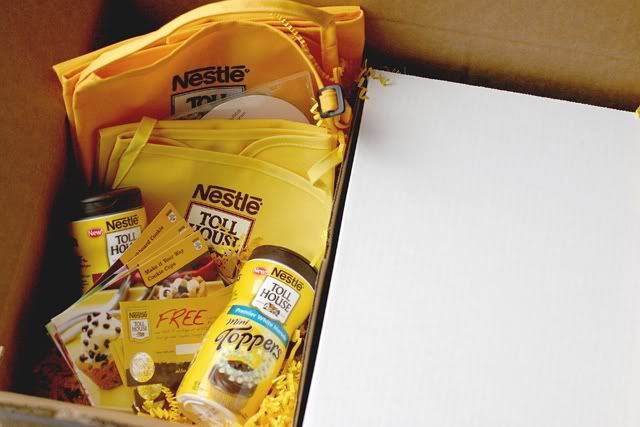 Better yet, it was a package full of chocolate and free coupons.
*
I love chocolate and free coupons.
The box arrived with a mama-sized apron, a kid-sized apron, Nestle's clever new Mini Toppers chocolate chips in a grip-sized jar, and lots of back-to-school recipe ideas. The recipe idea for Make-It-Your-Way Cookie Cups was more than my tots could bear. They insisted we drive to the grocers post-haste and use our free coupons to purchase a tube of dough that we might attempt the cookie cups in the stock photo above.
Not pictured: Our failed attempt at Cookie Cups. (Actual photo deleted that you may still respect me as a food blogger.)
Note to reader #1: When making Nestle's Cookie Cups, grease and flour your muffin tins, lest your kitchen counters look like an unholy mess of digged-out cookie crumbles.
I do not love unholy messes.
Note to Reader #2: Also in package…a second box of goodies just for YOU!
I love goodies for you.
I really do.
Thanks for being a Cheeky Kitchen reader.
I love Cheeky Kitchen readers.
XO
Wanna win the box of Nestle Toll House Back-to-School Inspiration?
Leave a comment, say Hi, tell me what yer loving nowadays.
One commenter will be chosen randomly to recieve the package.
Disclaimer: Nestle provided me with a Back to School package for myself, and for the giveaway. However, they did not compensate me to write positive comments. They most especially did not compensate me to overshare on the failed cookie cup attempt. Opinions in this post are mine. So are the calories consumed while making this post.