Black Velvet Cupcakes with Haunted Chocolate Tree's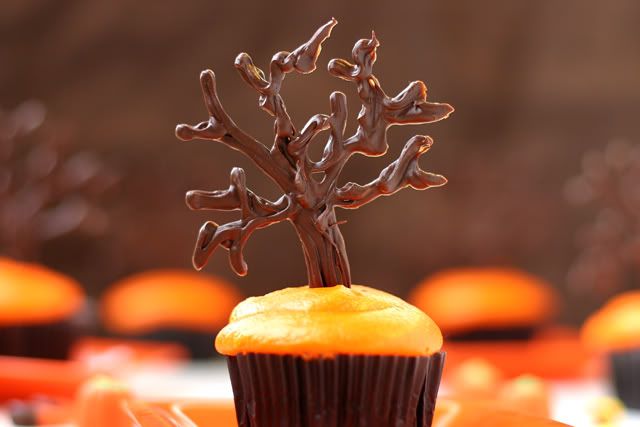 Do you ever feel like you can't see the forest for the tree's?
I'm so sorry. I couldn't resist.
There's all sorts of fantastic news and gossip to catch you up on, like how at exactly 4:44 today my entire house was clean for a single, perfect second. And how I totally lived this moment while playing chaperone at my son's 7th grade dance last Friday. And how I picked up a handful of rainbow colored leaves while on a midafternoon jog, then tossed them in the air because I couldn't smile big enough over the sheer wonder that is autumn.
But, how could we possibly waste a moment of breath on gossip when there are Black Velvet Cupcakes to gawk? I want so much to say something…anything about these cupcakes. But, I think they are so utterly clever and adorable, I can think of only one thing to do with them.
Bake 'em. Share 'em. Eat 'em up.
Happy Cupcake-o-ween!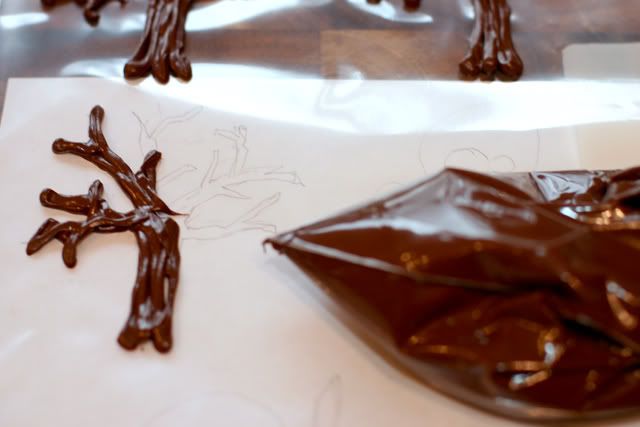 To make your own haunted tree toppers: Print off a template of a spooky tree (like this one
here
) sized approximately 3″ high. Place the printed tree underneath a large piece of parchment paper.
*
In a large microwave-safe bowl, melt 2 cups of chocolate chips by zapping them in the microwave for 30 seconds, then stirring them vigorously. Zap for 30, then stir until the chocolate chips are melted. They should never actually get hot to the touch, which is a good thing! (Chocolate that is overmelted will cool with little white dots, which is kinda gross and ugly. So, take care not to overmelt your chocolate. )
*
Spoon melted chocolate into a large plastic freezer bag. Snip a small corner off of the bottom of the bag and pipe the chocolate onto the parchment, following the basic outline of the tree. Allow to cool & harden completely in a room temperature room before decorating your cupcakes.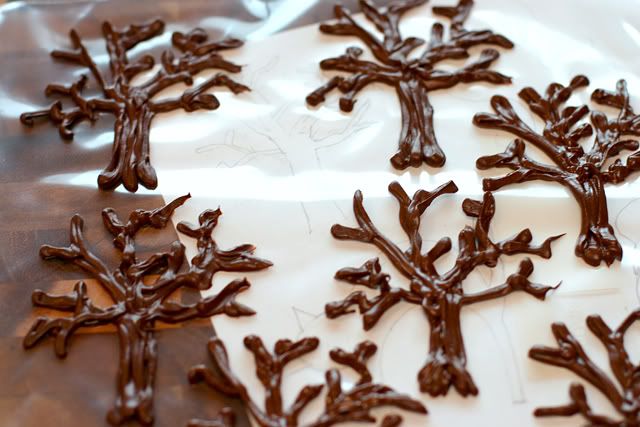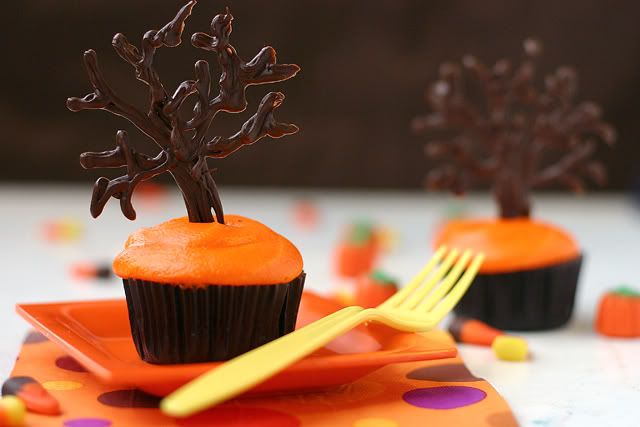 Click
here
to get the recipe over at Babble.com!