Easy Baked Egg Cups
Cookbook #1 "The LDS Girls Cookbook" has been officially submitted to the publisher. That audible sigh you hear is the sound of my patient children, welcoming me back to life in the real world.
*
Putting together this book has been a stress, a pain, an exhaustive task. The pile of laundry waiting for me tomorrow rivals Mount Rushmore, only with less rugged good looks. But, writing the book, creating chapter after chapter of recipes moms will actually let their daughters cook, editing, photographing…it's been a blast.
*
We hosted a book photoshoot last weekend. Just look at these adorable girls.
They were totally up for anything. They did prep work. They cooked. They cleaned. They got dirty.
They acted as a top-notch lighting crew.
Then, they danced. To Dynamite. And, really. These sweet girls were dynamite models, actresses, chefs.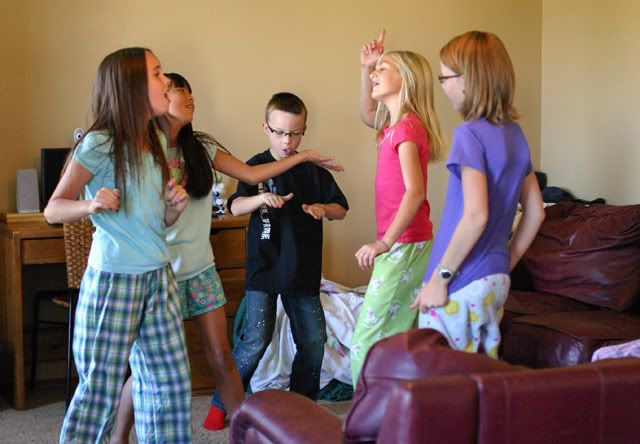 Here's a preview of one of the recipes from the book. As we get closer, I'll be sure to share all the details on where the book will be available for purchase. You'll be able to buy it online, or through Deseret Book retailers. With this beautiful little book on in the hands of my capable editor, there's only one thing to do…start typing away on book #2. That book, Cooking with Your Kids: Recipes Parents and Children Can Make Together, will be available nationwide Spring 2011.
The laundry pile can wait until then, right?
Ham & Egg Breakfast Cups
Simple, satisfying, and easy enough to make with your kids. I love serving these baked eggs as a quick, warm before-school breakfast now that the weather is beginning to cool. If you want the yolks to be soft and slightly runny, be sure to bake them only until the edges of the biscuits are slightly browned. Makes 8 servings.
1 tube refrigerated biscuits
2 T. bacon bits
8 eggs
Salt and pepper
Preheat your oven to 400 degrees. Open the package of biscuits, and press each of the 8 biscuits into the muffin cups. Use your fingers to press the biscuit up and around the edges of the muffin tin. Sprinkle some bacon bits into the bottom of the muffin cup. Crack an egg on top of the bacon. Sprinkle a little bit of salt and pepper on the egg before baking it. Bake for 8-10 minutes, or just until the edges of the muffins turn golden brown. Garnish with American Cheese cut-outs, sliced cherry tomatoes, and diced scallions.
Looking for a less girlie version of this breakfast?
I just posted massive, hearty, uber-delicious Texas Baked Biscuits here, on Babble's The Family Kitchen. Don't miss 'em!