Hot & Sour Soup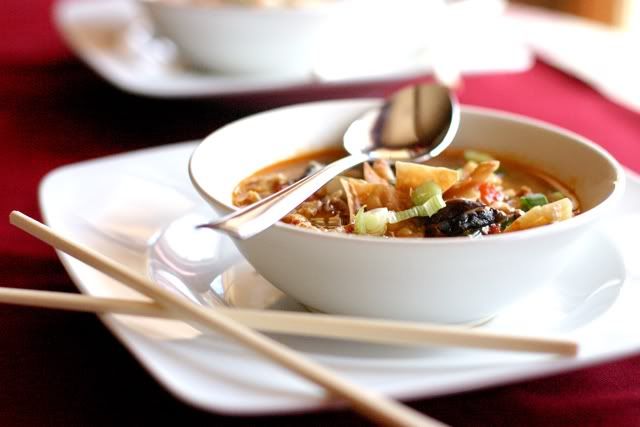 Dear Husband,
I recognize that we have no direct relation to China, but I've decided we should nonetheless eat family dinners with chopsticks. Chopsticks make food taste better. Seeing as how I've grown tired of wiping crumbs off the kitchen table and the floor after each meal, I'd also like to petition your thoughts about the fam just kicking it cross-legged on the floor for meals.
If you could reply with your thoughts immediately, I might be willing to hang that Michael Jordan poster in the bedroom, after all.
XieXie,
Me
P.S. I know we have no direct relation to the rap industry either, but I've decided it would be way awesome if you would start referring to me as 'shawty.' I could totally dig that forever. Peace out, Zhangfu.
Absolutely Amazing Hot and Sour Soup

Ingredients:

1/4 pound pork, thinly sliced into strips
2 teaspoons sesame oil
28 ounces chicken broth
3 tablespoons white vinegar
2 tablespoons soy sauce
1 tablespoon cornstarch
1/2 cup firm tofu, cut into small cubes
1 red pepper, julienned
1 (8 oz.) can bamboo shoots
1/2 cup shitake mushrooms, sliced thin
1 egg
1 teaspoon sesame oil
dash of Srichaha chili sauce (optional)
3 green onions

Directions:

In a large pot, heat 1 teaspoon of the sesame oil over medium-high heat and stir-fry the pork in the oil until well cooked. Whisk the cornstarch into the broth, then add the broth, vinegar, and soy sauce to the pot. Simmer over meadium-high heat until the liquid is steaming hot. Stir in the tofu, red pepper, bamboo shoots, and mushrooms. Whisk the egg until well beaten. When the pot of soup is just beginning to boil, pour the beaten egg slowly into the soup, stirring it carefully to form strands. Stir in oil, chili sauce, and green onions. Allow to cook a minute more, then serve immediately.

For a fun & easy garnish: cut wonton wrappers into tiny triangles. Fry them in oil until browned. Sprinkle on top of soup before serving.