Monster Nachos
Remember last year, when I admitted my abhorrence over frightening looking Halloween treats? Well, I'm no different this year. Try as I might, looking at a bowl of eyeball soup or severed-finger carrot sticks makes me want to toss more than a few cookies. Ew blech. I want to eat food that tastes as good at it looks. I know this makes me the Halloween version of Scrooge.
Keeping in mind the concept that you can learn to love anything (I was actually in the car humming my heart out to Kenny G. the other day, so that proves it), I decided to venture in slooowwwly, ever so slooooowwwwly to the world of Halloween themed snacks for our holiday this year.
First up, Monster Nachos, made with this green guacamole chips. How fun is that?
Fun and so ridiculously easy. We treated half the neighborhood to a heaping plate of these spooky nachos over the weekend, and their were shrieks and howls of joy over them.
And, the kids liked them, too, once they got over my crazed cackling. (Fun food gets me happy, okay?)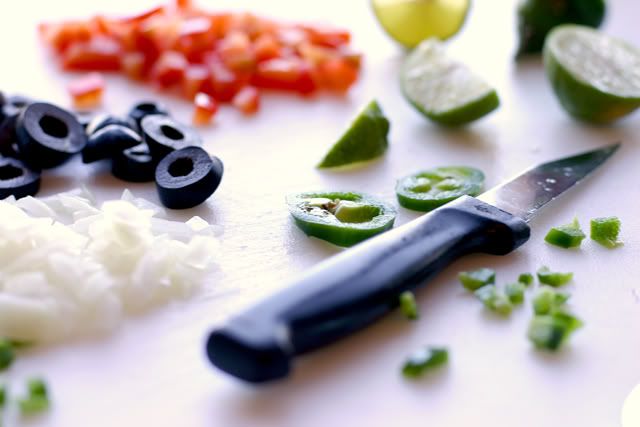 Monster Nachos

Ingredients:

1 cup chicken broth
1 cup milk
1/4 cup flour
2 cups sharp cheddar cheese
1 tsp. onion powder
1/2 tsp garlic salt
1 bag guacamole flavored chips
Your favorite nacho toppings:
We used grated cheese,
sliced olives,
chopped onions,
red bell pepper, diced
jalapeno, chopped small
plain greek yogurt
spider rings

Directions:

In a medium pot over medium heat, whisk together broth, milk, and flour. When the mixture is thickened, remove from heat and whisk in the sharp cheddar cheese, onion powder, and garlic salt. Pour over guacamole chips, then top with your favorite toppings. Enjoy!