Peanut Butter Caramel Dipped Apples
We went apple picking. I say that like it's a confessional because everytime I go apple picking, I feel like a spoiled glutton. Me and the kids, walking treelined aisles. Picking plump little apples from weighted boughs. Stealing taste after taste of their crisp-crunchy fruit.
If that sort of saintly activity makes me feel like a glutton, imagine dipping those pure, perfect fruits into a warm pot of peanut butter caramel. It's enough to make a girl feel downright naughty.
But, oh. Sometimes naughty is so nice.
Peanut Butter Caramel Apples

Ingredients:

2 tablespoons butter
1/2 cup brown sugar
1/2 cup karo syrup
1/2 cup heavy cream
1/4 cup creamy peanut butter
1/2 teaspoon vanilla
pinch of salt

Directions:

In a medium pot, bring butter, sugar, karo syrup, and heavy cream together until smooth and melty. Stir in peanut butter, then keep stirring over medium-heat. Bring to a boil and allow to boil for 3-5 minutes (or, if you want to be technical, until the mixture reaches the soft ball stage). Remove from heat, allow the caramel to cool slightly, then dip skewered apples right on in it.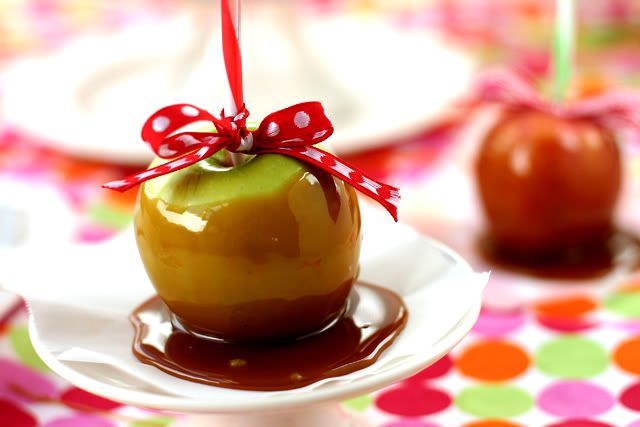 Looking for a traditional caramel apple recipe?
Click here to find my favorite.
And, aren't you just lurrrving those red & green caramel apple sticks? They are actually hard plastic straws, purchased in the hula-party section of my local Hobby Lobby. So fun!