The Best Banana Bread Maybe Ever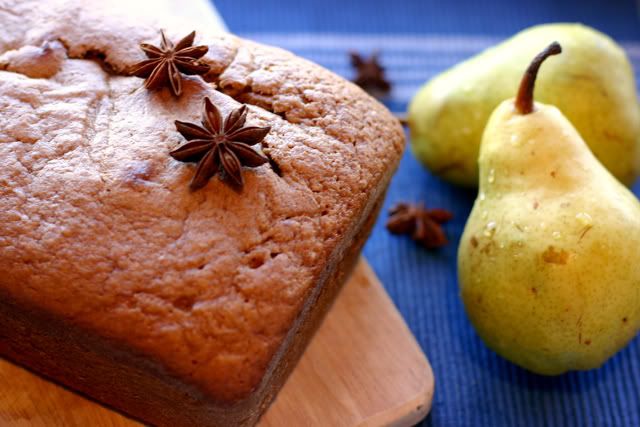 How was your Halloween? Ours was three long days of celebrating, which made for a very long holiday, indeed. Sometime around 8p.m. tonight, my tweenager dumped his candy in a box in the pantry and said, "Ugh. I'm done."
I'm done, too. My teeth have been properly coated with enough sugar for a millenium. My innards are crying out for some sort of a detox. Ugh. I'm done.
Before you completely swear off of sugar, you must bake up a loaf of this pure, sweet Banana Pear Bread. It's chock full of whole wheat. Filled to the gills with bananas and pears. Patted ever so gently with the tinsiest bit of butter. It's lovely, I tell you. Healthy and soft and delicious. Just what a banana bread should be.
There's just one small problem.
It's got three cups of sugar in it.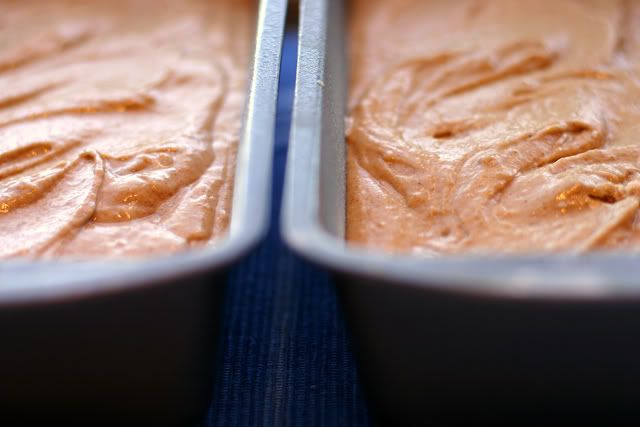 Three cups of sugar is hardly anything. Lots of recipes call for three cups of sugar. Like, if you're making lowfat suckers. Or lowfat syrup. Or lowfat doughnuts. See? You can totally justify three final cups of sugar before you start your post-halloween sugar ban.
Because all that whole wheat zeroes out all the sugar, right?
Ugh, I'm done.
Soft & Sweet Banana Pear Bread

While this bread isn't excessively healthy (ahem...three cups of sugar), it does bake up soft and moist, thanks to the addition of pureed canned pears. The pears also mellow the banana flavor, creating a loaf of incredibly delightsome bread that even banana bread haters will most likely adore. The recipe below calls for the bread to be poured into two large loaf pans. If you're baking them in standard pans, they'll need to bake for about 45 minutes. Mini loaf pans will need 27-30 minutes.

Ingredients:

1 (1 lb. 13 oz.) large can pears, drained
5 very ripe bananas
4 eggs
3 T. butter
2 1/2 cup brown sugar
1/2 cup white sugar
1 tablespoon cinnamon
1 teaspoon salt
1 teaspoon pumpkin pie spice
1 1/2 teaspoon baking powder
1 teaspoon vanilla
4 cups white wheat flour

Directions:

Pour the canned pears in a blender and puree completely. Dump into a large bowl. Place the bananas and eggs in the blender and puree completely. Dump into a large bowl. Add the remaining ingredients and beat together until well mixed. Separate the batter in half, pouring each half into a large loaf pan which has been generously greased and floured. Bake in an oven preheated to 350 degrees for 1 hour.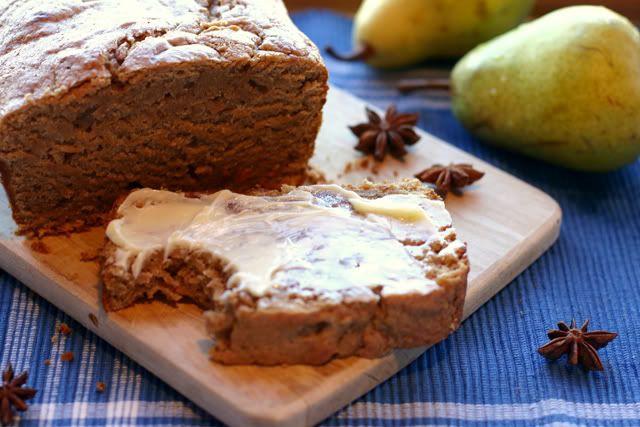 Slather with butter. Bite. The End.