Grilled Romaine Salad & The DOLE Blogger's Summit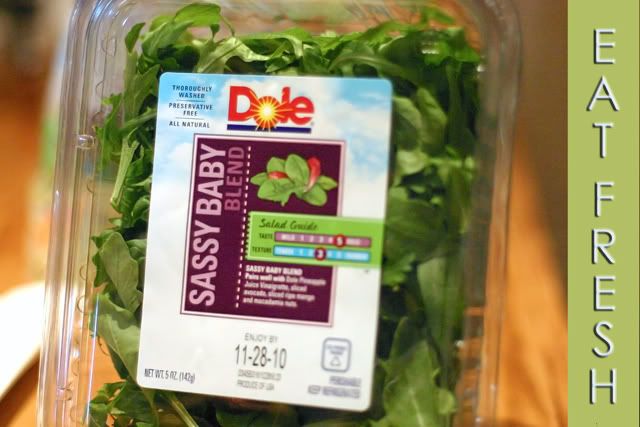 Last Wednesday was cold and grey. Such a fate would normally have me bemoaning my plight as a high altitude inhabitant, but last Wednesday wasn't just any cold and grey autumn day. It was the day on which I packed a bag full of light t-shirts, kissed my housekeeping hubby good luck, and flew into the absolutely stunning Four Seasons Hotel, Westlake Village California for the DOLE Blogger Summit.
The experience was splendid. As much as I resist leaving my family behind, the DOLE company went above and beyond to create a conference that would educate, inspire, and affect our lives beyond the 2-day meet-up.
Though DOLE has been part of our pantry and favorite products for years (son Jacob has been known to eat three bananas in a single sitting), I never knew what a drive the company has to create a better world through better health. A large portion of the Summit was to introduce us to the remarkable work their company does through their website, award-winning newsletter, employee wellness initiatives, education and research programs, and through the California Health & Longevity Institute which is an in-hotel facility devoted to total body wellness.
The company also took time to introduce us to several of their newest products, many of which we were able to sample. My favorite? The DOLE Sassy Baby salad blend which had so much flavor and kick it made me want to lick every last green off of my fork. Maybe I licked it off my plate, too. A woman never spills her secrets.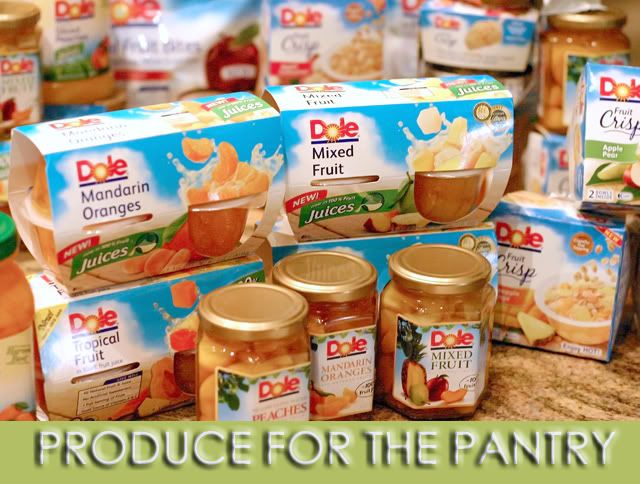 But, I will spill this: I'm a big believer in Peter Parker's classic adage, "with great power comes great responsibility." Coming away from the DOLE Summit, I was impressed by many of the company's products (most especially their fresh fruits and vegetables). I fully enjoyed healthy, indulgent eats and classes led by passionate, kind DOLE employees. But mostly, I walked away from the Summit with a sense of gratitude for the pride DOLE takes in their mission. The company could just sell bananas and pineapple and packs of salad. But, they don't. DOLE believes firmly in wellness, nutrition, longevity, and education and they assume the responsibility to teach, inform, and empower without hesitation.
As much as I adore these blogger getaways, do you want to know a secret? I worry myself sick about the write-up. It's important to me that Cheeky Kitchen is a warm, comfortable home for you readers. I always hesitate schpilling about schmoozy buisness all over it's pages. I'm a mom. I make food. That's what Cheeky Kitchen is all about. It was not an endeavor intended to blab about five-star resorting or canoodling with big time corporate heads.
With that said, can I tell you one more thing? I was genuinely impressed by DOLE. While there are a number of opinions any one of us might have about consumerism and maufacturing and dietary preferances, at the heart of the company are people striving to make our country (and the people of our country) smarter, stronger, and hopefully even a little skinnier (good gravy, we need that. Too many of us are putting crapaliciousness in our bodies and I appreciate DOLE for working diligently to make small changes to that truth).
Wanna know one last, big secret? Five star resorts are nice, but fantastic foodies are a girls best friend. Many, many thanks to DOLE for bringing me together with a few of my favorite people So as to keep from gushing, I've included a list of attending bloggy pals below…You're going to want to discover every last one of them. They all amaze entirely, irely, irely. Lurve the lot of them.
Checklist of Awesomeness for You:
1) Discover a slew of favorite food blogs (below).
2) Visit the amazingly interactive DOLE website and sign up for their info-packed newsletter.
3) Try this recipe. Then, try not to cry. (Oh.my.salad.)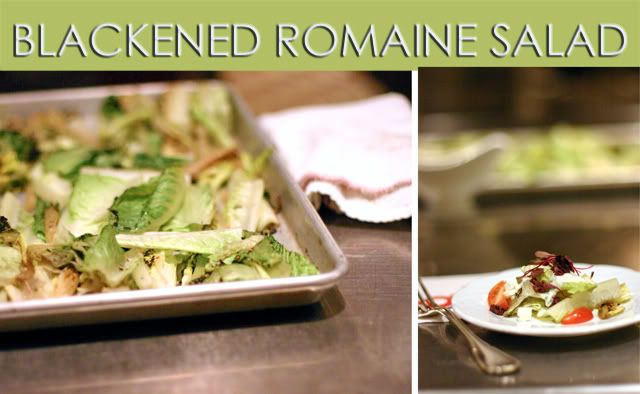 Grilled Greek Salad

Ingredients:

FOR THE SALAD:
1 package DOLE Hearts of Romaine
2 tablespoons olive oil
1/2 cup grape tomatoes, sliced
2 tablespoons sliced kalamata olives
1/4 cup feta cheese

FOR THE CREAMY BALSALMIC DRESSING:
Creamy Balsalmic Greek Dressing
1/4 cup balsamic vinegar
1 tablespoon soy sauce
1 tablespoon Dijon mustard
2 tablespoons honey
1/4 cup tablespoons nonfat Greek yogurt
1/2 tablespoon olive oil

Directions:

FOR THE SALAD:
Cut the romaine lengthwise, then lightly brush the cut side of the romaine with olive oil. Spray a nonstick skillet with nonstick cooking spray, then preheat over medium-high heat. Place the romaine cut side down in the hot pan and allow to cook until blacked, about 2-3 minutes. Remove, cut into bite-sized pieces and serve with tomatoes, olives, cheese, and Creamy Greek Dressing.

FOR THE CREAMY BALSALMIC DRESSING:
Whisk all ingredients together until smooth. Drizzle over salad.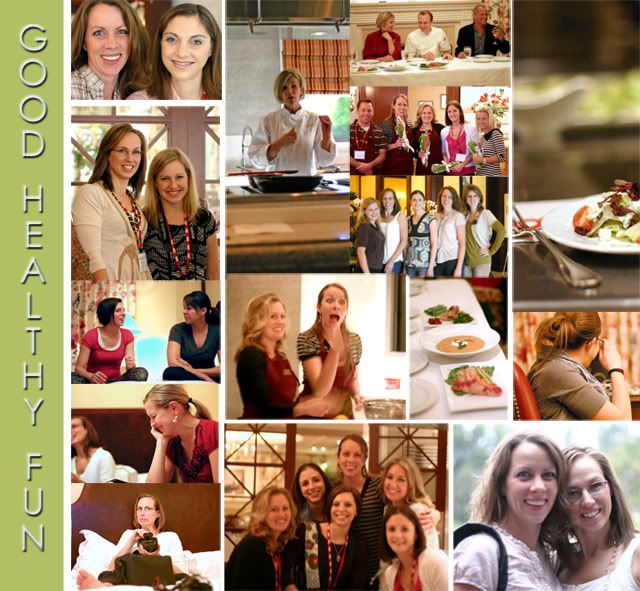 DOLE must know what they are doing, because they invited a group of remarkable women. If you haven't met them already, it seemed only right to introduce you. You're going to love them. Here is a tidbit about each of the DOLE Summit bloggers…
FOOD FOR MY FAMILY
I love Shaina Olmanson. Can that right there be enough reason for you to love her too? She's a brilliant photographer, incredible cook, but mostly she's the most loyal and devoted of friends. I love Shaina. Oodles. The End.
SAVORING THE THYME
Jennifer Leal makes me laugh so hard I snort. She makes me cry so hard I have to wipe my nose. She's goodness in a bundle (not to mention smart as a whip) and I'm thinking of relocating to Rhode Island just so I can eat her recipes, enjoy her company, and join her for her daily Starbucks run.
DELICIOUSLY ORGANIC
Carrie Vitt tweeted me several months ago. She'd had a dream. In her dream, the two of us finally had an opportunitiy to meet face-to-face and we hated each other. I was pretty darned sure that was one dream that would never come true. Carrie is so amazing. She is smart. She is kind. She is passionate about her craft and she is so incredible in the kitchen. Turns out, I adore her as much in person as I do via blog. Take that, you nasty old dream, you.
LA FUJI MAMA
Rachael Hutchings nose crinkles when she smiles. The moment I saw that was the moment I determined I'd start her a fan club, marvel at her talent, and make signs that advertise her cleverness & total likeability. She knows how to roll sushi and she poses for pictures with ferocity. Betchya want to join her fan club too now, huh?
LIZA AMERICA'S HOST
Some people leave an impression on you, and Liza Utter did just that last week. From her stunning beauty (and super fab skirt & heels) to her gentle warmth and charm, meeting Liza–and discovering her story, her blog, her contagious vitality–was a true treat. The fact that she's a highly accomplished restauranter and TV host is amazing. But, it was her devotion to family and inner strangth that I found truly inspiring. Hers is a blog to visit often.
THE LUNCHBOX BUNCH
I sure do like Kathy Patalsky. Liked her the minute I saw her. Not only is she nice, nice, nice and tres cute, she's also a brilliantly talented illustrator and writer and nutrition buff. I've been to her website no less than four times already this week to oogle her kitchen adventures.
THIS MAMA COOKS
Fellow Coloradan, Anne-Marie Nichols isn't just a mama, she's a beautiful writer, cook, and truly successful businesswoman. So totally talented. So totally inspiring. So fun to split dessert with at a Four Season's Hotel in Cali.
GOOD LIFE EATS
Katie Goodman's blog makes me so mad. It makes me mad because it's dang flippin' gorgeous. I'm hopelessly addicted. And, now that I've seen her rock a sweater vest with serious oomph…well, that's it. She's the bomb.
RELUCTANT ENTERTAINER
Prepare yourself for some serious eye candy. Not only is Sandy Coughlin a brilliantly kind soul, she's also a "luridly brilliant" photographer (says The Library Journal about her new book, and I couldn't agree more.)
FANNETASTIC FOOD
Anne Petraeus' blog about leaving her cubicle job and making health a priority in her life is truly compelling. But, it's her genuine warmth that will make you want to drop all your food issues and get healthy right along with her. Plus, she plates food like a pro. Nuff said.
TWO PEAS & THEIR POD
Maria & Josh Lichty make food, remodel kitchens, and go shoe shopping together. Cutest. Not to mention, Maria is a downright awesome baketress. A girl after my own kitchen. (Side note: Neither of our kitchens come readily equipped with cranberries, salmon, and lentils. But, we sure as heckfie have butter.)
PICKY PALATE
There is a kindness that glimmers from Jenny. She is so pretty, so gentle, so friendly. Add to that list a ton of kitchen talent and you've got yourself one heck of a remarkable gal. I think I should like very much to be like Jenny one day.
FAMILY FRESH COOKING
I've always adored Marla's colorful, high energy family food blog. Now that we've met? I'm over the moon to know she is even more fun, lively, and bright in person. I love people who shine. Marla totally does.
CHOOSING RAW
Gena Hamshaw is a firecracker. Clever, smart and sassy, I adored her instantly. Her passion for healthy eating inspires me to want to be a better, more informed foodie, mom, and consumer. There is a strength about her that is absolutely beautiful.
MY FAVORITE EVERYTHING
Wondermom Shanna Coady is one saavy businessgal. Better yet, she's an adorable, devoted mom to three teensy kiddos. Hers is a busy life, yet somehow she works it out with style, energy & passion (and freckles. Oh, I'm so jeal over her pretty freckles).
KEVIN AND AMANDA
Amanda Bottoms is as sweet as they come. Plus she takes mouthwatering photos. Plus, she's a generous blogger who takes time to really take care of her readers. Plus, she's cute. Plus, she rocks Anne Klein daily. Plus, she loves cupcakes. Amen.
SHE'S BECOMING DOUGHMESSTIC
If you haven't already discovered Susan Whetzel, you simply must hop over there and make her your instant friend. She's honest in her writing, skilled in her photography, and hosts more than a few crazy mad cooking skillz. Wife. Mom. Cook. Writer. Woman. Splendid.
A COWBOYS WIFE
Lorin Falcon lives on a ranch. With a real life cowboy husband. And, she's just entirely, entirely a pleasure to meet. She's warm and humble and welcoming. A true Texas heart overflowing with passion & talent.
And an especially big thank you to Marty Ordman, Jackie Kahn, Jennifer Grossman, Chris Yemma, Cielestia Calbay, Heather Bandura, and all of the other DOLE & DGWB contacts who worked to hard to make the summit such an enjoyable experience. Thank you! Thank you!
DOLE paid for all of the travel arrangements, accomodations, and other related expenses pertaining to this trip. They did not, however, pay me to publish positive comments about my experience or their company. All opinions in this post are mine.