Monte Cristo Sandwiches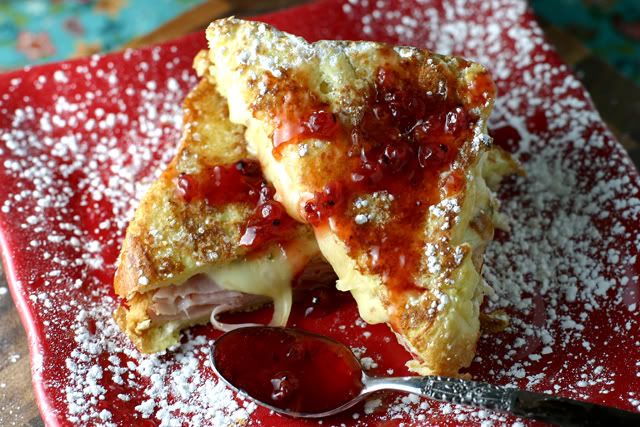 There are a few fundamental problems with the pictures in this blog post.
Number One: This is the same plate that appeared in yesterday's pictures. Note to self: The red plate is grounded for a week.
Number Two: Too much light. Daylight savings, dang you for sucking away the natural sunlight, leaving me forlornly snapping pics in front of a fake lamp. Ick.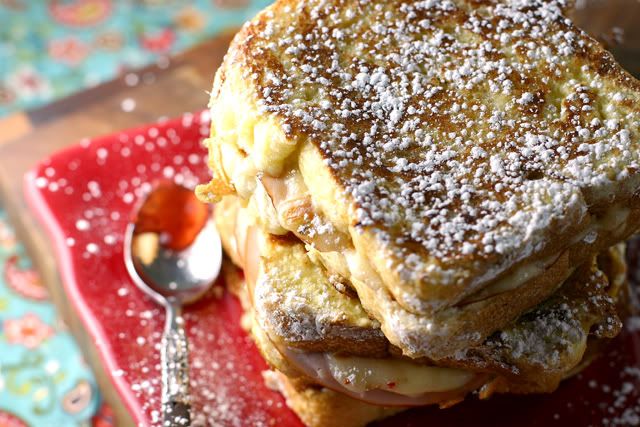 Number Three: Thankful for the help of a little minion, the mother decides to forego any mention of the fingernails which need clipping and cleaning.
It's a professional gig we're running over here. Nothing but the best for you Cheeky peeps.
Number Four: Licking the pics off the screen just isn't the same as snarfing down the real thing. Note to reader: Make these immediately. Devour. Enjoy. (Red plate, bad lighting, dirty fingernails not required).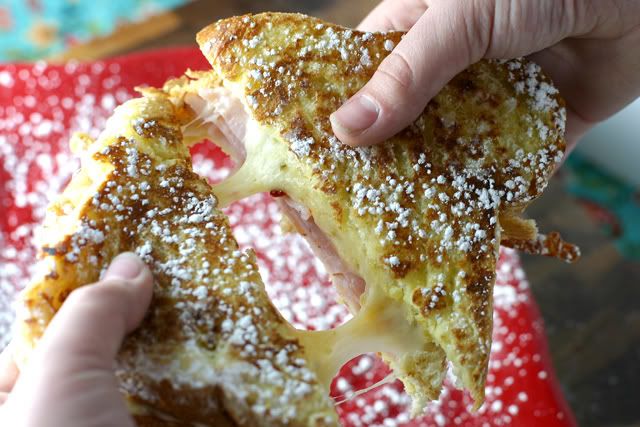 Spicy Monte Cristo Grilled Cheese Sandwiches

Ingredients:

4 thick slices of sturdy white bread
4 tablespoons butter
4 tablespoons cornstarch
2 eggs
3 tablespoons milk
6 sliced ham, sliced very thin
1 cup pepperjack cheese, grated
2 tablespoons powdered sugar
1/4 cup strawberry jam, warmed

Directions:

Preheat a griddle or skillet to medium heat. Butter each slice of bread with butter, then coat the buttered side lightly with cornstarch. Beat the eggs and milk together. Place 3 slices of ham on the unbuttered side of one piece of bread, top with 1/2 cup of the cheese, place the second slice of bread over the top, then dip each of the butter/cornstarch sides of the sandwich into the egg mixture. Spray heated griddle with nonstick cooking spray, then cook the sandwich on both sides until lightly browned. (To make sure the cheese melts completely inside the sandwich, cover the pan with a lid while cooking.) Transfer to serving plate, sprinkle with powdered sugar. Serve with warmed strawberry jam for dipping.