Perfectly Fluffy Whole Wheat Waffles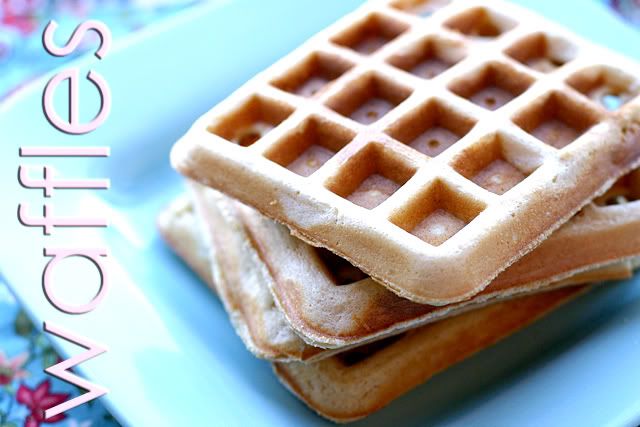 There's a story being written in the bedroom next to mine. I can hear my girls whispering over it. Every minute or so there is an exclamation, "yeah!" or "that's awesome!" or"after a day or two, the evil woman comes back," followed by the reassuring words of a big sister helping her little sister with belated homework. "You can totally finish! We're almost done!"
It's nights like this when I wonder why I blog. Me, sitting under the covers of a king-sized bed, touching up photos of waffles, staring at shiny mounds of blueberries, when there are two little girls next door who's faces I could marvel at incessantly. Whatever am I doing clacking away here when there are stories to write, encouragement to give, evil women to shoo from the written page?
Well, I suppose what I'm doing is letting my girls be sisters. Letting them learn how to work together. Letting them make memories they will one day giggle over. I am letting them become their own selves. The sorts of people they will be when one day they leave me.
I'm also willing to suppose that such a thing will all be fine and dandy (even necessary) one day, I don't think I'm quite ready for such a thing to happen today. So, Clacking Computer Keys, you will simply have to sit quietly tonight. Dearest blog, you'll have to suffice with a short entry. Because the most delicious little girls I know are writing stories in the room next to mine. And, you know I'm a sucker for dessert.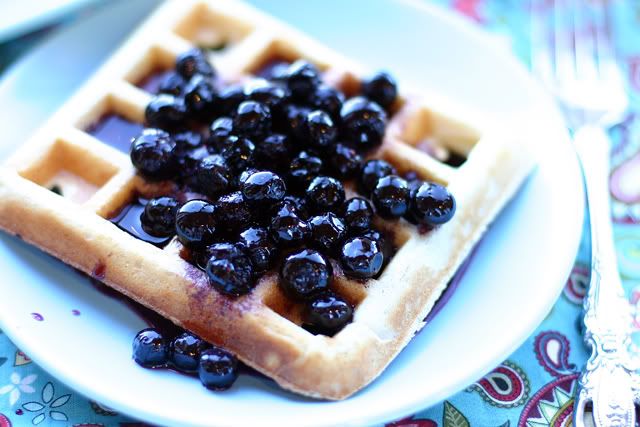 Perfectly Light & Fluffy Whole Wheat Waffles

Ingredients:

FOR THE WAFFLES:
2 eggs
2 cups white wheat flour
1 cup buttermilk
¾ cup water
3 tablespoons sugar
3 teaspoons baking powder
1/2 teaspoon baking soda
1/2 teaspoon salt
2 tablespoons light olive oil
1 teaspoon vanilla

FOR THE EASY BLUEBERRY SYRUP:
2 cups frozen blueberries
1 cup pure maple syrup
1 teaspoon vanilla
Dash of nutmeg & cinnamon

Directions:

FOR THE WAFFLES:
Crack the eggs, placing the egg whites in a small bowl. Place the egg yolks in a second, larger bowl. Mix all remaining ingredients into the larger bowl until smooth. Beat the egg whites with electric beaters until stiff peaks form. Fold egg whites into the batter, then cook on a well-greased waffle iron according to manufacturer directions.

FOR THE EASY BLUEBERRY SYRUP:
Place all ingredients in a large saucepan. Cook until heated through. Spoon over hot waffles. Serve topped with a splat of whipping cream, if desired.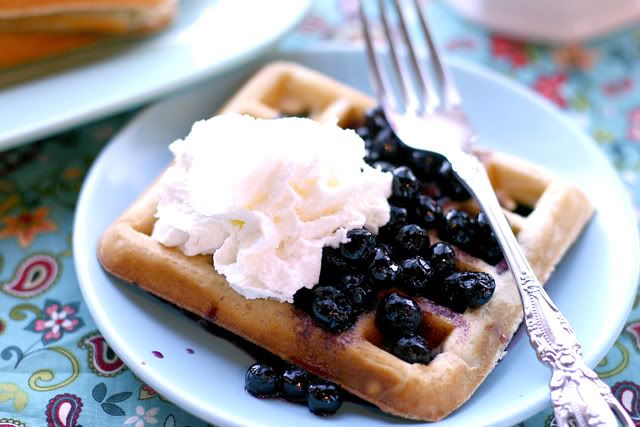 How do you top your waffles?