Pink Tomato Soup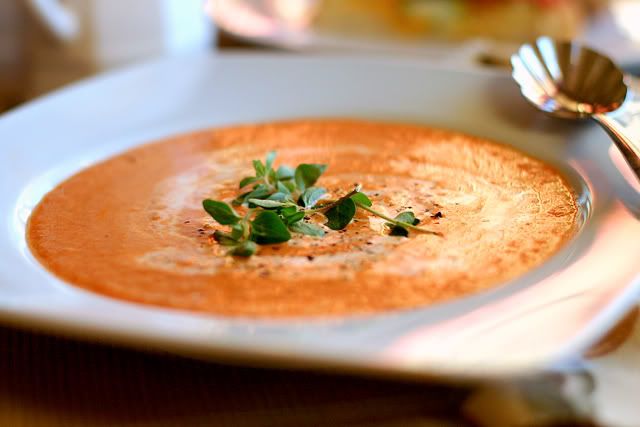 When I was a toddler, my family moved from a sunny, beachside trailer park in Northern California to a quaint little country home on two acres of land in Hooper, Utah. Hooper, you will likely not know, is pronounced by the locals as "Huup-per," with the oo's sounding more like book than like the name of the Sesame Street store owner.
But, I digress. This story isn't about the way the locals pronounce Hooper. It's about the locals.
You see, since the beginning of time, Hooper residents have gathered together for the annual "Hooper Tomato Day's" which commences with a parade full of taffy tossing children, includes a carnival and canned food competition, and ends with a pageant for toddlers. "The Miss Pink Tomato Contest" was (when I lived in Hooper) held on the stage of a nearby church. Mama's would dress their babies up like cowboys, and rubber ducks, and Miss America's. For my mother, with her six stunningly beautiful girls, it was a given that she should expect to take home a tot adorned with the Pink Tomato ribbon at some point in her life.
But, fate was not to smile on us Ballif girls. Year after year, we were curled up, ribboned up, and tightly cinched into homemade brown dresses, with teensy orange roses dotting the fabric and cream colored lace tickling our necks. Year after year we were given the snub, watching the silken Pink Tomato sash hung around the neck of some other rosy cheeked child.
I was okay with the outcome the year I didn't make Pink Tomato. I was okay the year sister Natalie and baby Holly were passed over. But, when button nosed Megan, dressed in a bright yellow outfit, smile swung across her noggin, went home empty handed, I remember listening as the winner was announced with tears stinging my child eyes. She was the cutest. Oh, hadn't they seen? How could they have missed. There was no child so dear and precious and beautiful as my little Megan sister.
As we walked out of the door, my mom was walking slowly. Sashaying. Her nose was in the air, lips pursed, baby Megan tucked proudly in her arms. "Did you notice the last names of all those winning babies?" Mom whispered to me, "They're all the mayor's grandbabies. Hmpph." She snorted, then kissed her pretty baby hard and pushed me proudly out the door.
Hmmph, indeed. We tore out of the parking lot like wildfire, then stopped at Montgomery's Ranch House for a plateful of fried cauliflower to celebrate our own Pink Tomato. As we dipped battered treats into a bowl thick with ranch dressing, we passed little Megan around and around. She was the cutest. The sweetest. The most adored little baby. No doubt about it.
She was better than a pink tomato. She was plump and ripe for lovin' on. Our pick for the best baby ever.
Take that, Hooper Mayor.
My little Megan is all grown up now. After 7 years of marriage, she called last month to squeak the news. There's a baby on the way! I couldn't be more thrilled for her. I can't wait (can't wait!) to meet her little one. I have a feeling it's going to be the cutest, plumpest, most perfect baby in the world. Just like mama.
(Love you, sis. Congrats!)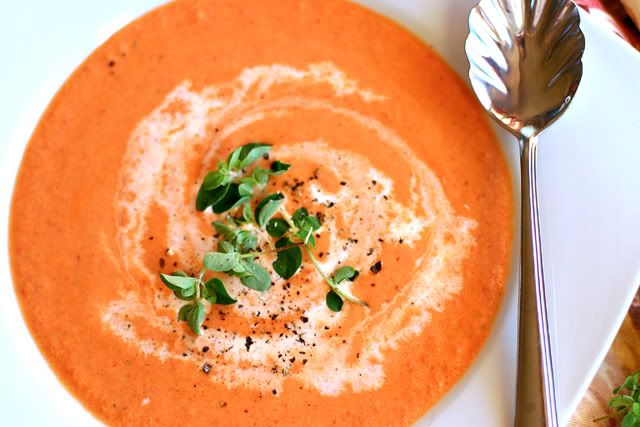 5 Minute Sundried Tomato Soup

Ingredients:

2 cups chicken broth, steaming hot
2 large roasted red peppers
6-8 roasted garlic cloves
1/2 cup sundried tomatoes in oil
1 cup cream
Salt & pepper to taste

Directions:

Place the broth, red peppers, garlic, and tomatoes in a blender. Puree completely. Add 1/2 cup of cream to the puree and blend just until incorporated. Salt & pepper to taste. Serve immediately if still hot, or transfer to a pot and cook just until steaming (but don't boil!). Serve with a splash of fresh cream. Enjoy!