Breville USA Stand Mixer [GIVEAWAY]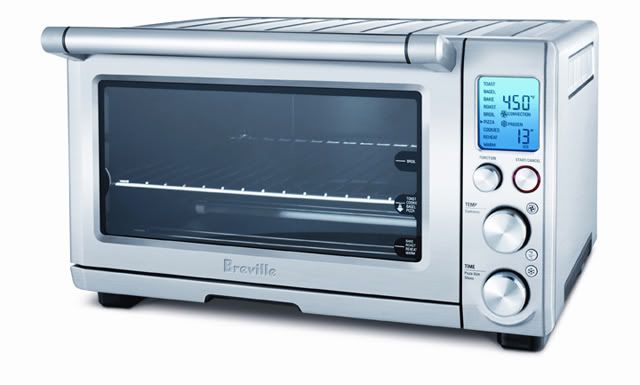 Last week, I woke early and loaded the dishwasher. I held hands with my 2nd graders along the path to school. I went for a jog in our unseasonably delicious weather. After all such a.m. duties were folded carefully into place (and a shower was rightfully taken with makeup appropriately applied), I kerplunked myself into the brown La-Z-Boy chair in our bedroom and hopped online with the folks at Breville who'd arranged a web conference with the brilliant David Arrick, founder of NYC's Butch Bakery. Being a food blogger is way fun.
The meet-up was a treat. David baked spicy pumpkin cupcakes (hello, yum) and showed off a multitude of features on The Smart Oven, an 1800 watt countertop convection oven. It's a remarkable product. In fact, everything Breville is remarkable. Sleek, sophisticated, top-of-the-line quality. If you're looking to stock your kitchen with brilliantly beautiful, truly powerful appliances, the Breville products (everything from toasters to juicers, coffee makers to bread makers…you can see their entire line of incredible products here) are well worth your consideration.
Breville was splendid enough to send The Smart Oven and one of their 5-Quart Die Cast Stand Mixers for my own kitchen. What a treat! While unpacking the gleaming products and arranging them lovingly on our countertops (Just opened and I already love them madly.), I looked around the kitchen and realized there are a few I've never told you about. My all-time favorite appliances that are aesthetically fantastic, uber-powerful & dang pretty.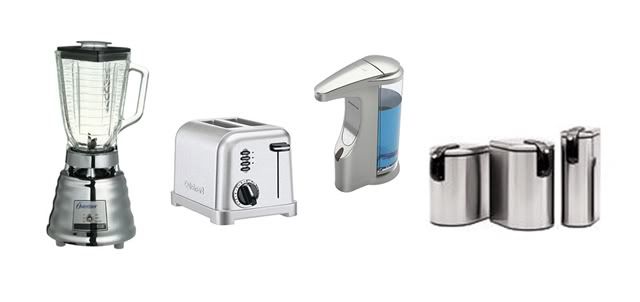 For instance, my chrome Oster beehive blender is the best blender I've ever owned. It's mighty powerful (500 watts of ice-crushing awesomeness) and retro-adorable. Not to mention easy to use. Just flick the switch and you're seconds away from all sorts of yumminess.
Then, there's our SimpleHuman Slim Canisters (where I store sugar, flour, and other basic baking ingredients) and my hubby's all-time favorite kitchen tool, the no-touch Soap Dispenser (which, I will agree, is flippin' awesome).
And, our old-school Cuisinart toaster, which was given to us by Judy, a woman we met via Craigslist when our dishwasher went out last year. She was selling off everything she owned to pay for Leukemia treatments. A sad story, mind you, but she wasn't having any of it. She was optimistic and joyous and I think of her everytime I make toast. A fairly delightsome reward for breakfast making, I think.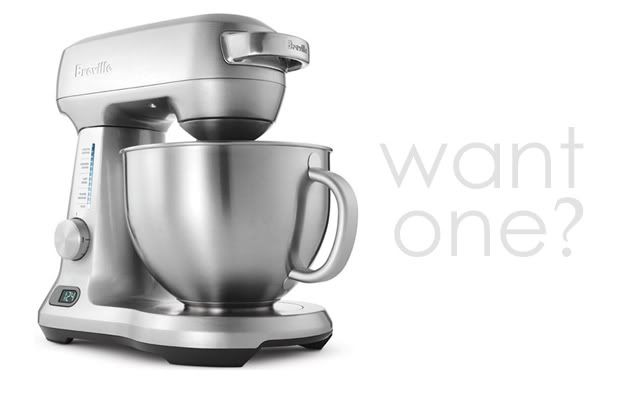 So now in my kitchen are all of those favorite old appliances and two new, gorgeous Breville products sitting on our countertops tonight. It's all so merry and bright. I love those sparkly kitchen appliances of mine. Am looking so forward to whipping, beating, and battering in that Breville Stand Mixer. Excited to bake and create in The Smart Oven. (I hear they kick the sha-hang-a-dang out of those other stand mixers & toaster ovens on the market. After unpacking their sturdy selves tonight, I won't be surprised. They are top quality. Totally worth the $249 price tag.)
Of course, what would all this Christmassey kitchen cheer be if I had to endure it alone? Lucky for me, I don't. Breville is giving one of you Cheeky readers a stand mixer of your very own. How deliciously delightful is that?!
To be entered in Cheeky Kitchen's random drawing for one 5-Quart Die Cast Breville Stand Mixer,
(2) come on back over here and tell me which kitchen product you can't live without.
One commenter will be selected at random to recieve a Breville Stand Mixer, compliments of Breville USA on 12/19/10 at noon MST.
Disclaimer: This post was inspired by Breville USA, from whom I received a Breville Smart Oven and Breville Stand Mixer, as well as a second Stand Mixer to giveaway to one reader. I was not compensated or encouraged in any way to provide positive comments about the company or the product. All opinions offered in this post are mine. The other products mentioned in this post likewise arrive with uncompensated reviews and feature my own experience and opinions.