Carrot Gingerbread Cupcakes with Orange Cream Cheese Frosting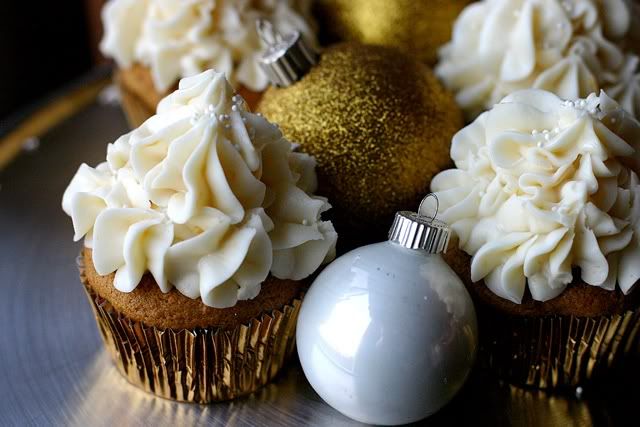 Ever get the itch to redecorate? I get it regularly, always shifting around the furniture in my house. Buying new pillows. Shuffling tschotskes from the right side of the piano to the left.
I've recently decided I need a new couch (red floral is so 2009), a set of new kichen cupboards (golden oak is so 1999), and a new look for this here blog (working recipe index, anyone?)
Despite my itchy-scratchy state, the hubby is cracking the whip, saying the couch will have to wait until our budget allows such an investment (investment? I say. A beautiful couch cushions the backside and gives rest to the weary sole. This is as much a matter of therapeutics as it is style.) Apparently kitchen cupboards fall into the same category. Sigh. But, I've wrangled that sexy budget-master of mine into being on board with a blog makeover. And so the weekend has seen me hunched over the computer, making plans for the newer, slicker Cheeky Kitchen.
As I pull it all together, I'd love your thoughts. What do you want to see from the new Cheeky Kitchen site? What features are my webpages missing? What sorts of categories, recipes, functions would make this site a convenient, cozy stop for you? Please feel free to share your two cents in the comments section of this post.
Then, prepare yourself to be amazed. Because, the new Cheeky Kitchen (to be unveiled late January) is going to sparkle & shine.
Carrot Gingerbread Cupcakes with Orange Cream Cheese Buttercream

Ingredients:

FOR THE CUPCAKES:
2 eggs
1/2 cup oil
2 cups baby carrots
1/3 cup molasses
2 cups brown sugar
3 teaspoons cinnamon
2 teaspoon ground ginger
1 teaspoon vanilla
1 teaspoon baking powder
1/2 teaspoon baking soda
1/3 cup milk
2 cups flour
1/2 cup chopped pecans (optional)
1/2 cup dried currants (optional)

FOR THE CREAM CHEESE BUTTERCREAM:
1 (8 ounce) cube cream cheese
1 stick butter
1 pound powdered sugar
zest of 1 orange
1-2 tablespoons milk (if needed)

Directions:

FOR THE CUPCAKES:
Plop your eggs, oil, and carrots into a blender. Blend until pureed. Pour puree into a large bowl and add molasses and brown sugar. Beat well. Add remaining ingredients and mix just until incorporated into the batter. Spoon into muffin tins lined with cupcake wrappers. Bake in an oven preheated to 350 degrees for 18-20 minutes, or just until the center of the cupcakes spring back when touched lightly with your finger. Cool before frosting.

FOR THE CREAM CHEESE BUTTERCREAM:
In a large bowl, cream together the cream cheese & butter until light & fluffy. Slowly begin to add in the powdered sugar. Continue beating until the frosting is very smooth. Add a little milk, if needed, to thin the consistency of the frosting out ever.so.slightly. Spoon frosting into a large ziploc bag or pastry bag & pipe onto cooled cupcakes.