Old-Fashioned Flaky Biscuits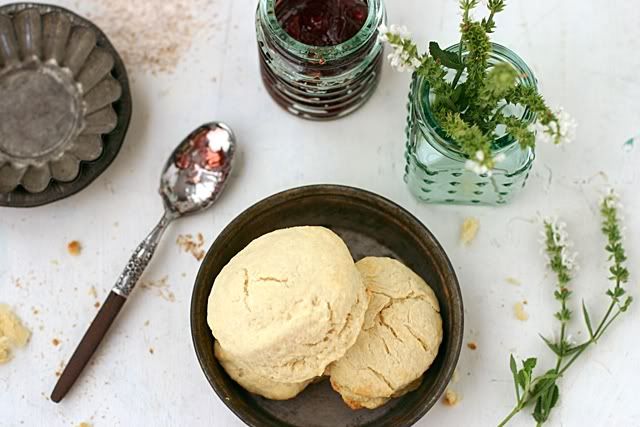 I rolled out of bed this morning at 9 a.m. NINE.A.M! Who in the world sleeps past 5 a.m.? Apparently I do, because last nights Christmas revelling kept us all up late and the kids were zonked in their beds late into the morning. All of the kids (and mama's), that is, except my 12-year-old Andrew.
There are some things you should know about Andrew. First, he's crazy smart. He remembers facts better than Alex Tribec. He could totally rock it on Jeopardy. Second, he's funny. Tonight he had me laughing until tears were running across my cheekbones for fifteen minutes straight. Third, he cooks. Did you hear that, junior-high ladies? That boy of mine is a super chef. But you can't have him yet. He's still mine for a few more years. Mine, mine, mine!
So, this smart, funny boy of mine awakes early this morning and decides to cook up breakfast for the family. He does that a lot. Thing number 4 you should know about Andrew. He's always willing to cook, and he's dang good at it, too. Today, when we all finally shimmied ourselves downstairs, there was a heaping plate of homemade biscuits, a recipe he learned to make this summer while volunteering at our local Living History museum. Which, I suppose is the fifth thing I should tell you about Andrew. He not only cooks, he volunteers and he babysits. (Let's keep these last little tidbits just between us. I couldn't bear it if the girls at school found out what a catch he is.)
Did I mention he made us warm biscuits this morning? A plate full of flaky, buttery biscuits. We smeared jam on them and licked them right from our fingers. Absolutely splendid.
Thing number six you should know about Andrew: he's not for sale. But, he is willing to share his biscuit recipe. What a kid, eh? (Paws off 'til he's 18, gals. Paws off.)
Old-Fashioned Flaky Biscuits

Ingredients:

2 1/2 cups all-purpose flour
1 tablespoon baking powder
1/2 teaspoon salt
1 tablespoon sugar
1/2 cup butter, grated
3/4 cup milk
1 large egg, lightly beaten

Directions:

In a large bowl, stir together the flou, baking powder, salt, and sugar. Using a fork, work the butter into the flour until the mixture resembles coarse crumbs. In a small bowl, whisk together the milk and egg. Pour it on top of the flour mixture, then stir it around the bowl just until the dough begins to follow the fork around the bowl. Turn the dough out onto a lightly floured surface. Knead it five or six times, then press the dough to about an inch thick. Cut into biscuits using a biscuit cutter. Transfer to a lightly greased cooking sheet. Bake in an oven preheated to 400 degrees for 14-16 minutes, or until golden brown.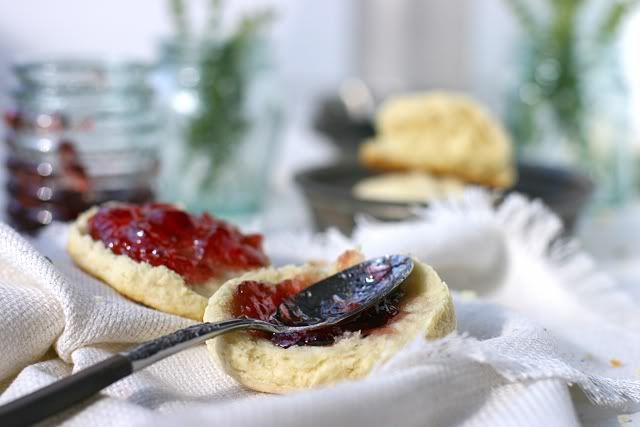 Congrats to our winner of the Breville Stand Mixer
LTSmash, please email along your contact info & we'll get it shipped ASAP!