Quick Holiday Breakfasts & Desserts
Left to right: No-Bake Cupcake Truffles, 1-Minute Peppermint Stick Sundaes, Quick & Cute Candy Cane Dessert Shooters
Snow has come to Colorado and we have my children to thank for it. They went to bed last night wearing their pajama's on backwards, flushing ice cubes down the toilet, knotting their little fingers together in prayer for the appearance of white stuff. It took a whole day for our atmosphere to gather up enough courage to sparkle the streets with a blanket of snow.
Turns out, after a lot of hard work and a little bit of patience, those backwards pj wearing, ice-flushing, snow-praying kids of mine got their wish.
Snow for Christmas. How divine.
And so snow comes. And Christmas peeks its head around the corner. And the schedule becomes ever the more frantic. But, you aren't worried about getting it all done in the least, because you are here at Cheeky Kitchen. And, boy, do I have some deliciously adorable last-minute holiday ideas for you.
Dessert first. Always dessert first.
Couldn't you love these little Mint Cupcake Truffles as much as you love baby puppies? You can whip them up in under 10 minutes using just your microwave, a spoon, and your and mighty clever hands.
If you've got 50-seconds, you've got enough time to whip up a fresh batch of Homemade Peppermint Hot Fudge and these easy Peppermint Stick Sundaes.
These Chocolate Candy Cane Dessert Shooters have warm fudge, brownies, and cocoa-kissed whipped cream. I think I might love them.
Once you've finished up your dessert, here are two breakfast ideas for your belly…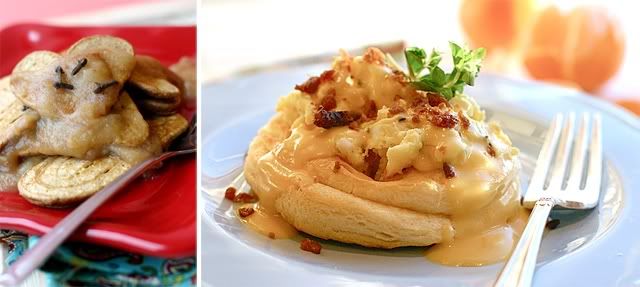 Don't forget to enter my giveaway of the breathtaking
Breville Stand Mixer
I was able to use mine for the first time today to beat up a batch of whipped cream. The mixer, with it's digital dial, heavy-duty mixing abilities, large capacity bowl, powerful motor is hands down the most remarkable mixer I've ever used (and I've used a lot of hand & stand mixers). It's beautiful. You want one. Go enter the giveaway post haste, my Cheeky friend.
Then, go have a wonderlicious weekend & enjoy all the delights of the season!