Brownie Buttercream Cookies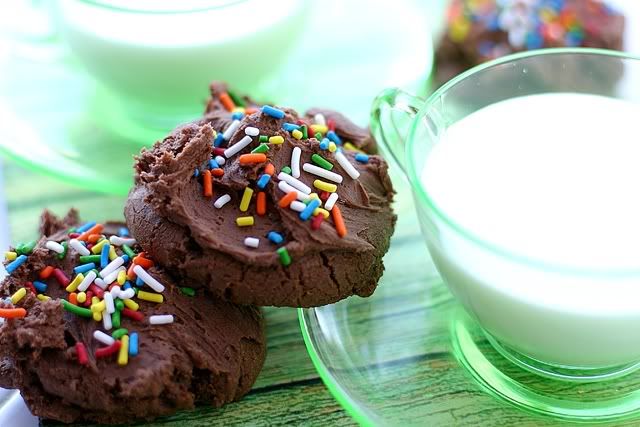 It's been said that necessity is the mother of invention. I think that totally absurd.
In my house, chocolate cravings are the mother of invention, and you can quote me on that until I start selling chocolate hot tubs for soaking in (why hasn't anyone yet invented chocolate hot tubs? Blaring omission in basic human comfort, I say) or redecorate in the style of Willy Wonka (I consider it daily).
Chocolate cravings are responsible for a whole heck of a lot of recipes around this place. Try as I might to deny their power, they return time and time again and insist I turn the kitchen a laboratory of cocoa creation.
Such was the case when the fam and I were gathered around the table last weekend, playing a rousing rendition of Pit. We all decided the game would be greatly enhanced with the additon of chocolate (isn't everything?). But who had time to wait for a whole hunk of brownies to bake? Not us. So, we pulled out the electric mixer, grabbed the cocoa powder, and started concocting. Within 20 minutes, we had ourselves these delicious little Brownie Cookie Bites.
All we needed was a giant tub of chocolate milk in which to soak them. Patent pending.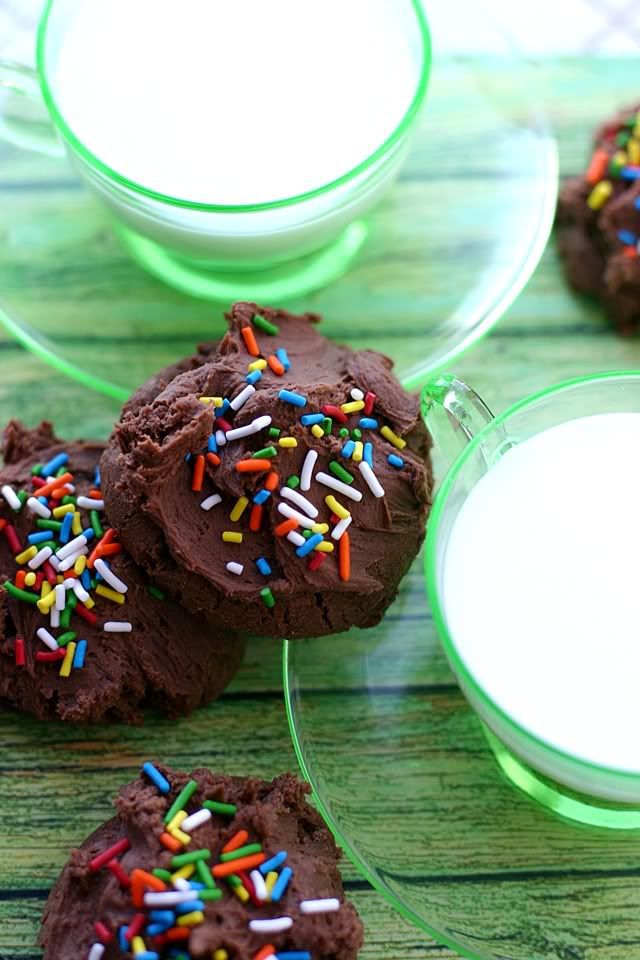 Brownie Buttercream Cookies

Ingredients:

FOR THE COOKIES:
1/4 cup butter, softened
1/4 cup light olive oil
1 cup brown sugar
2 eggs
3/4 cup cocoa powder
1/2 teaspoon baking soda
1/2 teaspoon baking powder
1 3/4 cup flour
1/2 teaspoon salt
1 teaspoon vanilla

FOR THE CHOCOLATE BUTTERCREAM:
1 pound powdered sugar
1/2 cup cocoa
1 stick butter, softened
1 teaspoon vanilla
2-4 tablespoons whole milk

Directions:

FOR THE COOKIES:
In a large bowl, cream together butter, oil, brown sugar, and eggs until fluffy. Add the remaining ingredients, and beat until incorporated. Using a medium cookie scoop, scoop the dough onto a baking sheet. Press the round of each cookie down with two fingers to flatten the dough slightly. Bake in an oven preheated to 400 degrees for 9-11 minutes, you're looking for the outside of the cookies to crack and puff slightly, but be careful to not overcook them, lest they lose their tender chewy insides. Remove & cool completely before frosting.

FOR THE FROSTING:
In an electric mixer, beat all ingredients together until very, very, very fluffy. Frost on cooled Brownie Cookies.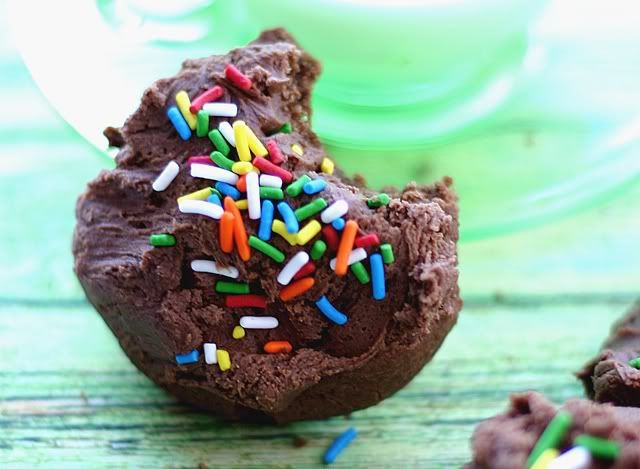 New Friends Are So Nice! This month I'm joining forces with Smithfield, a new cooking venture I'm thrilled to be part of. To learn more about what I'll be doing with their company, stop on by and say hello! I'd love to have you join me for lots of real-world recipes, ideas, and kitchen tips. Good stuff going on over there, don't miss it!