Caramel Applesauce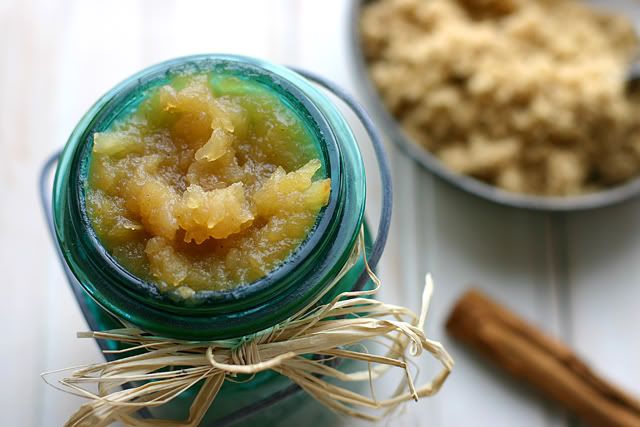 Every now and then, the fruit in the basket sitting on the kitchen windowsill recieves a talking to. It starts like this: one of the kids reaches a gangly finger toward the bounty of apples and fiercely pokes the skin. 'Ew!' they will say to the fruit, 'You are too mushy to eat.' Which sets off a week of sulky sourpusses, a bushel full of cranky old crabapples with sunken lips and botox-starved cheeks.
Such a happenstance cast it's shadow across our fruit basket last week. By Sunday morning, it was full of wrinkly old fruit, with nary a soul in my house volunteering to consume the grainy morsels. Not wanting to chuck the gloomy grannies, and feeling much too lazy to bake them into a pie or crisp, we decided to turn them into a simple homemade Caramel Applesauce with a crunchy, 60-second Granola topping.
It turned out to be the perfect way to prepare those grouchy apples. In no time at all, they were simmered into a sweet, fresh treat, with nary a sign of the old hags they once were. Take that, you crotchety little tarts. Take that.
Caramel Applesauce & 60-Second Granola

Ingredients:

8-10 apples, peeled and diced
3 tablespoons butter
1/4 cup + 1 tablespoons brown sugar
1/4 cup Coach's Oats
a pinch of salt & cinnamon

Directions:

In a medium pot, melt 1 tablespoon of the butter and add the apples. Simmer for 3-5 minutes, until the apples are slightly softened, then add just enough water to cover the top of the apples. Bring to a boil, then reduce heat and simmer the apple mixture until the apples are soft enough to smoosh with a fork. Smash the apples with a fork until desired texture is achieved, add a few tablespoons more water, if needed to make the applesauce your favorite consistency (we like ours chunky, so didn't want to add too much water and turn the sauce runny, but if you like it that was, go for it!). Stir in the 1/4 cup of brown sugar, and stir completely until incorporated into the apple mixture. Set aside.
In a small saucepan, melt the remaining butter over medium heat, the add the Coach's Oats (old fashioned or quick oats will work in this recipes, too), sugar, salt, and cinnamon. Stir over medium heat just until the mixture begins to bubble and turn golden brown. Transfer to a small piece of parchment paper and allow to cool slightly before sprinkling atop a fresh batch of Caramel Applesauce. Enjoy!
P.S. Still in NYC. Snowmageddon has pinned me to the city until early tomorrow morning. I think I shall miss the city when I head back to the suburbs of Colorado. But, not as much as I miss the hubster and kids right now.