Creamy Avocado Dip and Baked Taco Potato Chips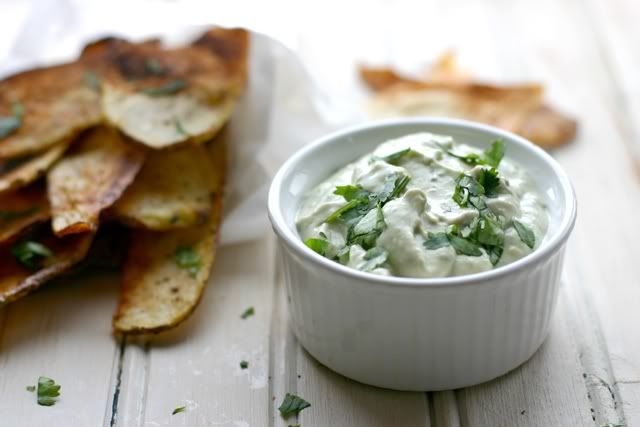 My favorite color is blue the color of seafoam. Then again, I like green the color of seafoam, too.
I suppose, then, my favorite color is seafoam and I should stop trying to crunch it into a crayon color because it's perfect, just the way it is.
Seafoam is a color we used to have around until we up & moved to a new house 3 years ago and I got a wild hair and bought a red couch. So now the house is red and brown and it makes me feel much too grown up. Like I should have a plate full of hard candy on the front room coffee table, and welcome visitors with a wrinkly, twinkly eye.
*
That's why I like seafoam. It doesn't make anyone feel old. It's bright and light and brilliant.
*
Since a front room redesign isn't in the budget this year, I decided to cook in seafoam today, whisking together it's gentle coolor in a bowl of avocado dip. Beautiful, isn't it? Almost too pretty to eat.
*
Almost.
Creamy Avocado Dip

Ingredients:

2 very ripe avocados
1/2 cup plain greek yogurt
salt to taste
2 tablespoons cilantro, chopped

Directions:

In a medium bowl, scoop avocados from their skin, the crush them well with a fork. Mix in the greek yogurt and a pinch of salt. Use a whisk to stir the mixture until smooth. Sprinkle with cilantro to garnish. Serve immediately with a bowl full of warm Taco Baked Potato Chips.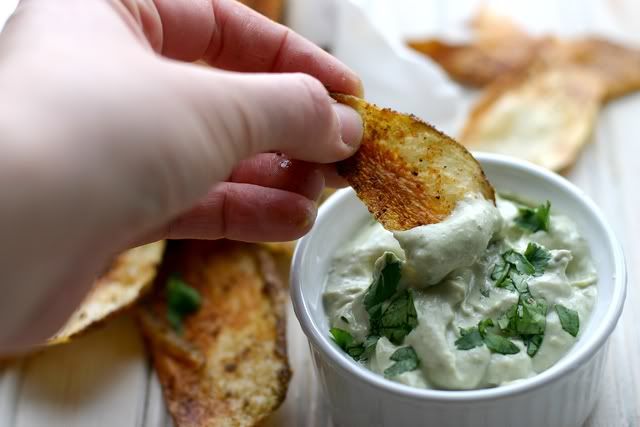 You can find the recipe for the Taco Baked Chips right here.