Crustless Quiche With Goat Cheese & Scallions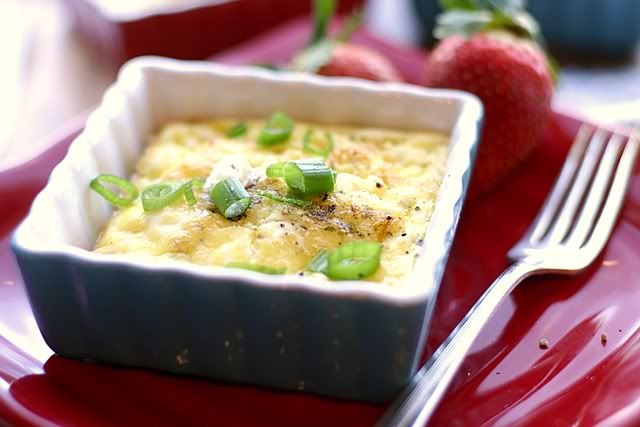 Behind every product, there are people. Try as we might to villainize Corporate America–the big companies, the greedy megacorps making much of the food we put on our plates (and yes, there is a lot to be said on the matter, and much that needs to be revamped about our current system), there is also this truth: behind every product, there are people. As it turns out, I like people.
Such was the case last week, when the knock-your-socks off PR firm, Zocalo Group, invited me out for their gorgeously orchestrated I Can't Believe It's Not Butter launch event in NYC. Having worked with the group early last year with the "Turn the Tub Around" commercial campaign, I was delighted to have an opportunity to meet some of the Zocalino's in person. It was a treat, I tell you. An absolute treat. The group of gals in charge of last weeks events were sharp, adorable, and pristine professionals. They treated us to a flawlessly organized 2-day event, which turned into a 4-day event when Snowmageddon hit the city streets, stranding four of us bloggers one block from Times Square for an extra dose of days. It was real torture, I tell you. Whatever is a girl supposed to do with a handful of lovely PR gals, two fabu new blogging friends, and the TKTS booth a single minutes walk from our hotel room? It was real difficult. Do you sense my disdain?
The ICBINB event took place Wednesday morning of last week at Chef Alex Guarnaschelli's restaurant, Butter. We had an opportunity to sit and chat with Chef Alex before brunch was served and the entire lot of us bloggers found her relaxed honesty and bada-bing humor absolutely contagious. She is a lovely person, not to mention chef extraordinaire (our breakfast today was inspired by her to-die-for crustless quiche from the event), and it was a delight to hear some of behind-the-scenes secrets to cooking with ICBINB. The morning was full of a hundred other delights, fellow blogger Anna of Cookie Madness offered a great recap of the food, the fun, and the meeting of new ICBINB spokesperson Kim Cattrall.
Of course, the finest part of any blogland event is meeting a handful of truly remarkable bloggers. The group of women invited to the ICBINB event was no exception. We laughed, we sipped Pellengrino at the Four Seasons, we trudged through the slushy streets of NYC together with bitter cold cheeks and ear-to-ear smiles. I admire and adore every one of these new friends and do so hope you'll take a moment to discover their addictive blogs. Totally.worth.your.time.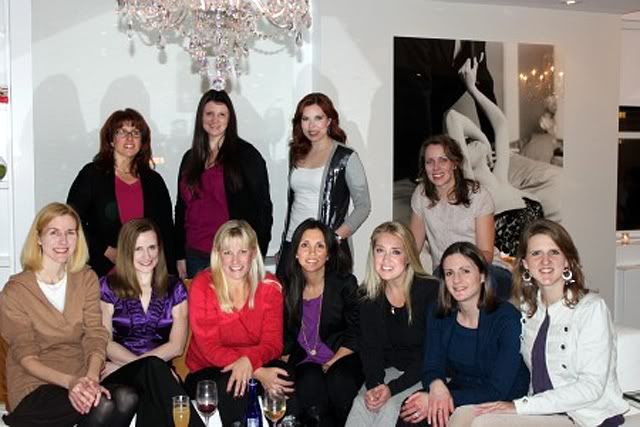 (From L to R, Back Row) Anne Marie from This Mama Cooks has an optimistic honesty about her that inspired me throughout our week together. She's one of those people who can make great conversation, and I feel blessed to have sat through a lengthy hotel dinner at her side. Kristin from Our Ordinary Life is about as fun a gal as you can walk the streets of NYC with, a true delight. She's also a passionate mommy, blogger, and writer. I adored her immediately. Kristina from Better Recipes can command a room with her striking beauty and whip-smart demeanor. She's daggummed cool and you can quote me on that.
(From L to R, Front Row) Sweet Anna of Cookie Madness is gentle and kind, but don't let that fool you. She can find her way around the city like nobody's business. Erica from 5 Minutes for Mom made the trip absolute splendor. Her vibrant, no-holds-barred desire to suck the marrow out of life is stunning, not to mention downright fun. Hugs you, my Forever 21 chica. Lori of Recipe Girl is the young equivalent of Judi Dench in bloggy-land. She's pretty much royalty, not to mention ten times prettier than you'd guess from her picture. So.dang.cute. You'll immediately love Gina from Skinny Taste because her blog is brilliant. Beyond that, she exudes a genuine warmth and goodness that would make you love her immediately. So, yes. Pretty much I love Gina so you should, too. Jenny's site, Picky Palate, is the very first blog I ever visited (thanks to friend Becki's raving reccommendation about her gorgeous recipes and photos) and I marvel everytime I meet her buoyant, bright self at these events. She's even sweeter than all those indulgent dessert recipes she creates. Maria of Two Peas and Their Pod is a baking fiend, not to mention she's a super-sleek design goddess. Her recent kitchen redesign left me drooling for weeks. She's so darned clever. Amanda of Kevin and Amanda is the one girl with the one site that you shouldn't go visit. It's too gorgeous. You'll get too addicted. Her comfy, southern self will draw you in and keep you there for hours with breakthtaking photography and a bubbly passion for life. Okay, go visit. But, don't say I didn't warn you.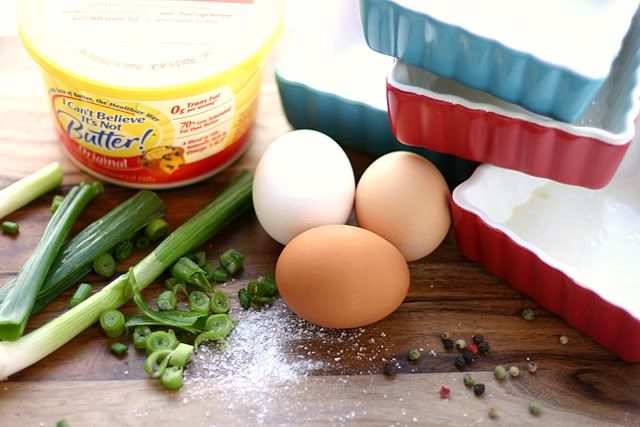 Crustless Quiche With Goat Cheese & Scallions

Ingredients:

2 Tbsp. I Can't Believe It's Not Butter!® Spread
12 green onions or scallions, cut into 1/2-inch pieces
1/2 teaspoon salt
1/2 teaspoon fresh-ground peppercorn melange
5 eggs
1/2 cup half and half
1/2 cup sour cream
1/2 cup milk
Dash hot pepper sauce
Dash Worcestershire sauce
4 ounces goat cheese, crumbled

Directions:

Preheat oven to 400°. Grease bottom and sides of 4-5 small ramekins with nonstick cooking spray. In a small skillet, melt the I Can't Believe It's Not Butter Spread in a small skillet over medium heat. Cook the green onions until crisp-tender, about 2-3 minutes. In a blender, combine the eggs, half and half, sour cream, milk, hot pepper sauce, and worchestershire sauce until well mixed. Pour into a large bowl, stir in the goat cheese and green onions, sprinkle with the salt and pepper, then spoon 3/4 cup of the egg mixture into each of your ramekins. Place ramekins in a 9x12 casserole pan, then fill the pan with just enough water to cover about 1/2 of the ramekins. Carefully transfer to preheated oven. Bake 20-24 minutes, or just until the quiche has set in the middle. Remove and cool slightly before serving. Top with a dollop of I Can't Believe It's Not Butter for that extra pop of flavor. Serve with Raisin Toast & Fresh Strawberries for a perfect meal!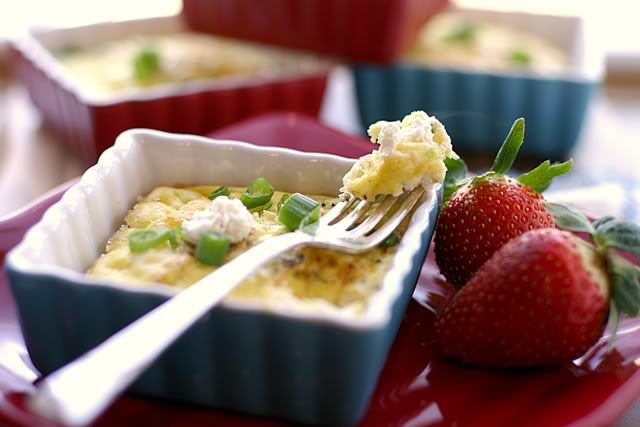 P.S. Looking for these fun, colorful ramekins used in this post (and the Meyer Lemon Sweet Roll post)? I purchased mine at Dollar Tree for just $1 each. How's that for a sweet deal?!
Disclaimer: I Can't Believe It's Not Butter paid for all expenses for this NYC trip. I was, however, not paid or encouraged to publish positive comments about the company. All opinions stated in this post are mine.