Poppyseed Rum Cake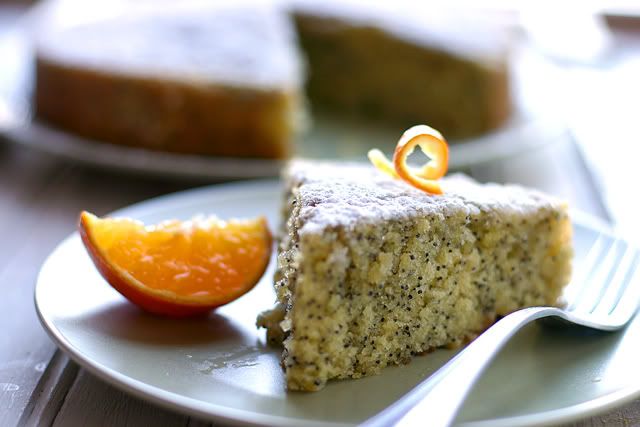 I'm a fan of polka-dots. It's a problem. Thirty-something-year-old moms should not wear polka-dots. Especially multi-colored ones on shirts. With big, red ones on pants. And giant ones on hair bows. Yet, take me out shopping and I have to pry eyes away from polka-dotted wares. Confession of the day: I have to steer myself away from considering polka-dot curtains for the living room at least twice a week.
As I get my frenzied polka-dot cravings under control, I've decided to consume a hundred thousand polka-dots a day. Teensy little black ones. In the form of this sugar-soaked poppyseed rum cake. I ate four slices on Saturday and already I'm feeling kinda cured.
I'm thinking I might be able to live with a single pair of polka-dotted shoes. And maybe a polka-dot purse.
Let's consider that progress.
Poppyseed Rum Cake

Ingredients:

2 sticks butter
2 cups sugar
4 eggs
2 1/2 tablespoons poppyseeds
1 teaspoon vanilla
1 cup flour
1/2 teaspoon rum flavoring
1/2 teaspoon almond flavoring
1/3 cup water
1 cup powdered sugar

Directions:

In a large bowl, beat together the butter and 1 cup of sugar until fluffy. Add the eggs and continue to beat until creamy. Add the poppyseeds, vanilla, and flour and stir together until mixed. Spoon into a 9-inch cake pan that has been well-greased with nonstick cooking spray, and liberally floured. Bake in an oven preheated to 350 degrees for 32-35 minutes, or just until the center of the cake is set. While the cake is cooking, place the second cup of sugar, flavorings, and water into a small saucepan. Heat over medium heat until the sugar in dissolved. Remove cake from the oven, cool slightly, and turn out onto a large plate. Using a drinking straw, poke holes all over the cake. Spoon the sugar syrup into the holes of the cake. Sprinkle with powdered sugar and serve warm (or cold).