Simply Perfect Chicken Enchiladas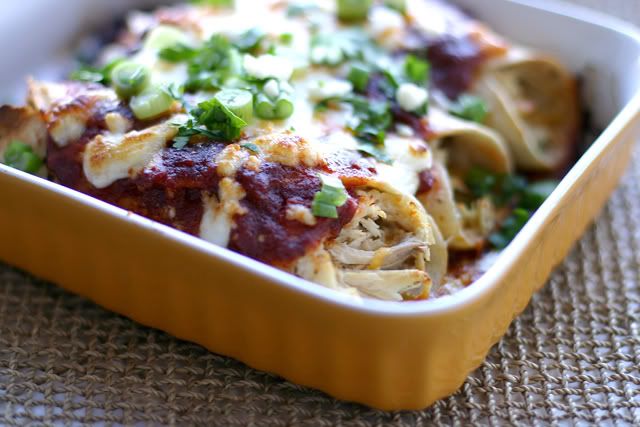 Our city smelled like Spring today. Rather than snow (as one might expect from a Colorado winter) rain trickled itself across the morning. Pindrops of cold, clear polka-dots decorated the sidewalks and settled on our skin. It's only just January, but I'd forgotten the magic of springtime. I remembered it today.
It made me think about all the things I should remember more. Things I forget about seasons long since past. Thoughts so breathtakingly glorious that I wonder how I the barren weeks of winter could possible pull them from my head.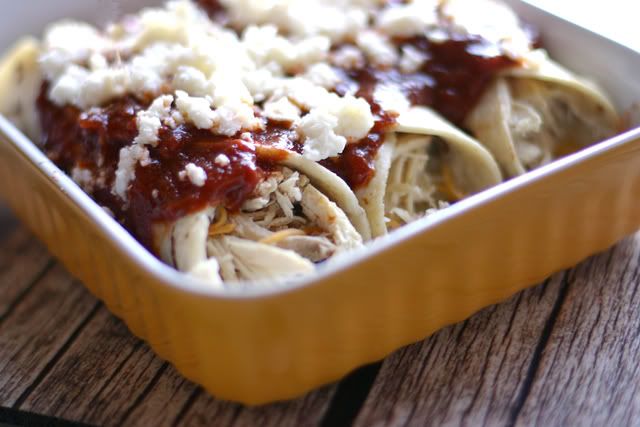 I remembered the soft shells of Easter candy. Yellow dresses and white gloves on a sunny Sunday afternoon. The bold arrival of green grass through the prickled brown landscape. The smell of dirt, awaiting the planted seed. The sweet intoxication of an April wind. The magic of a ribbon-swirled Maypole.
Then, I remembered that it's still just January. And we'll have a hundred days of snowfall before springtime smiles over our schedule. So I fired up the oven and fed the family warm, comforting food. Because, we're going to need that sort of stick-to-our-ribs goodness to carry us through the next three months.
But then. Oh, then. Easter candy awaits.
Simply Perfect Chicken Enchiladas

Ingredients:

1 (1 pound 12 ounce) large can of tomato puree
2 1/2 tablespoons chili powder
1 tablespoon cumin
1/2 tablespoon onion salt
1/4 cup olive oil
2 cups shredded, cooked chicken
8 ounces colby-jack cheese, shredded
1 1/2 cups queso fresco cheese, crumbled
12-16 white corn tortillas
1/4 cup scallions, chopped

Directions:

In a saucepan, whisk together the tomato puree, chili powder, cumin, onion salt, and olive oil until the mixture in warm. Spread a bit of sauce on the bottom of a 9x13 casserole dish. Roll tortillas with chicken and shredded colby jack cheese, then transfer each on top of sauce in baking dish. Slather the remaining sauce on top of the rolled tortillas. Sprinkle the Queso Fresco cheese crumbles on top. Bake in an oven preheated to 400 degrees for 25-30 minutes. Remove from oven and garnish with green onions. Serve with sour cream and chopped cilantro.