Tortilla Chip Chicken Strips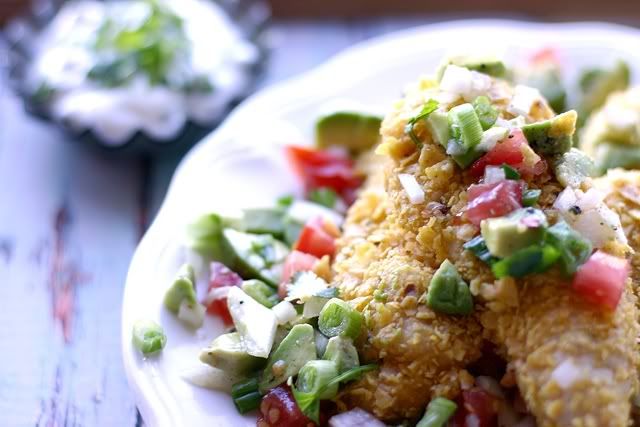 I woke this morning on the far right side of the bed, rubbed my eyes, reached out to greet the hubby good day. Instead, of finding him, I found three little people between us. One. Two. Three snoozing kids crowding our bed.
*
Their big brother introduced them last week to TV murder mysteries and they've been freaked out at nighttime ever since. The papa and I knew we shouldn't let them watch shows that talk about poisoned halloween candy and knives and such (no matter how sanitized the version) yet the weekend was long and we were feeling lazy, and now we have three little chickens who have decided to take safe residence in our cozy nest.
*
I should probably mind. After all, my neck was kinked all day, and I think my right eye earned itself an extra wrinkle from being smashed up against the nightstand all night. But, here's the thing…I like my little chickens. Because, little chickens want to snuggle up next to the mama hen. And mama hens like to pull their little chicks close and tell them everything is going to be okay.
*
Doing so helps me forget that one day, those frightened little babes of mine will grow up quite big, sprout feathers, and fly the coop. And, boy oh boy! That thought right there scares the bejeebies out of me.
*
Because after all, I'm a mother hen. And mother hens are chickens, too. (Bawk.bawk.bawk).
Garden of Eatin' Tortilla Chip Chicken Strips
Whether you need a tasty Superbowl finger food or a scrumptious weeknight dinner, this gorgeous little recipe delivers on all accounts. Easy enough to serve on paper plates and dip in Creamy Avocado Dip fancy enought to top with Fresh Avocado Salsa (below) and wow everyone sitting around your kitchen table, this recipe is positively delicious. It's dang easy, too. And, would you guess healthy? Absolutely! The organic line of Garden of Eatin chips makes snacktime (and dinnertime!) full of goodness, rather than guilt. I used their yellow tortilla chips to make this recipe, and goodness! I'm glad I did. The flavor is incredible!
2 cups Garden of Eatin' Yellow Chips, crushed
Salt & Pepper
1/2 teaspoon red pepper flakes (if desired)
10-12 chicken tenders
Press the chicken tenders into the crushed tortillas, coating them well. Transfer to a large baking sheet. Bake in an oven preheated to 400 degrees for 15-18 minutes, or just until cooked through (watch 'em! You don't want them to overcook and get dry and nappy). Top with Fresh Avocado Salsa. Serve with a dollop of plain Greek Yogurt or Sour Cream that has a couple tablespoons of chopped cilantro stirred in.
Fresh Avocado Salsa
Serve atop warm Tortilla Chicken Strips.
2 ripe tomatoes, diced
1/2 small white onion, diced
2 ripe avocados, diced
juice of 1 lime
salt & pepper to taste
In a small bowl carefully stir together all ingredients until mixed, taking care to not smash the avocados.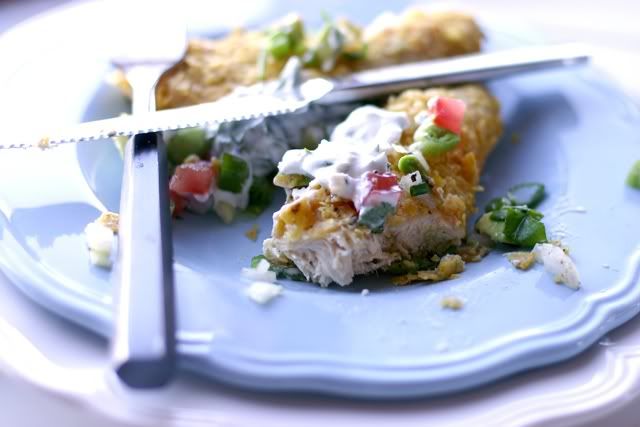 Thanks to the folks at Garden of Eatin' Organic Snacks for inspiring this post. They sent along a Superbowl Snack basket and invited me to cook up something fun and fantastic. Though I was compensated for the ingredients in this recipe, I full endorse Garden of Eatin' on my own. Their company has created a brand our family trusts, craves, and cooks with…Superbowl Snack Basket or no! Thanks, Garden of Eatin' for the challenge than inspired such a fun recipe!
*