Wedge Salad with Smoky Bleu Cheese Dressing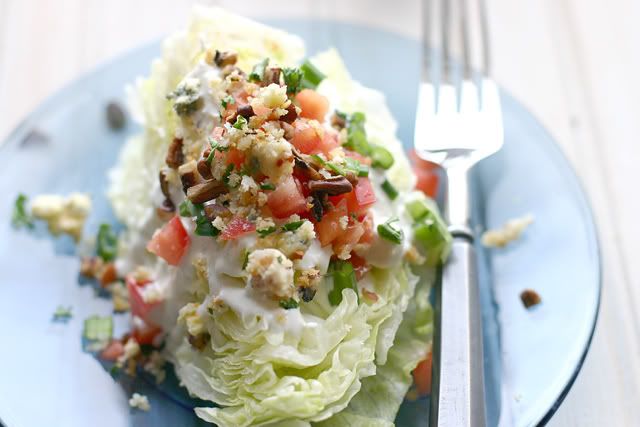 It's officially the New Year, so I ought to say something about resolution making, oughtn't I? But, here's the thing. I detest resolution season. My whole stomach, nose, and eyebrow ligaments cringe at the mere thought of making a list full of things I need to do better. First on that list should be, "get better at making lists," but I do so hate lists. Something about them make me feel bound and tied and imprisoned. Yes, I'm being overdramatic.
So, though I rattled off a verbal list of things I'd like to do better this year to my husband while tidying that unruly make-up drawer of mine and spraying Windex on the shower door, I don't think I shall be making a list of Ne'er Do Wells.
Instead, I plan to wake up every morning and seek to do the things that make my soul sing. I will squeeze the nuggets out of my kids every morning, go for jogs in the nippy afternoon, continue to work like daylights to get our family on a service trip to Peru, spend multiple hours of my life tackling the laundry pile, bake like there's no tomorrow, share the fruits of such labor with the neighbors ('cause Susie is a better runner than I am, and she can do with a few extra calories to beef up that teensy heiny of hers), pore over books that make me better, smile at strangers, text dear friends, call my mother often, and write snail mail by hand on pretty paper.
Oh dang it. Did you see that? Did you see what I just did?!
I just wrote down resolutions, that's what. Dang it all.
Well, while I'm at it, here's one more: Eat.more.salad. (Especially this one).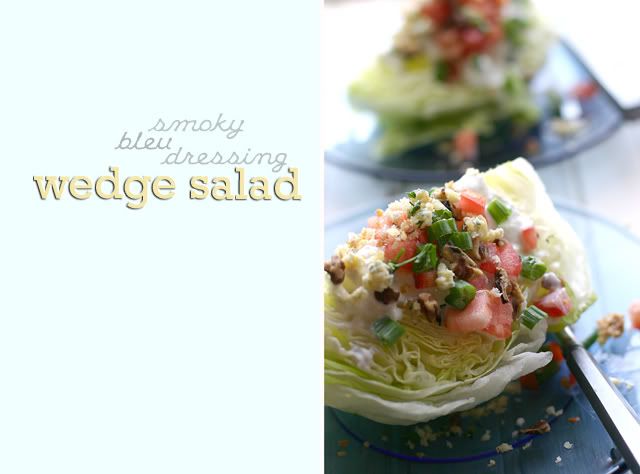 Fresh-Made Bleu Cheese Dressing

Ingredients:

For the Bleu Cheese Dressing:
1/3 cups mayonnaise
3 tablespoons cup vinegar
1 tablespoon honey
1/3 cup dairy sour cream
1/4 cup milk
1 clove garlic, crushed
1/4 cup smoked blue cheese, crumbled

For the Wedge Salad:
Iceberg Wedge Salad
1 head Iceberg lettuce, well cleaned
Diced tomatoes
Chopped scallions
Pecan Pieces
Bacon Bits
Panko Breadcrumbs
Cubed Avocado

Directions:

For the Bleu Cheese Dressing:
In a medium bowl, whisk together the mayonnaise, vinegar, honey, sour cream, milk and garlic until smooth. For a thicker dressing, omit the milk. Stir in the blue cheese crumbles. Serve immediatley, or store in the fridge in an airtight container for up to 1 week.

For the Wedge Salad:
Make sure your lettuce is very cold. Pull it from the fridge just before serving and work quickly to get it on the table really cold. The salad is gorgeously delicious this way. Remove the root end from the bottom of the head of lettuce. Slice the lettuce half, then into 4-6 wedges (depending on your preferred size). Drizzle with homemade Smoky Bleu Cheese Dressing, and top with your favorite toppings (I like all of the above together for the ultimate wedge sandwich).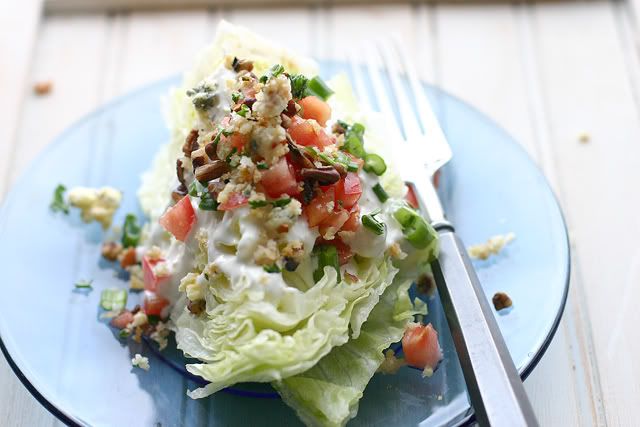 Are you a Resolution maker? What's on your list for 2011?