Brown Sugar Cinnamon Breakfast Syrup
I cut my daughter's hair tonight. She wanted it long in the front and short in the back. Very stylish. So, we agreed and I took the snippers to her dainty locks.
*
"Okay, it's done," I announced and led her into the bathroom, where she could admire the new do.
*
She smiled. Turned her head left, then right. "It's okay, mom. But, I really wanted it shorter."
*
I hesitated. Wanting her to have the haircut she'd been dreaming of, I took the snippers again to her hair. Chop. Chop. Feather. Snip. Chop.
*
Back into the bathroom. "Is THIS how you want it? It's reaaaaaally short."
*
"Uh-huh," she said. She sounded dubious.
*
I waited a minute. Watched her watch herself. Her eyes were wide open, glancing thoughtfully at her forehead, near her ear. "I'm just thinking. Maybe some kids at school will say something behind my back. They'll say it's really short."
*
My heart sank. Oh, no. I'd really messed up. I began conjuring ideas for giant, tulle hairbows. Thinking of where I could get gorgeous hats for the next three months. Wondered how many curls we could stick around those sweet cheeks of hers.
*
"But," she interrupted my thoughts, "I'm just gonna tell 'em…what.ev.er. I look cute." She flipped off the light in the bathroom, heading out the door, on her way.
*
And on that note, our week will begin. It may be crazy. It may not be perfect. But, what.ev.er. We'll look cute. So there.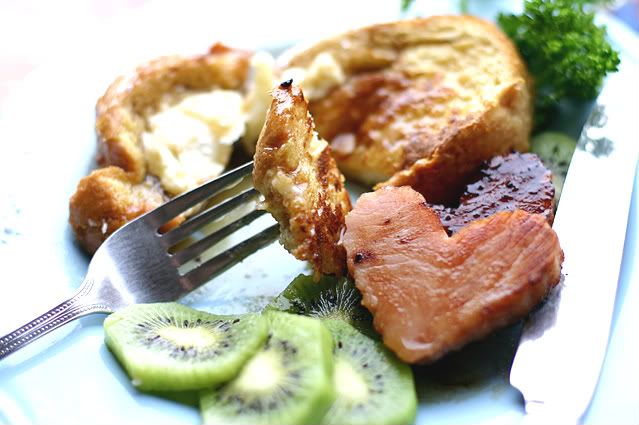 Brown-Sugar Cinnamon Syrup

Ingredients:

1 1/2 cups brown sugar
3/4 cup water
1 teaspoon cinnamon
1 tablespoon vanilla extract

Directions:

In a small saucepan, whisk together all ingredients over medium-high heat until the sugar has completely dissolved and the syrup is very warm. Spoon hot over french toast or drizzle over ham frying in a griddle pan.