Lemon Butter Pasta with Green Beans, Goat Cheese & Candied Walnuts
Several months back, I wrote an article about the Maggiores, a well-known family of insanely-successful restauranteurs in Southern California. While chatting with them about their devotion to food, one common thread kept coming up. Family.
This food-and-family connection seems common in many Italian families. It's most certainly the case with the Maggiores. As I learned their story, I gained a deep admiration for the way they didn't just tuck dinnertime into the corners of their lives, they actually made it part of their day.
From shopping as an entire family at the farmer's market, teaching their children the sights and smells of fresh-picked fruits and veggies, grappling over the menu, dragging grandparents and parents and grandchildren from booth to booth in search of ideal ingredients, to preparing the meal with an "open door" kitchen policy, where all are invited, welcomed, and given work, I found myself thinking that we American's have done ourselves a disservice in the way we quick.fast.now. our food.
Though it was just a funny little chat about restaurants, that conversation with the Maggiore's affected me deeply. I think on it often. I think about it on the nights I tell the kids they can go watch a show in hopes of grabbing 5 quiet moments of mealtime prep for myself. On the nights when we grab cheap pizza and eat it in the car as I shuttle between piano and dance and basketball. On the nights when we claim ourselves much-too-tired to make anything and tote the fam out for burgers and fries. These moments of us pushing off dinner happen too often in my mind, and I've been determined to allow them less. In short, I'm determined to "turn us more Italian" in the way that we look at food, prepare meals, and "simmer down now" over dinner together.
Tonight was one of those everything-actually-worked nights. We did it. Everyone pitched in. The girls set the table. The boys chopped veggies and unloaded the dishwasher and begged for play time on their DS's. I was wickedly firm and told them no, insisting that they'd one day thank me for the grand opportunity of taking an hour of their life on a Monday night to make a meal together. To pray over it. To tell stories and shovel pasta into hungry bellies. To laugh. To sit. To be.
To be 'Italian'.
They looked a little concerned over the whole idea, but when dinnertime arrived, and they sat in front of plates piled high with the work of their hands, they seemed quite pleased with themselves. As was I. Pleased with what all of us accomplished together in our kitchen. As a family.
Viva la famiglia. E bene.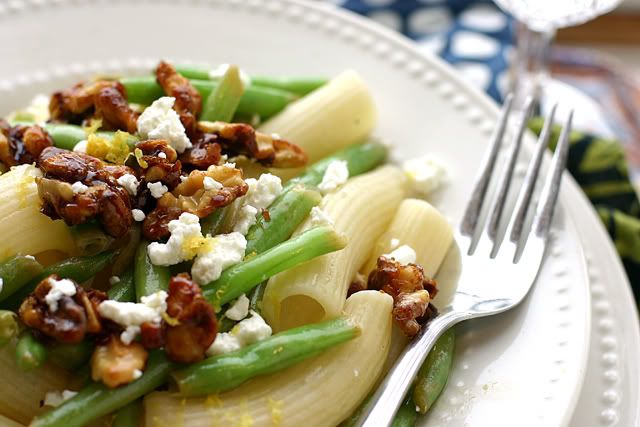 Green Bean Pasta with Goat Cheese & Candied Walnuts

Ingredients:

8 ounces pasta (I used maniconi but plain old spaghetti works brilliantly, too)
2 cups fresh green beans, cleaned & snapped in half
½ cup walnuts
2 tablespoons brown sugar
5 tablespoons butter
1 teaspoon nutmeg
2 lemons, juiced & zested
1/2 cup white cooking wine
2 tablespoons olive oil
4 ounces goat cheese, crumbled
Sea salt

Directions:

Fill a large pot with water and cook the pasta to package directions. Once cooked, drain with a colander. While the pasta is cooking, heat 1 tablespoon of butter in a small saucepan. Add the walnuts, brown sugar, and nutmeg. Stirring constantly, heat ingredients over medium heat until the sugar is dissolved and the mixture turns thick and gooey (watch to make sure it doesn't smoke. You don't want burned walnuts!) Turn the nuts out onto a small piece of parchment. Separate them from each other and allow them to cool.

With a slightly damp paper towel, wipe your saucepan clean (it doesn't have to be perfect). Melt the remaining butter over medium-high heat. Add the green beans and cook them until bright green. Add the cooking wine, lemon juice, and olive oil.

Toss the green bean & lemon sauce with the cooked pasta. Top with brown sugared walnuts, lemon zest, and sprinkle crumbled goat cheese on top. Add fresh ground sea salt to taste. Serve immediately. Enjoy entirely.