Spicy Shrimp and Cool Avocado Quesadillas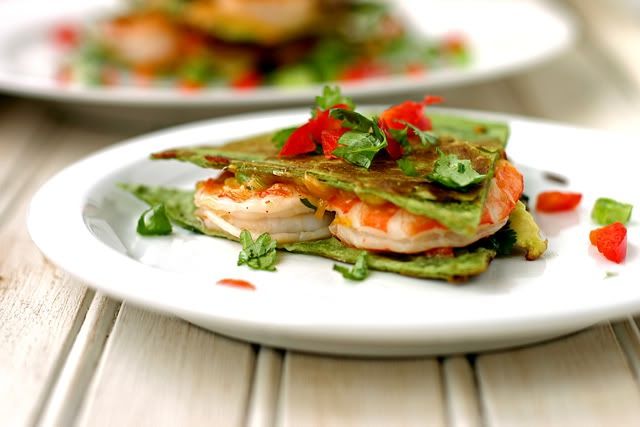 I wore black combat boots and skinny jeans today. Spicy.
Son Andrew said to me before dinner, "Mom. You totally look militant." Cool.
Everytime I brought a plate to the kitchen table, my heels would click-click on the floor. Spicy.
They click-clicked across the laundry room as I was loading the dryer. Cool.
They looked super saucy whilst I folded that laundry. Spicy.
Then, the zipper stuck when at last I was ready to take them off for bed. Neither spicy nor cool.
Just another day in the life of a quasi-fly thirtysomething with sincerely questionable fashion sense.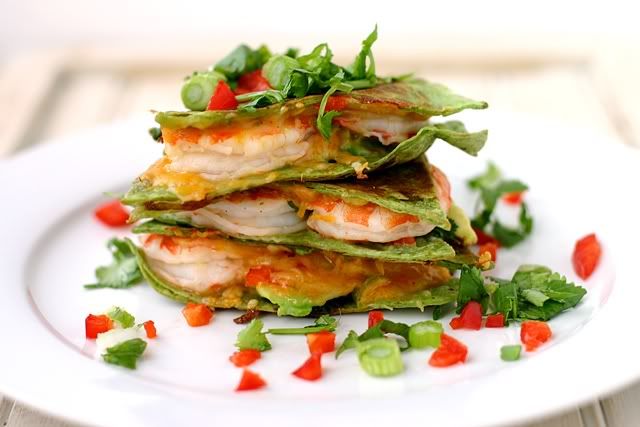 Spicy Shrimp & Cool Avocado Quesadillas

Ingredients:

1 tablespoon butter, softened
4 spinach tortilla wraps
1/2 pound cooked shrimp
1/2 red bell pepper, diced
2 scallions, diced
2 tablespoons cilantro, diced
1 avocado, sliced thin
2 cups habanero cheddar or pepper-jack cheddar

Directions:

Spread a small amount of butter on each tortilla. On the non-buttered side of two tortillas, layer the shrimp, diced red bell pepper, scallions, cilantro, avocado, and cheese. Top with the second tortilla, buttered side up. Cook in a large cast iron pan until golden brown on each side. Slice with a pizza cutter & enjoy.