Kitchen Play: Apple Basil Mojito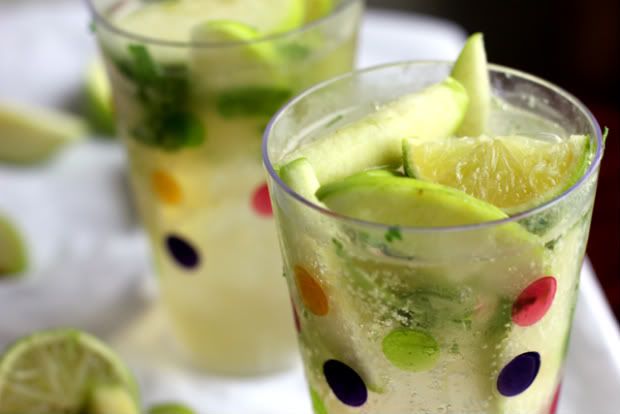 It's autumn, which means it's apple time! Whether you're a Gala or Green Apple lover, there are hundreds of beautiful ways to cook up your autumn bounty.
Today I've teamed up with several other bloggers via Kitchen Play to create a virtual potluck celebrating apples in all their glory. And, would you believe there is actually an entire organization dedicated to the goodness of apples? The U.S. Apple Association is supports the production and marketing of apple products. Working with more than 7,500 apple growers, the organization also runs a website chock full of apple info, facts, and recipes. Johnny Appleseed would have been so proud.
Today's menu begins with an apple appetizer, and offers up a slew of clever ways to include apples in your baking and dinner making. I had the delightsome task of creating a drink for our virtual dinner party. I'd recently created the alcohol-free Strawberry Mojito for another freelance project and couldn't get the simple, sparkling flavors (or bright, beautiful colors!) out of my head.
So, with a few simple ingredients and a stack of pretty glasses, I set out to create my own version of an Apple Mojito. This one is imbued with the bright flavors of basil, apple juice concentrate, and sparkling water. It's refreshingly simple and totally gorgeous. An easy, healthy treat you'll want to make again and again.
Cheers!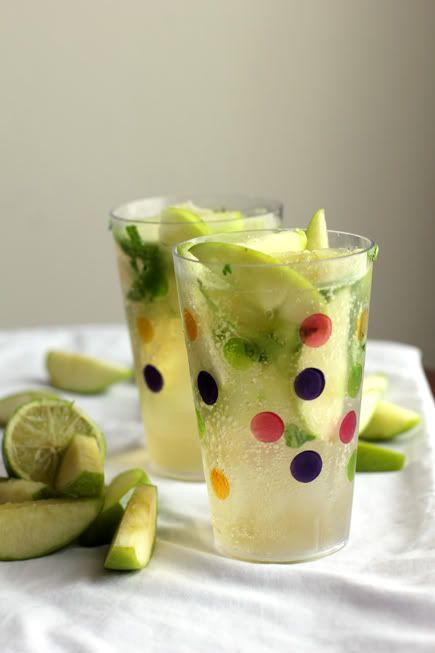 Apple-Basil Mojitos

Ingredients:

1 can apple juice concentrate, melted
lots of ice
3-4 green apples, sliced thin
1/4 cup fresh chopped basil
1 liter sparkling water

Directions:

Spoon several tablespoons of apple juice concentrate into the bottom of a clear glass. Fill the glass almost to the top with ice, sliced apples, and fresh chopped basil. Pour sparkling water into the glass to fill it to the top. Serve immediately and enjoy!
The US Apple Association is also sponsoring a wonderful giveaway here at Kitchen PLAY. Simply recreate any one recipe from this month's Progressive Party, post about the experience on your blog and provide a link to your post on Kitchen PLAY to enter. All qualifying bloggers in each course will be entered to win $100 (6 prizes total). The deadline is September 30, 2011. Please review the complete contest rules before entering. Good luck!